Apple's App Store hits 50 billion downloads
39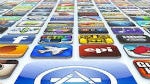 You knew that Apple would be swooping in to steal some of the spotlight from Google today, and the news just dropped. Whereas Google announced earlier today that the Google Play Store has reached
48 billion downloads
, Apple has just announced that the iTunes App Store has hit 50 billion downloads. Although, given the headstart that Apple had in mobile, we wonder which number is really more impressive.
Apple launched the App Store in July of 2008 when it released iOS 2.0 and the iPhone 3G, and at that time, the iPhone and iOS were already a huge success. Google launched the Play Store (then called the Android Market) in October of 2008 along with the first Android device, the HTC G1, and it would still be a couple of years before Android could be considered a true success. But, here we are and Google Play is just 2 billion apps behind, assuming both companies are counting the same way.
Either way, Apple should soon be announcing the 50 billionth downloader who has won a $10,000 App Store gift card, and the 50 runners-up will each be getting $500 gift cards.