Apple producing iPad mini Retinas at similar volumes to original iPad mini
20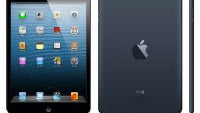 Assuming that we are a bit under a month away from the announcement for the new iPad mini Retina, that would put us safely in the window where Apple has already ramped up production in order to meet demand when the device actually hits store shelves. It is widely assumed that the
September 10th
event will be iPhone 5S (and probably iPod) only, leaving the iPad mini Retina to an announcement later in September or in October.
It seems that IHS iSuppli has been taking a look at the production line for Apple's new tablet and has been generating some data on what we should expect. And, IHS iSuppli has told CNET that "Based [what] we are seeing in the [production] pipeline...The volumes are similar to the iPad Mini that we saw in Q4 of last year."
This is especially interesting, because it could point to when Apple will release the device. If Apple has produced about the same volumes as we saw last year by this point, it could mean Apple is aiming for the same November release for the new iPad mini Retina.
The iPad mini Retina is expected to match the current 9.7-inch iPad 4 in resolution at 2,048x1,536. On the iPad mini's 7.9-inch display, that would equal a pixel density of around 332PPI, which is about the same as the new Nexus 7.