Let it be: Beatles iTunes sales over 450,000 in a week
2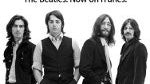 Fab Four's words of wisdom scored salesof 450,000 albums and 2 million songs in just a week after they madea debut on Apple's iTunes. Tuesday, November 16th, the "just another day you will never forget" came and passed and thealiens were late, so the Beatles came in to save the day. And theysure did in a way.
Worldwide sales were strong with grossrevenues of some $10 million. Even though no exact figures areavailable yet, some sources such as trade magazine Hits came up witha figure of 120,000 albums, including 13,000digital box sets. The Beatles' most popular titles on iTuneswere the song "Here comes the sun" and the 1969 album "AbbeyRoad". The sales figures were comparatively good, but far fromgroundbreaking.
Holiday season is knocking at the doorand Black Friday deals will no doubt boost the Beatles' salesfurther. A huge media campaign is expected with TV ads showing duringprimetime programming such as ABC's American Music Awards and NBC'sSunday Night Football in the U.S., and full-page ads might appear inthe "Wall Street Journal" and the "New York Times". After the iTunes launch, retailers such as Amazon loweredprices on the Beatles albums to $7.99 for a single album. How do youfeel about all the hype around the Beatles on iTunes?
source:
AppleInsider
Recommended Stories