Apple issues $17 billion in bonds, setting record, for dividends and stock buyback
29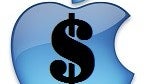 With $145 billion in cash sitting in the bank, one might wonder why one of the world's most prosperous companies would issue debt to pay dividends to stockholders and finance stock buybacks to arrest the slide in stock price.
Apple announced a $100 billion cash return program to investors aimed at maintaining investor interest in the company while its stock cycles through a rather visible adjustment in value (it is down 37% in the past 7 months).
The reason why Apple is issuing debt instead of spending its cash is because the bulk of that cash is overseas, and the United States has the highest corporate tax rate in the world. If Apple were to transfer that money stateside to initiate the buyback and dividend program, it would get hit with a 35% tax.
Or, Apple can borrow the money by issuing bonds yielding between 0.5% and 3% rate and be able to write the interest off its taxes. It is an easy choice for the company to make. This $17 billion issue is the first of several that the company will offer and their duration will range from three years to 30 years. As far as bond sales go, this $17 billion set a new record, surpassing a $16.5 billion deal set by Swiss drug company Roche.
Bond sales like this are typically aimed at institutional investors, however, individuals can usually get a piece of the pie if they work with their financial advisors.
source: AP via
Yahoo!