Apple iPad mini 2 with Retina specs comparison vs Nexus 7 vs LG G Pad 8.3
39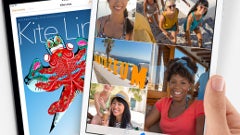 Apple's tiny tablet just received a second edition, if you haven't heard, and we have to pit it against the fearless rivals on the other side, the
Nexus 7
and
LG G Pad 8.3
to gauge how it stands against some Android competition.
At first look the Android tablets are flawless, with 1920x1200 pixels displays, which in the case of the G Pad 8.3 return slightly lower pixel density because of the larger diagonal, yet plenty for a small slate. The G Pad 8.3 is the thinner, more premium slab, with metal back cover and more powerful Qualcomm Snapdragon 600 processor, which is reflected in the price, of course, as Google is not subsidizing this one - $350 vs $230 for the Nexus 7 munchkin.
So what's the iPad mini with Retina Display to offer against those two pretty boys, except the 400 000+ tablet-tailored apps that iOS has? Well, for starters, it is thinner than both the Nexus 7 and the G Pad 8.3. In fact, at 7.5mm, it is the third thinnest slate out there, period, behind only the first iPad mini and the
Xperia Tablet Z
. Now, we shouldn't forget that Apple achieved this with a body crafted out of aluminum, which makes it all the more impressive. As for power, well, there's plenty, since the mini with Retina is run by the first 64-bit mobile processor, Apple's venerable
A7
.
The kicker? That amazing 7.9" display carries the same resolution as the larger iPad. That's right, 2048x1356 pixels amounts to 326ppi pixel density, a record feat on a device that is basically all screen. Neither Nexus 7, nor the G Pad 8.3 can match this, but it's another question altogether if the premium design and the extra pixel density are worth the $399 starting price Apple is commanding for the iPad mini with Retina Display. Check out the specs comparison tablet below for the nitty-gritty and tell us what you think.
Scratch-resistant glass, Ambient light sensor
Ambient light sensor
Oleophobic coating, Ambient light sensor
Qualcomm Snapdragon S4 Pro APQ8064
Qualcomm Snapdragon 600
Apple A7
Quad-core, 1500 MHz, Krait
Dual-core, 1300 MHz, Cyclone, 64-bit
Adreno 320
Yes
PowerVR G6430
Android (5.0 Lollipop, 4.4.4, 4.4.3, 4.4.2, 4.4, 4.3)
Android (5.0 Lollipop, 4.2.2)
iOS (12.x, 11.x, 10.x, 9.x, 8.x, 7.x)
29.5 days (708 hours)
the

average

is 0 days (0 h)
Single camera
Single camera
Single camera
5 MP (Autofocus, BSI sensor)
5 MP (Autofocus, BSI sensor)
Aperture size: F2.4
Aperture size: F2.6
Aperture size: F2.4; Focal length: 33 mm
1920x1080 (Full HD)
1920x1080 (Full HD) (30 fps)
1920x1080 (Full HD) (30 fps)
Time-lapse video, EIS, Video calling
7.87 x 4.49 x 0.34 inches (200 x 114 x 8.65 mm)
8.54 x 4.98 x 0.33 inches (216.8 x 126.5 x 8.3 mm)
7.87 x 5.30 x 0.30 inches (200 x 134.7 x 7.5 mm)
10.55 oz (299.0 g)
the

average

is 17.1 oz (489 g)
11.92 oz (338.0 g)
the

average

is 17.1 oz (489 g)
12.03 oz (341.0 g)
the

average

is 17.1 oz (489 g)