Another piece of Chocolate for Verizon - LG VX8600
This article contains unofficial information.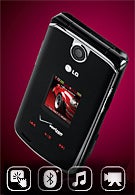 We just received a complete press specifications sheet of the new LG VX-8600 Chocolate Flip phone, targeted to Verizon Wireless, in our mail. It has been rumored and known for a long period now, but the complete specs sheets mean that it may be really close to official launch with the second biggest carrier in the States. The clamshell brother of the VX8500 shares similar design and features, including 1.3-megapixel camera, microSD slot, EV-DO data, and Bluetooth with A2DP supports. Its key features are the touch music keys on the front shell, the music player with microSD slot for memory, the camera, and of course the stylish glossy-black design.
Still there is no official confirmation on the phone, from either LG or Verizon. According to some sources, the lauch date of the VX-8600 will be November 15th, and with initial price of $229 with one year agreement and $179 with two.