Angry Birds Seasons teams up with the NBA in latest update
3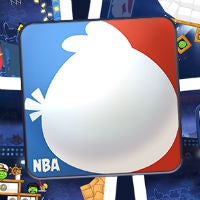 The Angry Birds bubble has burst, and the game has drifted from the public consciousness, but there are hardcore fans out there who still enjoy the game, and Rovio is continuing to support the various versions that exist. The latest update comes to Angry Birds Seasons, which adds a new section to honor the NBA just before the newest basketball season starts in a couple weeks.
The new "season" is called NBA Ham Dunk. It includes 15 free levels, which have you playing through against various bad piggy teams in the fictional NBA Global Games, which take you to levels in Beijing, Rio de Janeiro, and more. There are also special stages for all 30 NBA teams, but you'll have to drop $1.99 on an in-app purchase to get those levels.
Of course, new levels aren't the only additions, there are new birds to use as well. In the NBA theme, there is a new Spalding Ball bird (since you can't have the NBA without Spalding), which blows up like a balloon to take out a larger area. There is also a new Shockwave bird which will send out an electric shock in a circle around itself to take out the piggies. Even better, you can use the new Shockwave bird at any time, including to get another shot after exhausting your standard set of birds.
The update is available now for Android and iOS; but, as usual, the Windows Phone version of the game has been left behind on this update.