Analysts believes Apple will defy expectations and report more iPhone sales than predicted in Q2
18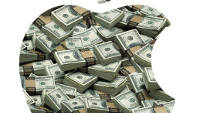 According to anaylists from Citi, the international financial corporation, Apple will post another record-breaking quarter results that will defy the preliminary expectations. According to Citi's Jim Suva, Apple will report a revenue of $56 billion, $1 billion more than the expected $55 billion . The analyst also predicts that the actual sold units might be 5% more than the financial world expects. What's more, earnings per share might be 2% higher than predicted despite the strong positions of the US' currency.
Suva also points that his predictions might not turn out to be true due to a handful of reasons: firstly, iPad sales have certainly suffered from the launch of the largest iPhone ever, the iPhone 6 Plus, which is said to be "cannibalizing" the sales of the iPad mini; secondly, there might be a 6% adjustment of the financial results due to the strong US dollar; last, but not least, the US-exclusive availability of the Apple Pay payment system might also deem his forecasts incorrect.
As a reminder, Apple's previous
quarter results
broke a few records - Cupertino sold more than 74 million devices and brought home $18 billion in pure profit. Cupertino is expected to release its next quarter financial report on April 27.