Amazon Kindle Fire HD: a family portrait spec comparison
14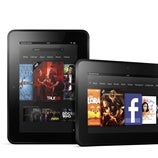 The
Amazon Kindle Fire HD
new family of tablets is here and the big surprise seems to be that Amazon is now focusing more on full-color tablets, at least there were definitely more devices announced with LCD screens today than e-ink ebook readers.
The Fire HD slates are coming in two main versions, a 7-inch one with 1280 x 800-pixel screen and an 8.9-inch one with mind-blowing 1920 x 1200-pixel resolution.
Their biggest distinction seems to be the low price - the 7-inch costs merely $199. The LTE-enabled Kindle Fire HD is a bit of an exception with its $499 starting price, but not so much if you consider the $50 yearly payment for LTE. That buys you 250MB per month, for 12 months and if you only do some light browsing and book downloading that might suffice.
So while we still don't have all the technical details (Amazon has covered the specs in Apple-like secrecy), we already know the basics, so check out how the tablets fare against each other. Make sure to also check in later to see the full version of the spec comparison.