Amazon Fire Phone vs Samsung Galaxy S5 vs LG G3: specs comparison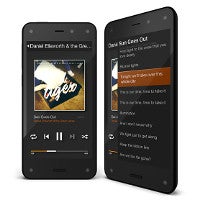 A little over a month from now, the first batch of Amazon's first smartphone, the
Fire Phone
, will start leaving the company's massive warehouses in order to land in the hands of the device's first adopters, and that means you have a fair amount of time to decide if it's a deal worth taking. As with most products out there, it means that you'll spend the majority of that time comparing the Fire Phone with what the competition has on offer. And it's probably not going to be such an easy decision.
Indeed, at a glance, the Fire Phone is an expensive device that doesn't necessarily bring the full flagship stack of hardware, though it's not off by too much, either. What's more, on top of the definitely good specs it sports, the Fire Phone comes with a number of novel/proprietary features and services, and those should be part of the entire equation. For example, you get a free 1-year subscription to Amazon Prime, a super quick and quite effective customer service (
Mayday
), unlimited photo cloud storage, and
Amazon's all-new Firefly service
. And the cherry on top?
A 3D screen
made possible through the constant work of four front-facing cameras that track your face and communicate with the screen in order to shift the perspective as you tilt your head left and right, up and down.
So how does all that compare with two of the year's current hard-hitters, the
Samsung Galaxy S5
and the
LG G3
? Well, while those definitely bring some freebies of their own, it's probably safe to say that neither really has as extensive a mix. That said, they do bring higher-spec'd hardware, and that will inevitably sway some away from the Fire Phone. Check them out.
Display
Technology
Super AMOLED
IPS LCD
IPS LCD
Features
Scratch-resistant glass, Ambient light sensor, Proximity sensor
Oleophobic coating, Scratch-resistant glass, Ambient light sensor, Proximity sensor
Ambient light sensor, Proximity sensor
Hardware
Qualcomm Snapdragon 801 MSM8974-AC
Qualcomm Snapdragon 801 8974-AC
Qualcomm Snapdragon 800 8974
Quad-core, 2500 MHz, Krait 400, 32-bit, 28 nm
Quad-core, 2500 MHz, Krait 400
Quad-core, 2200 MHz, Krait 400
Adreno 330
Adreno 330
Adreno 330
Internal storage
32GB
32GB
64GB
OS
Android (6.0 Marshmallow, 5.1 Lollipop, 5.0 Lollipop, 4.4.4, 4.4.2), Samsung TouchWiz UI
Android (6.0 Marshmallow, 5.1 Lollipop, 5.0 Lollipop, 4.4.2)
Android (4.2.2), Amazon Fire OS UI
Battery
21.00 hours
the

average

is 17 h (1012 min)
19.00 hours
the

average

is 17 h (1012 min)
22.00 hours
the

average

is 17 h (1012 min)
16.2 days (390 hours)
the

average

is 20 days (489 h)
22.8 days (548 hours)
the

average

is 20 days (489 h)
11.9 days (285 hours)
the

average

is 20 days (489 h)
21.00 hours
the

average

is 19 h (1110 min)
21.00 hours
the

average

is 19 h (1110 min)
23.0 days (553 hours)
the

average

is 0 days (0 h)
25.0 days (600 hours)
the

average

is 0 days (0 h)
Camera
Rear
Single camera
Single camera
Single camera
Main camera
13 MP (OIS, Laser autofocus, BSI sensor)
Specifications
Aperture size: F2.2; Focal length: 31 mm; Sensor size: 1/2.6"; Pixel size: 1.12 μm
Aperture size: F2.4; Focal length: 29 mm; Sensor size: 1/3.06"; Pixel size: 1.12 μm
Aperture size: F2.0
Video recording
3840x2160 (4K UHD) (30 fps), 1920x1080 (Full HD) (60 fps)
3840x2160 (4K UHD) (30 fps), 1920x1080 (Full HD) (30 fps)
1920x1080 (Full HD) (30 fps)
Recording format
MPEG4, H.264
MPEG4, H.263, H.264
Features
HDR, Continuous autofocus, EIS, Video calling, Video sharing
OIS
Video sharing
Front
2.1 MP
2.1 MP
2.1 MP
Video capture
1920x1080 (Full HD)
1920x1080 (Full HD)
1920x1080 (Full HD) (30 fps)
Design
Dimensions
5.59 x 2.85 x 0.32 inches (142 x 72.5 x 8.1 mm)
5.76 x 2.94 x 0.35 inches (146.3 x 74.6 x 8.9 mm)
5.5 x 2.6 x 0.35 inches (140 x 66 x 9 mm)
Weight
5.11 oz (145.0 g)
the

average

is 6.4 oz (182 g)
5.26 oz (149.0 g)
the

average

is 6.4 oz (182 g)
5.64 oz (160.0 g)
the

average

is 6.4 oz (182 g)
Materials
Back: Plastic
Back: Plastic
Resistance
Water, Dust; IP67
Features
Touch sensitive control keys, Interchangeable covers, Notification light
Notification light