Wait times for Amazon's Mayday service on the Kindle Fire HDX tablets were as low as just 9 seconds on Christmas day
5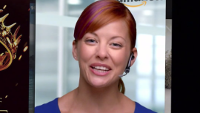 Amazon's
refreshed Kindle Fire HDX 7 and HDX 8.9
tablets made their official entry into the market back in September, a market that is rapidly turning into a dog-eats-dog type deal. Margins have been going down in the race to the bottom, yet, miraculously, Amazon has kept a steady hand. The two slates pack some of the most powerful internals one can find in a tablet nowadays – a 2.2GHz quad-core Snapdragon 800, along with 2GB of RAM and super-crisp displays.
But, it's the special 'Mayday' software feature that both slates pack that is really forcing us to reconsider the notion of value for money. Mayday is a 24/7 remote helpline, available to all HDX tablet owners, that will instantly bridge a video connection with an Amazon tech rep. Said reps offer help with pretty much everything related to your tablet, and can even draw on your interface to better direct you, or altogether take full remote control of the device. Pretty awesome, no? Anyway, upon release, the e-tail giant promised that response times will be kept under the downright amazing 15-seconds threshold, and if the company's latest press release is to be trusted, the company sure delivered. According to Amazon, busy (or lax, depending on the perspective) periods, such as on Christmas day, were handled with enviable efficiency – Mayday calls were picked up in just 9 seconds on average:
"
We set a goal for ourselves to have a response time of 15 seconds or less when a customer tapped the Mayday button—we're proud to say that on Christmas Day we met this goal, with an average response time of just 9 seconds
," Dave Limp, Vice President, Amazon Kindle said. "
We're excited that millions of customers opened a Kindle Fire tablet this holiday season, and we're glad so many customers tried out the Mayday button
."
With reports claiming that Amazon unloaded over 400 items per second during the holiday season, it's only natural to see the Kindle Fire HDX tablets sell like hotcakes. That, in turn, makes Amazon's achievement all the more impressive. Seeing as this is still a unique feature, one could see how a bunch of comical scenarios could play out. According to Amazon, a young girl using their tablet accidentally clicked the Mayday button and screamed in horror once a tech advisor popped onto her screen. This being Christmas day we're talking about, a bunch of carolers called in and sang to the team, spreading some holiday cheer. For these and a few more stories, check out the full press release right below.
Amazon Beats Goal for the Mayday Button Response Time—Average Response Time on Christmas Day Just 9 Seconds
The Mayday button on Kindle Fire HDX brings revolutionary on-device tech support—free, 24x7, 365 days a year
SEATTLE--(BUSINESS WIRE)--Dec. 26, 2013-- (NASDAQ: AMZN)—Amazon today announced that on Christmas Day, the average response time when a customer tapped the Mayday button on Kindle Fire HDX was just 9 seconds, faster than the response time goal of 15 seconds. Thousands of Mayday Tech Advisors across the U.S. were available on Christmas Day to take calls from customers.
"We set a goal for ourselves to have a response time of 15 seconds or less when a customer tapped the Mayday button—we're proud to say that on Christmas Day we met this goal, with an average response time of just 9 seconds," said Dave Limp, Vice President, Amazon Kindle. "We're excited that millions of customers opened a Kindle Fire tablet this holiday season, and we're glad so many customers tried out the Mayday button."
The Mayday button revolutionizes on-device tech support—simply tap the Mayday button in Quick Settings, and an Amazon expert will appear on your Fire HDX and can co-pilot you through any feature by drawing on your screen, walking you through how to do something yourself, or doing it for you—whatever works best. 15 seconds or less is the Mayday response time goal. Mayday is available 24x7, 365 days a year, and it's free.
Some of our favorite Mayday calls and customer reactions from Christmas Day:
A young girl got a Kindle Fire HDX for Christmas. She was playing around with it and accidentally tapped the Mayday button—when she saw the Tech Advisor, she just screamed "MOOOOOOMMM!", not having expected a person to pop up on the screen. Her parents could be heard laughing in the background.
"Not only is the device awesome but the Mayday feature is absolutely FANTASTIC!!!!! The Kindle team has hit it out of the park with this one as did Santa!"
A customer put a picture of their Christmas tree and their stockings hung in front of the fireplace on their Fire HDX display, and called in to wish the Tech Advisors a Merry Christmas.
"Just tried the mayday button on my hdx. 15 second response time…amazon has done it again. Thoroughly impressed."
A group of carolers called in and sang to the team—they wanted to thank the Tech Advisors for their work and spread some holiday cheer.
"You can take control of my Kindle? You guys come look! WOAHHHHHHHHHHHHHHHHHHH! THAT IS SO COOL THANKS BETHANY!" This is what it's all about."
"This Mayday thing is amazing! I had heard and done a lot of research about it but I figured it would take like 30 minutes to get someone! That was not the case at all. Amazon has great customer support! I'm always so amazed with you guys!"
About Amazon.com
Amazon.com, Inc. (NASDAQ:AMZN), a Fortune 500 company based in Seattle, opened on the World Wide Web in July 1995 and today offers Earth's Biggest Selection. Amazon.com, Inc. seeks to be Earth's most customer-centric company, where customers can find and discover anything they might want to buy online, and endeavors to offer its customers the lowest possible prices. Amazon.com and other sellers offer millions of unique new, refurbished and used items in categories such as Books; Movies, Music & Games; Digital Downloads; Electronics & Computers; Home & Garden; Toys, Kids & Baby; Grocery; Apparel, Shoes & Jewelry; Health & Beauty; Sports & Outdoors; and Tools, Auto & Industrial. Amazon Web Services provides Amazon's developer customers with access to in-the-cloud infrastructure services based on Amazon's own back-end technology platform, which developers can use to enable virtually any type of business. Kindle Paperwhite is the world's best-selling and most advanced e-reader. It features new display technology with higher contrast, the next generation built-in light, a faster processor, the latest touch technology, and exclusive new features designed from the ground up for readers. Kindle, the lightest and smallest Kindle, features improved fonts and faster page turns. The new Kindle Fire HDX features a stunning exclusive 7" or 8.9" HDX display, a quad-core 2.2 GHz processor, 2x more memory, and 11 hours of battery life, as well as exclusive new features of Fire OS 3.0 including X-Ray for Music, Second Screen, Prime Instant Video downloads, and the revolutionary new Mayday button. The all-new Kindle Fire HD includes an HD display, high-performance processor and dual speakers at a breakthrough price.
Amazon and its affiliates operate websites, including www.amazon.com, www.amazon.co.uk, www.amazon.de, www.amazon.co.jp, www.amazon.fr, www.amazon.ca, www.amazon.cn, www.amazon.it, www.amazon.es, www.amazon.com.br, www.amazon.in, www.amazon.com.mx, and www.amazon.com.au. As used herein, "Amazon.com," "we," "our" and similar terms include Amazon.com, Inc., and its subsidiaries, unless the context indicates otherwise.
Forward-Looking Statements
This announcement contains forward-looking statements within the meaning of Section 27A of the Securities Act of 1933 and Section 21E of the Securities Exchange Act of 1934. Actual results may differ significantly from management's expectations. These forward-looking statements involve risks and uncertainties that include, among others, risks related to competition, management of growth, new products, services and technologies, potential fluctuations in operating results, international expansion, outcomes of legal proceedings and claims, fulfillment and data center optimization, seasonality, commercial agreements, acquisitions and strategic transactions, foreign exchange rates, system interruption, inventory, government regulation and taxation, payments and fraud. More information about factors that potentially could affect Amazon.com's financial results is included in Amazon.com's filings with the Securities and Exchange Commission, including its most recent Annual Report on Form 10-K and subsequent filings.
Source: Amazon.com, Inc.
Amazon.com, Inc.
Media Hotline: 206-266-7180
www.amazon.com/pr