Alcatel outs PIXI 3 phablet and tablet, bringing 4G connectivity to the budget-conscious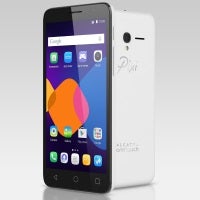 At MWC 2015, Alcatel introduced a 2-pack of PIXI-branded entry level devices: the PIXI 3 5.5-inch phablet, and the PIXI 3 7-inch tablets. They have a shared goal of bringing 3G/4G connectivity and cheerful colors to those on a budget.
The PIXI 3 phablet with 3G connectivity is an entry-level device that sports a spacious, but low-resolution 540x960 IPS screen. The rest of its configuration consists of a MediaTek MT6580 quad-core processor, 1GB of RAM, 8GB of expandable storage, an 8-megapixel main camera, a 2MP front cam, and a 2910 mAh battery unit. The phablet runs Android 5.0 out of the box.
The PIXI 3 phablet with 4G connectivity upgrades the screen resolution to 720x1280, while the processor becomes a quad-core Qualcomm Snapdragon 210, and the battery capacity goes down to 2800mAh. Otherwise, it's the same device.
Frugal internals aside, the phablets are outfitted with everything a complete smartphone beginner needs to get hooked to the cornucopia of services and entertainment an Internet-connected mobile device unlocks. They come preloaded with apps such as Facebook, Twitter, WhatsApp, Viber, graphic filters and photo editors. They will be sold in a wide selection of colors, too - Volcano Black, White, Amber Orange, Tango Red, Neon Pink, Laser Yellow, Vivid Green, Sharp Blue and Metallic Silver - which means they'll appeal to the youngest among us, as well as those of you with a passion for screaming colors.
As for the PIXI 3 tablet, it joins the 8-inch tablet already in Alcatel's PIXI 3 stable. The 3G and Wi-Fi tablets are KitKat devices, while the 4G-enabled PIXI 3 7-incher runs Android Lollipop. Spec-wise, the Wi-Fi and 3G 7-inchers have 1024x600 TFT displays, they operate with dual-core MediaTek MT8127 processors, a puny 512MB of RAM, and each has 4GB of storage, a 2820mAh battery, and a pair of 2MP (back) & VGA (front) cameras. The 4G variant rocks a Snapdragon 210 quad-core CPU and 1GB of RAM, otherwise remaining the same.
Alcatel hasn't outed prices and release dates yet, but those PIXI devices could show up as budget offerings on US carriers' catalogs in a few months.
source: Alcatel
The Affordable Choice: PIXI 3 Tablets Offer Different Screen Sizes and Connection Options
2 different screen sizes: 7-inch and 8-inch
3 different connection options: 4G LTE, 3G or Wi-Fi only
Personalizable with colorful cases and back covers
Mobile World Congress, Barcelona, 2 March 2015
– ALCATEL ONETOUCH, one of the world's fastest-growing smartphone brands, introduces the PIXI 3 7-inch tablet, which joins the 8-inch tablet already in the PIXI 3 stable. They are part of the colorful, affordable PIXI 3 series, which features devices in different sizes with an accompanying array of custom options. The PIXI 3 (7) tablet delivers 4G LTE, 3G or Wi-Fi-only connectivity, while the PIXI 3 (8) offers 3G connections.
"Our PIXI line is all about making mobile Internet accessible," notes ALCATEL ONETOUCH's Chief Marketing Officer Dan Dery. "The new ultra-affordable PIXI 3 (7) tablet does just that, and is sleek enough to glide easily into a pocket."
Fast and Highly Portable

Compact and highly portable, the PIXI 3 (7) is available with either 4G LTE, 3G or Wi-Fi connectivity.
"The Qualcomm Snapdragon 210 processor not only supports multimode 3G/4G LTE for fast, efficient web browsing, but also integrates an Adreno 300 series GPU for great graphics, 8 megapixel camera and full HD video capture and playback " said Raj Talluri, senior vice president, Qualcomm Technologies. "We're proud to work with ALCATEL ONETOUCH to integrate our leading 3G/4G LTE Advanced technology into devices that will benefit the greatest number of users possible."
The Qualcomm® Snapdragon™ 210 processor, with quad-core CPU, is designed to support a lag-free experience when browsing the Internet, downloading and watching videos or gaming.
Packed With Useful Features

The PIXI 3 (7)'s Wi-Fi display feature allows users to go from palm size to super-size in no time, easily sharing images from the tablet to a larger screen.
The 4G version runs on Android Lollipop, while the 3G and Wi-Fi versions run on Android 4.4. GPS is available on the 3G and LTE versions, while an On-the-Go function is available on all three, allowing an audio player or mobile phone to act as a host.
In addition, the tablet allows for multiple accounts for multiple users, to securely share the device with the whole family.
Voice-call-enabled, the PIXI 3 (7) also offers handset mode, so users can pick up their calls on their tablet, with no need of another device.
Colorful and Customizable

Like other devices in the PIXI series, the PIXI 3 (7) is customizable. Users can add their own colorful touch to their tablets with a choice of seven colorful back covers. Specially designed foldable folio cases can further protect and personalize the tablet.
With their host of features, accessories and performance capabilities, the PIXI 3 (7) and PIXI 3 (8) are further examples of ALCATEL ONETOUCH's dedication to democratizing mobile Internet access.