Alcatel One Touch Net packs in plenty of Yahoo's services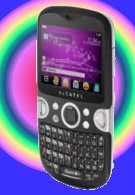 Although it'd almost be unimaginable to see Yahoo get into the game by developing and launching a mobile platform from the ground up like what Google has done, it doesn't prevent handset manufacturers from making devices that intuitively integrates some of Yahoo's services. If you're keen on using Yahoo for most of your needs, then you may want to take a quick peek on what the Alcatel One Touch Net has in store for you. Even though we can't say it's a Yahoo phone in the flesh like how the Nexus One is for Google, this Palm like handset packs in plenty of features that may appeal to hardcore Yahoo users. The device is actually manufactured by TCT Mobile and features a 2.4" display, 2-megapixel camera,
EDGE
connectivity, Bluetooth, 80MB of internal storage, FM radio, portrait style QWERTY, and a "special optical trackpad." From afar, its design looks similar to something like the Palm Treo Pro, but underneath its aesthetics, owners will find Yahoo's arsenal of services – such as Yahoo! Mail, Yahoo! Messenger, Yahoo! Search, Yahoo! Homepage, Yahoo! Social Pulse, Yahoo! Address Book and Calendar, and Flickr. For those who might have a slight interest, the handset will be made available later in the year to markets in mostly Southeast Asia. Being positioned as being an affordable mobile solution the Alcatel One Touch Net will be priced under $100.
source:
PR Newswire Asia
via
Unwired View