AT&T Motorola ATRIX 4G Lapdock on sale again - $59.99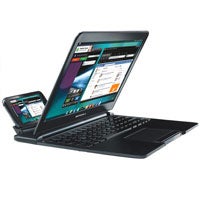 Most people will agree – the original price of the Lapdock for the AT&T Motorola ATRIX 4G was way too high. A few weeks ago we reported a
sale that would enable you to get your hands on this accessory for a mere $55
after shipping.
If you missed out on that one, we have good news for you. 1 Sale a Day has put the AT&T Motorola ATRIX 4G Laptop on sale again. This time it is running a Buy It Now special through eBay for $59.99 with free shipping. Even through it is $5 more this time around; it is still a great deal for ATRIX owners.
The Lapdock features 1 GB RAM, 11.6" screen, full keyboard, touchpad, stereo speakers, and two USB ports. It weights
2.4
pounds and has a 3 cell battery that provides up to 8 hours of use per charge.
There are only limited quantities available, so if you're in the market for a Lapdock,
hurry over to eBay to catch this deal
.
source:
eBay
via
SlickDeals