ASUS Eee Pad Transformer update to Honeycomb 3.1 leaked
1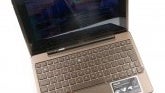 The
ASUS Eee Pad Transformer
is one of the most wanted crossover products – half-tablet, half-netbook – the Transformer comes with a juicy price tag of only $399 for the basic model. It's no surprise that shortly after it went on sale it was quickly sold out, but one thing owners of the affordable Transformer might have wanted in addition to the device is a software update.
Android 3.1 Honeycomb
was confirmed to be coming soon, but impatient geeks can get it now from the download link below.
The newest version of Honeycomb brings
improved overall performance
and you're also treated with a firmware update for the dock of the Transformer with a brand-new power saving mode and a fix for the lag when watching videos on the web. In addition, some bugs have also been fixed and it's only JavaScript that seems to work slightly slower after the update. The update seems to be in its final version, but some users still had issues when updating, so if you don't feel secure with your flashing skills you might want to put it off until the official update arrives. For the rest, check out the source below for all the instructions and a download link, and let us know how it all went in the comments!
source:
Android Central