A sign of things to come: Team Windows Phone uploads a couple intro videos for Windows Phone 8.1
47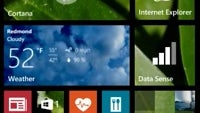 Now that the
Nokia Lumia 630 is officially available
, and can be found for pre-order in some other markets, that means that Windows Phone 8.1 is on the scene for the masses.
If you have been about updating your existing Windows Phone from 8.0 to 8.1, the process is simple, and
you definitely would not be alone
. The "developer preview" is really more of an enthusiast program, and 8.1 has surprisingly few bugs.
That said, if you are ready to take the plunge, make the switch, do the upgrade, or buy yourself a shiny new Lumia 630, the team at Windows Phone saw you coming and put up a couple no nonsense videos to help dip your big toe in the waters.
The first is your basic "getting started" summary. If you are new to Windows Phone, it will at least open the door for you. The second video gets into Cortana, Wi-Fi Sense, and some of the other neat personalization features. Naturally, the notification action center is covered. All the other basic controls are covered, from the new keyboard to volume controls.
So, what has been holding you back? Are you picking up Windows Phone 8.1 anytime soon?