Windows Phone 8.1 developer preview likely has well over 1 million installations
20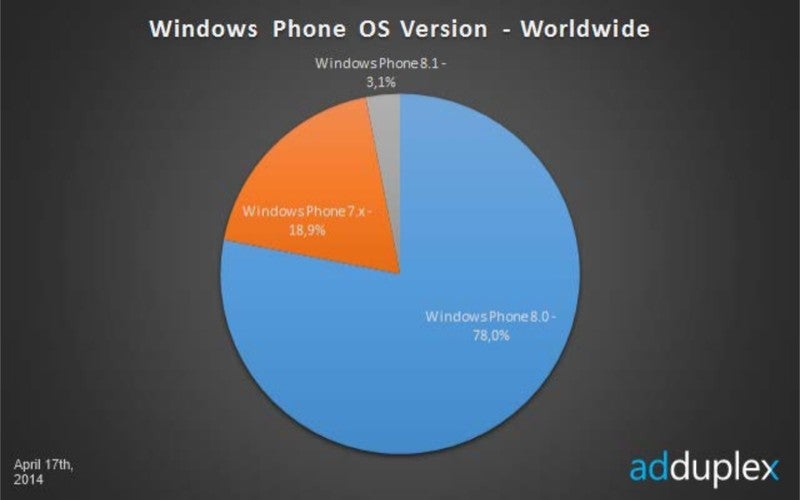 In a preliminary release of statistics from AdDuplex, it looks as though the developer community (in name only) for Windows Phone has grown exponentially. Based on a sneak peak of numbers from the ad processing service, the install base of Windows Phone 8.1 is already over 3%. That is astonishing when you consider that the developer preview has only been available for a little over a week.
Microsoft has made it silly-easy for Windows Phone enthusiasts to get connected with the developer preview of Windows Phone 8.1. It is literally as simple as signing in with your Windows ID on Microsoft's App Studio and registering as a "developer."
If the conservative Windows Phone user base estimate of 50 million users is accurate (we think it is higher), then 3.1% would equate to about 1.55 million Windows Phone 8.1 installations. Since Windows Phone has closer to a couple hundred thousand "real" developers, it gives a nice gauge of how enthusiastic the Windows Phone user crowd is.
When you also consider that the "real" first Windows Phones to come with 8.1 out of the box, the
Nokia Lumia 930
and
Lumia 630
/635, are not even available yet, and will not be for a couple months, it shows how eager folks are to take advantage of all the new features of Windows Phone 8.1.
Microsoft has been leaning toward listening and responding to feedback more proactively lately, and given the
role that AdDuplex has found
itself in providing interesting sets of statistics, we think the platform is well served.
AdDuplex also tipped its hat about other Windows Phone stats around the world. Nokia still rules the roost as does the
Lumia 520
in terms of commanding market share. The
Lumia 920
,
625
,
620
,
720
, and
710
are all pretty even rounding up the 5 runners up. AT&T dominates in name, though T-Mobile and MetroPCS combined have a distinctly larger share now.
The AdDuplex blog also usually shares whenever it sees activity of unannounced or unknown handsets. This time around, there is no new activity to report.
How about it? Are you part of the enthusiast base that grabbed Windows Phone 8.1?
via:
WPCentral