5 Android apps that give you useful and interesting smartphone usage stats
2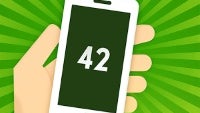 How much can you know about yourself if you never checked your connection speed? Yep, that was a rhetorical question, and a poorly masterminded one at that. But hey, using stats apps on your smartphone can lead you to interesting discoveries about your usage habits and patterns.
In the gallery below, you will find five apps that will clue you in on things like how often you pick up your phone to check something, what kind of calls and messaging activity you generate on a daily basis, what are your favorite words that you use in texts most often, or yeah – just how brag-worthingly fast your home Wi-Fi connection has become after upgrading your aging router!
These apps are completely free, although some have pro features that extend their functionality beyond their normal capacity. Check them out, it's good stuff!
Also read: