5 top-rated antivirus and security apps for Android smartphones and tablets
18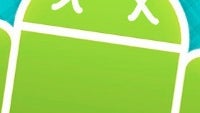 According to cyber security companies, nearly 100% of mobile malware is found on Android phones. And indeed, with so many people online using their droids to surf the web, shop, and share moments and data from their personal life, it's hardly surprising that the platform is ripe with malicios adverts and apps targeting unsuspecting users. Despite Google's best efforts in securing the operating system, no code can be one hundred percent bulletproof. Which is why everyone can benefit from installing an antivirus or security app and get themselves some peace of mind.
There are many choices for cyber security apps, and the top-rated ones mostly come from companies with long years of experience in securing desktop operating systems. That's just a fancier way of saying that whatever antivirus or firewall app you're using on your personal computer, chances are you will find a version of it developed from the ground-up for smartphones and tablets. Most of the time, the applications are completely free as well, which makes installing them all the more inviting!
So here they are, five top-shelf Android security apps by reputable companies which you can use to protect your device and data from malicious code, intrusion attempts, fishing, app privilege abuse, and other cyber baddies – for free.
Also read: