32GB Apple iPhone 6 (2017) to launch in Europe next week wearing Space Gray
49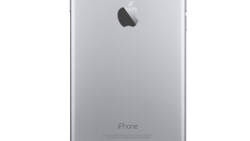 Last week, we told you that Taiwan Mobile had launched the 32GB Gold
Apple iPhone 6
, which has been dubbed the iPhone 6 (2017). Since the original Apple iPhone 6 was released with 16GB/64GB/128GB of storage, Apple filled in the gap by offering a model with 32GB of storage, and is issuing the phone as a limited edition. The device isn't being offered by Apple, nor is it available at the Apple Store or online.
Taiwan Mobile is offering the iPhone 6 (2017) in Gold only, for the equivalent of $435 USD;
iOS 10 is pre-installed, compared to iOS 8 which came out of the box with the original model. Now, the device moves to Europe where it will be available next week in the country of Belarus. Unlike the version sold in Taiwan, the iPhone 6 (2017) will be sold in Belarus wearing Space Gray only. It will go on sale at the i-Store in Minsk, priced at the equivalent of $522 USD. This pricing could attract some buyers to the device in the country, since a similarly equipped
Apple iPhone 6s
is priced at the equivalent of $798 USD, and a refurbished 16GB version of the Apple iPhone 6 is priced at the equivalent of $626 USD.
Apple is not talking much about this device, which means it isn't clear exactly where it will end up next. It could be that these two markets will complete the roll out. Regardless, we don't see the iPhone 6 (2017) making an appearance in the U.S.
source:
42.TUT.BY
(
translated
)