20,000 Apple iPhone 5 units sold in Russia over the weekend
16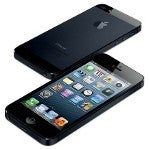 had sold 2 million units of the Apple iPhone 5
during the handset's launch weekend in the country. Cook reminded us that this was a record number for iPhone units sold in China during a launch weekend. While the executive didn't reveal the weekend sales in the 32 other countries where the
Apple iPhone 5
launched on Friday, a few publications in Russia have come to the conclusion that
20,000 units
of the Apple iPhone 5 were sold during the launch weekend there.
While 20,000 units moved doesn't seem like a large number, it does represent
40% of all legally imported smartphones
in the country. In addition, the majority of legit sales in the country were for the 32GB and 64GB variant of the phone. Those who wanted the 16GB model were more apt to purchase it from the "grey market".
On Friday, the Apple iPhone 5 will become available in a few more countries like Egypt, Barbados, and Vietnam. As we mentioned on Sunday, with the phone already available in more than 100 countries, this is the
fastest rollout yet
of an iPhone model.
source:
SlashGear