iPhone 13 mini vs iPhone 12 mini
9
We may earn a commission if you make a purchase from the links on this page.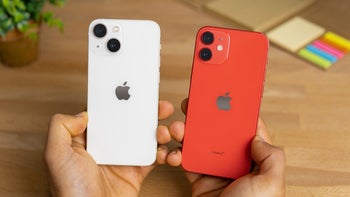 The
iPhone 13 mini
might be the last of its kind, a compact phone with not just the right size for many, but also one that is incredibly powerful. But how does it compare against the previous generation
iPhone 12 mini
? And which one should you get?
The newer 13 mini model improves upon the big weakness of its predecessor — battery life! Along with that, it also brings a faster chip, a new camera sensor, and a welcome storage boost.
There are a few other exciting changes, so read on!
iPhone 13 Mini

vs

iPhone 12 Mini

in a nutshell:
Longer battery life! 13 mini lasts 1.5 hours more than 12 mini
Nearly identical design and styling, newer phone is a bit thicker and heavier
Same 5.4" screen size, 60Hz on both, but newer phone gets brighter
Faster Apple A15 vs A14 on the older model, but same 4GB RAM
128GB base storage vs 64GB on 12 mini
Two cameras on both, but upgraded on the 13 mini
iPhone 13 mini

pros and cons

iPhone 12 mini

pros and cons

Display and Design
The 13 mini brings a brighter screen and a tinier notch
The
iPhone 13 Mini
sticks with a 60Hz refresh rate, just like the 12 mini, which is disappointing considering that newer phones have 120Hz technology for smoother scrolling.
Apart from that, though, screen quality is excellent on both phones. The 13 mini and 12 mini both come with identical 5.4" OLED screens, both have great color reproduction and viewing angles, and both feature the same resolution and sharpness. The 13 mini, however, can get brighter, as Apple says it gets to 800 nits max brightness vs 625 nits on the 12 mini. This definitely helps see the screen outdoors.
And here are our detailed screen measurements for both models:
iPhone 13 mini vs 12 mini Display Measurements:
Display measurements and quality
On the design side, the two look nearly identical. Sure, you have the diagonal camera that is an easy giveaway for the newer model, but no major changes apart from that. Dig a bit deeper and the only thing you can notice is that the 13 mini is a bit thicker at 7.65mm of thickness vs 7.4mm on the 12 mini, and it is also a tiny bit heavier (141 grams vs 135g), but those are things that you probably won't even notice in real life.
In terms of
iPhone colors
, you have a similar amount of choice: both come in the classic black and white, as well as Product Red, and then you also have a pink, blue and green color options on the 13 mini, and slightly different variations of the same colors on the 12 mini.
Battery and Charging
Finally, a battery upgrade that puts an end to the misery
All
iPhone 13
series models receive some form of a
battery upgrade
, and the
iPhone 13 mini
is — thankfully! — not an exception.
The
iPhone 13 mini
sports a 2,406mAh battery, a nifty upgrade over the 2,227mAh cell on the 12 Mini. That works out to a nearly 10% increase in pure capacity.
Apple says you should expect to see 1.5 hours longer battery life in average use on the 13 mini, which sounds great. Another very interesting number is battery life while streaming video: it's 13 hours on the
iPhone 13 mini
compared to just 10 hours on the
iPhone 12 mini
.
iPhone 13 mini vs 12 mini Battery Test Results:
Indeed, the newer phone brings a welcome improvement in battery life.
On our lightest of tests, web browsing, the 13 mini scores more than 12 hours, which is more than an hour and a half on top of the 12 mini score. It also gets an extra hour of YouTube video streaming, and finally the biggest increase came in gaming where it lasted nearly 30% longer than the older model. This is indeed great news for the mini lovers, who can now confidently use their phone throughout the day without worrying about topping it up mid-day.
On the charger front... well, nothing has changed here. Apple no longer ships a charger in the box, so plan on spending an additional $20-$30 bucks for a fast charger, if you don't already own one. Unfortunately, Apple's "fast charger" is not quite as fast as most other phones, only maxing out at 20W. It takes about an hour and a half to fully charge an
iPhone 13 mini
, same as on the 12 mini.
Both iPhone Mini models have MagSafe technology for wireless charging at speeds of up to 15W, and again you need a compatible charger to get those max speeds. A regular non-MagSafe Qi wireless charger will still work, but it will charge them at slower speeds.
Cameras
Upgraded cameras and new software features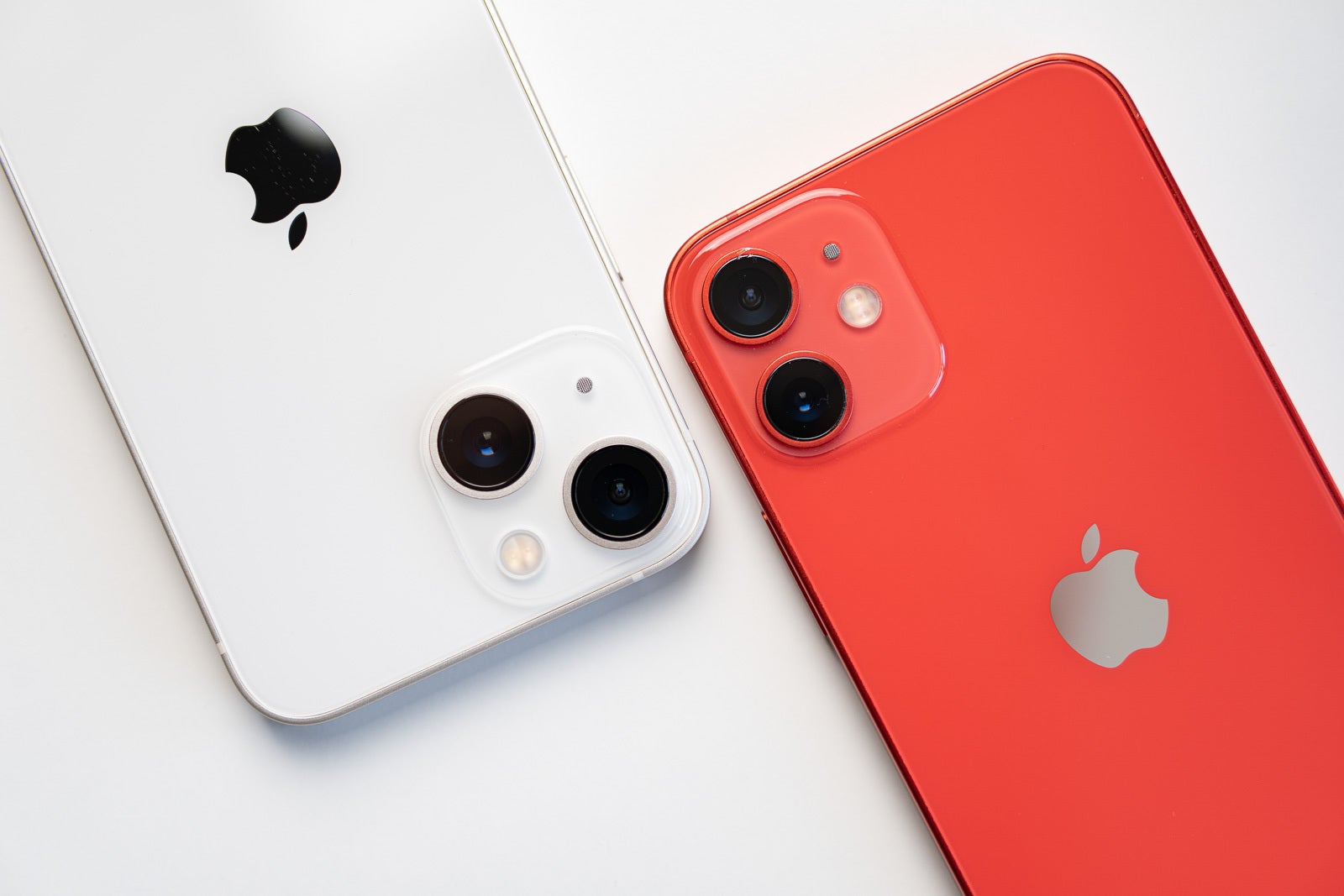 The new diagonal arrangement of the cameras is not the only thing that's changed in the 13 mini, as the camera hardware has undergone an upgrade too.
In terms of hardware, you get a dual-cam setup with a wide plus ultrawide lens on the back:
Wide camera: 26mm, f/1.6 aperture on both
Ultra-wide camera: 0.5X, 13mm, f/2.4 aperture on both

While there are no changes in aperture, Apple says the 13 mini has a "new wide camera" with a shiny new sensor that now captures 47% more light, plus you get new sensor-shift OIS for better stability. On the ultra-wide camera, the company promises "more detail in the dark areas of your photos."
Armed with this information, let's take a look at the actual photos and inspect the differences, shall we?
During the day, you really have to be eagle-eyed to spot much of a difference. In the more than a dozen shots above, most of them look identical, if not exactly the same. Yes, you could spot a few shots where there is a bit of a distinction in color reproduction, but apart from that, the photos look quite similar with both the wide and ultra-wide cameras.
In low light, however, the changes are actually visible. The
iPhone 13 mini
doesn't aggressively go for just a brighter picture, but tends to get the white balance less warm (correctly), plus it controls brighter lights much better and generally looks cleaner.
And while the front camera has the same 12-megapixel sensor, it now has better dynamic range and selfies actually do look better on the 13 mini.
There are a couple of new software features too:
Cinematic Mode — similar to Portrait mode, but for video. The

iPhone 13

analyzes video footage in real time and blurs the background for a so called bokeh effect, leaving only the subject in focus. It also automatically switches focus between faces when appropriate, for example, if you are in focus and turn away, it moves the focus automatically on the next person in the frame.
Photographic Styles — way more powerful than traditional filters. These new AI filters allow you to fine tune the way the camera captures images and once you set them, the camera app remembers them and uses them until any further change. This means that you can easily customize the colors and overall styling of your photos. Awesome! Keep in mind that once you select a photographic style you cannot change on a photo that you have already captured.
The zoom lens, LiDAR scanner and macro mode remain exclusive features for the Pro models and are
not
available on the
iPhone 13 mini
or 12 mini.
Performance: the new Apple A15 Bionic
Slightly faster processor and even more importantly, double the storage!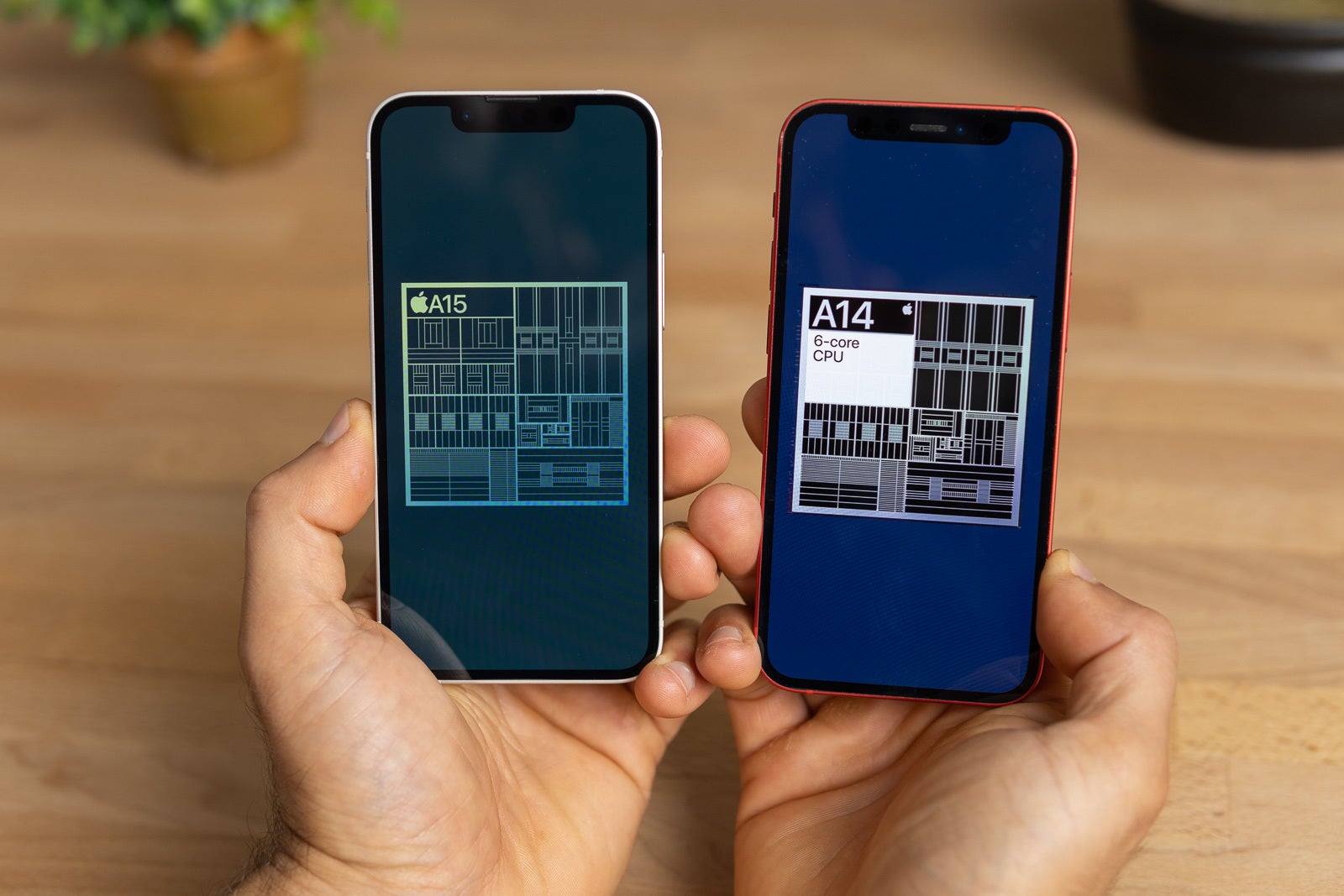 In the past few years, Apple has had the fastest chips in the industry, and the new Apple A15 Bionic chip only extends its lead. The Apple A15 is built on the same 5nm technology as last year, but it has more transistors — 15 billion vs 11.8 billion transistors on the A14.
While it delivers modest improvements to single-core CPU performance, it brings bigger gains in multi-core performance thanks to using a wider cache and it has one extra GPU core and faster graphics performance.
Below, you can find benchmarks comparing these two:
There is a slight improvement in speed, and analysts have pointed out that it is probably due to Apple bumping CPU speed for better single-core scores and increasing the cache that helps with multi-core results.
iPhone 13 mini GPU tested
Results above are from the 3D Mark Wildlife Extreme Stress Test, which runs a game simulation for 20 minutes straight and is a great tool to understand GPU performance over a period of time and whether you have throttling. Both the
iPhone 13 mini
and
iPhone 12 mini
start with a burst of performance but quickly throttle down after just 1 or 2 minute of running the test. Most other iPhones are able to maintain that performance for the whole duration of the test, but the minis can hold on to this for only about 10 minutes, before experiencing another quite significant drop in performance.
Interestingly, we have the very same behavior on both minis, and that leads us to think that even the newer and more efficient A15 has to throttle because of the smaller space, which makes it easier for the phones to heat up. Still, if we were to measure the average increase in GPU performance that the new 13 mini brings, that would be to the tune of 15% to 20%, which is actually quite good.
One thing the
iPhone 13 mini
does not get is a RAM upgrade as it is still running with the same 4GB RAM as its predecessor.
Apple does have an unexpected, but super welcome upgrade which is the 128GB base storage in the 13 mini! Previously, the 12 mini base model started at 64GB of storage, which was — let's face it — quite insufficient for most users. Having double the storage at the same price is great.
If you care about connectivity, you should know that both phones support 5G bands with mmWave support in the United States. The 13 mini comes with a brand new Qualcomm X60 modem (it's also used in Android flagship phones like the Galaxy S21 series). It replaces the X55 modem used in the
iPhone 12
series, and the main advantage its brings is that it gets rid of one limitation of the previous modem. While the X55 modem bundled 5G downlink with 4G uplink, the newer X60 combines 5G downlink and 5G uplink and this helps achieve lower latency.
iPhone 13 Mini vs iPhone 12 Mini: Specs Comparison
And here is a detailed specs comparison between the
iPhone 13 mini
and
iPhone 12 mini
.


iPhone 13 mini
iPhone 12 mini
Size and Weight
131.5 x 64.2 x 7.65 mm, 141g
131.5 x 64.2 x 7.4 mm, 135g (4.76oz)
Display
5.4" OLED, 60Hz
5.4" OLED, 60Hz
Processor
Apple A15 Bionic
Apple A14 Bionic
RAM
4GB
4GB
Storage
128G / 256G / 512GB, non expandable
64G / 128G / 256GB, non expandable
Cameras
12MP wide camera
12MP ultra-wide camera

12MP wide camera
12MP ultra-wide camera

Battery size
2,406mAh
1.5 hours longer battery life on average
2,227mAh
Charging speeds
20W wired, 15W MagSafe wireless
20W wired, 15W MagSafe wireless
Prices
after iPhone 14 launch, iPhone 13 mini starting price was cut to $600
after iPhone 14 launch,

iPhone 12

is no longer available on Apple.com

So... that's the
iPhone 13 mini
: the better battery life everyone hoped for in the same lovely form factor. Plus new colors, faster chip and double the storage, slightly improved loudspeakers, but no big changes in camera quality and no 120Hz ProMotion.
So, do you think that Apple has done enough with this upgrade?
Recommended Stories