T-Mobile myTouch Q 2012 Review
4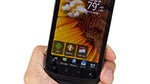 Introduction:
Alright, Huawei has been commissioned to manufacture the latest myTouch devices for T-Mobile, and just like last time with LG's offering, they're also supplying a QWERTY one to complement the all-touch option. However, instead of being some sort of modest or super spec'd smartphone, this version of the myTouch Q is more laid back with its entry-level capacity. Fortunately, its $49.99 on-contract price seems tempting enough to warrant a purchase over other comparable model, so let's see how it performs.
Design:
If you took the Huawei-made T-Mobile myTouch and added a landscape sliding QWERTY keyboard, you essentially have yourself the myTouch Q. Above all, we totally take a liking to its solid build quality and sturdy construction, but it's somewhat bulky (0.56" thick) and heavy (6.52 oz) by today's standards.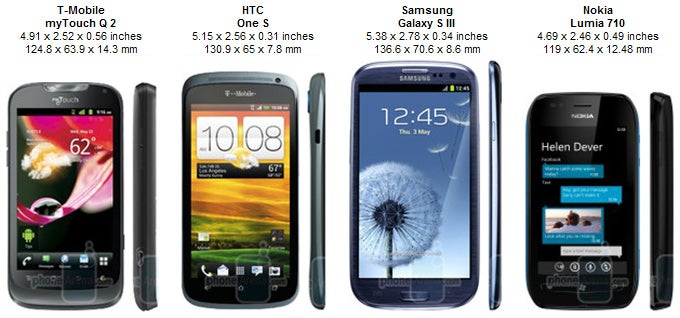 You can compare the

T-Mobile myTouch

Q with many other phones using our Size Visualization Tool.
Looking

all around the handset

, we're greeted with things such as its microUSB port, volume control, power button, 3.5mm headset port, single-level shutter key, microphone, and capacitive Android buttons.
In terms of

cameras

, it packs along a front-facing 0.3-megapixel VGA camera and a rear 5-megapixel auto-focus snapper and LED flash – the latter of which can shoot videos in 720p. Removing the soft touch rear casing, its 1,500 mAh battery, SIM slot, and spring loaded microSD card slot are all accessible.
And of course, there's the matter regarding its

physical keyboard

, which has a snappy response when opening/closing. With its oval sized buttons, they're spaced evenly from one another and slightly domed to offer us enough distinction with our thumbs. Beyond that, we're able to casually type at a moderate rate thanks to its adequate response. However, we would've liked to see an additional shift and "ALT" key placed on the right portion of the keyboard for added convenience.
Display:
Donning a

4" WVGA (480 x 800) LCD display

, it's manageable in making out most details, but fails in outdoor usage due to its extensive washed out appearance. Specifically, tilting the handset distorts the contrast level and color production, to make it nearly impossible to view in direct sunlight.




T-Mobile myTouch Q 360-degrees View: