Samsung Galaxy Note 8 vs OnePlus 5
41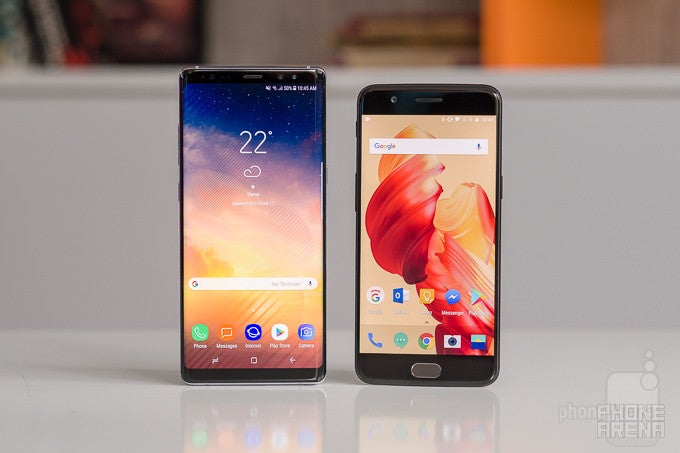 Introduction
There are many things to like about the
Samsung Galaxy Note 8
and very few reasons not to get one. It is big, it is shiny, and it is powerful. It comes with an S Pen stylus, and its dual camera is capable of actual 2X zoom and bokeh effects. But there is one noteworthy detail that could make you think twice before taking out that credit card – owning one will set you back around $1000. Yikes!
The
OnePlus 5
cannot match the Note 8's visual appeal, and it doesn't have a fancy stylus either. Looking at its camera and hardware specs, however, it could give the Note 8 a run for its money. And speaking of money, the OnePlus 5 costs only half as much. Сhould you consider it as an alternative to the Note 8, аnd is Samsung's phablet really twice as good?
Design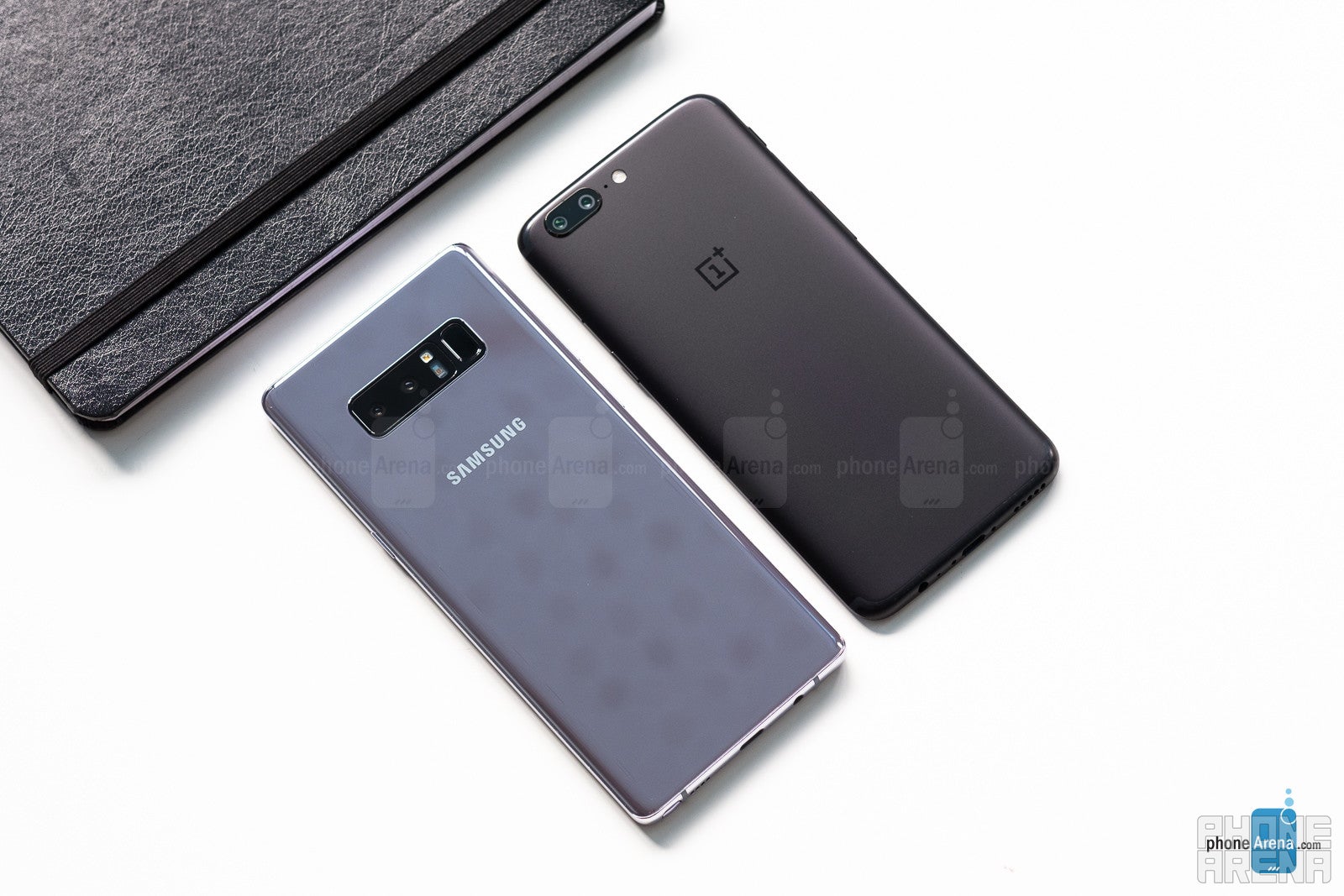 I was tempted to start this paragraph with a joke about the Samsung Galaxy Note 8 being so huge, but then I decided not to. I mean sure, it is large enough to have its own gravity field, but that's exactly its point as a product. It is a niche device made to provide plenty of workspace for those who demand it, and it gets the job done wonderfully through efficient use of real estate, filling nearly all of its front side with screen space. To top it all off, its display is shaped around an aspect ratio of 18.5 by 9, giving you spacious screen area within a body that is still possible to grasp.
The OnePlus 5 looks dated next to the futuristic and forward-looking Galaxy Note 8, but its more traditional design has its strengths. For starters, it is easier to operate with one hand and the lack of a curved screen minimizes the chance of accidental edge taps occurring. Also, the fingerprint scanner is in a position making much more sense – below the display. That the OnePlus 5's metal back would be more resilient than the Note 8's glass one should also be taken into account.
Speaking of damage, the Galaxy Note 8 is water resistant – just like every high-end phone should be nowadays. So is its S Pen stylus. The OnePlus 5 skips on water resistance, unfortunately, but it has a perk of its own – the slider switch at the side letting you quickly toggle between loud and silent profiles. Pretty neat!
Display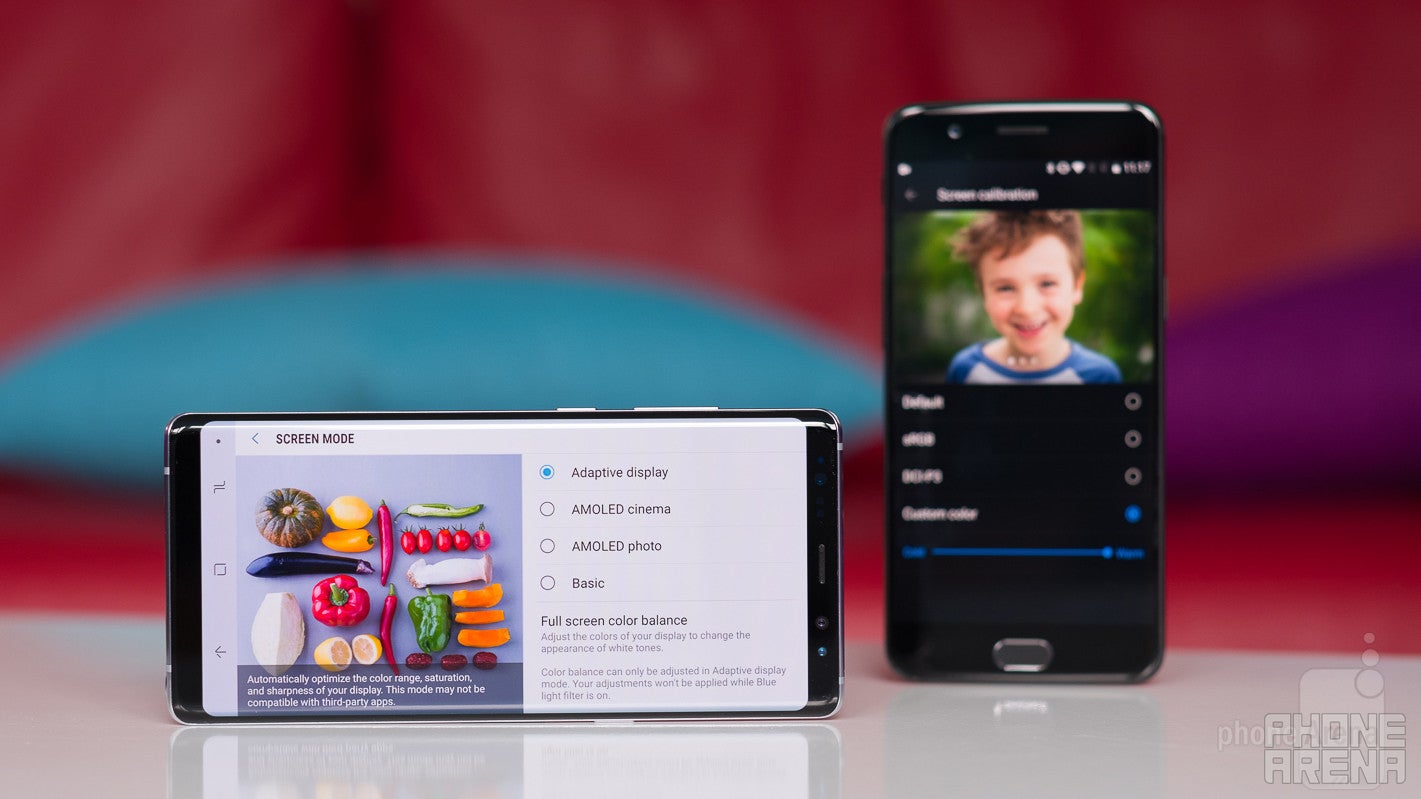 Both phones come with AMOLED displays – vibrant and overly saturated by default, but you have the option to switch to a different color profile if you value color accuracy over eye candy. At this point, the similarities between the two panels end, pretty much.
There's no need to go into details here. All you need to know is that the OnePlus 5's display gets the job done, but the one on the Galaxy Note 8 is superior in many ways – is easier to see outdoors, it can display HDR video, and it supports Samsung's Always-on Display feature, making you aware of the time and pending notifications even when the phone is in standby. Oh, and there's none of that jelly effect you might notice with the OnePlus 5 while scrolling.
Display measurements and quality
Recommended Stories