Samsung Galaxy Music Review
18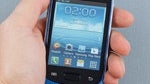 Introduction:
Have you ever cursed that your smartphone is not really suited to be a music player in your pocket, as you have to unlock the screen to control the player?
Well, the
Samsung Galaxy Music
is here to remedy the situation with a dedicated play/pause button plus stereo speakers, and it won't break the bank either, as it should be with a phone targeted squarely at teens.
The specs are ho-hum, but the phone promises some extras for music aficionados, so is it likely to win their hearts and minds the way it is? Read on our review to find out...
Design:
As is customary for teen-oriented phones, we have a design with flashy color, and a lot of chrome-like rim supplied. In the case of the Galaxy Music, however, we also have metal grills over the two speakers on the front - a material Samsung doesn't use very often in its phones.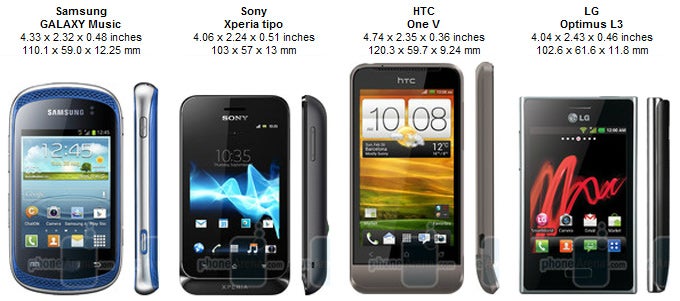 You can compare the Samsung Galaxy Music with many other phones using our Size Visualization Tool.
The tiny handset is very easy to hold and operate with one hand, fitting comfortably in your palm with its rounded corners and tapered edges. It is on the chubby side, but nothing too grand and unbearable, while the weight is kept in check.
The Galaxy Music scores points for the regular SIM card slot and the easily accessible microSD one on the left - a must if you need to hot-swap cards with your vast music collection. The memory card slot, as well as the microUSB port at the top are covered with protective flaps, that are easy to pry open or snap back into place.
Looking
around the sides
we find a dedicated play/pause key down right, which works while the phone is locked for easily managing your music playback on the go. If you hold it, the phone goes directly into the music player, even in a locked state, so you can manage your tunes quicker.
Display:
A basic
3" LCD screen with 240x320 pixels
of resolution is what Samsung decided to outfit the Galaxy Music with, and it is as bad as it sounds. Washed-out colors, very weak viewing angles and low pixel density is what awaits you, so you are unlikely to spend hours browsing or watching videos on this one.
The one bright spot is sunlight visibility, as the screen performs decently outside, and the interface elements remain visible enough for comfortable operation - there is no light sensor, though, so you'd have to pump up the brightness to the max manually with the slider that Samsung has provided in the notification bar.