Samsung Galaxy A32 5G Review
6
We may earn a commission if you make a purchase from the links on this page.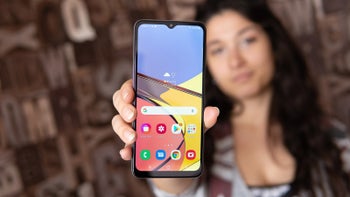 The Samsung Galaxy A32 is the cheapest 5G device that Samsung offers right now. It's not really the best at most things, but if you don't really care about doing too much on your device and want something that just works and can take a photo and video or two from time to time, while also having 5G support, this is your device.
So let's have a look at it!
A32 5G vs A32 LTE: differences
Small yet big
Let's start this off by saying that this phone also has a 4G LTE variant. While it has slower connectivity speeds, it does have one better feature and that is its 90Hz 1080P AMOLED display which simply trashes the LCD one on the A32 5G version. Our guess is that Samsung needed to bring the cost down on the 5G model, which is why they skimped on the display and personally, we think that was a bad decision. For all else, the 5G and LTE versions are identical.
Design
Plastic glass
Design-wise, this device is actually a hipster. To put it into other words, the back is a glossy plastic one, which we're not a fan of but the camera bump is non-existent. Instead, what you get here are slight protrusions from each camera lens. Additionally, the fingerprint sensor is on the side here which we're fans of. We only wish Samsung had decided to either put a glass back or just own the plastic and make it matte, and possibly make the chin on the display slightly smaller.
Otherwise, in terms of thickness, this device is as thick as a brick and it's probably one of the first things you'll notice in hand. If we exclude that, though, this is a rather refreshing design.
Display
Could have been better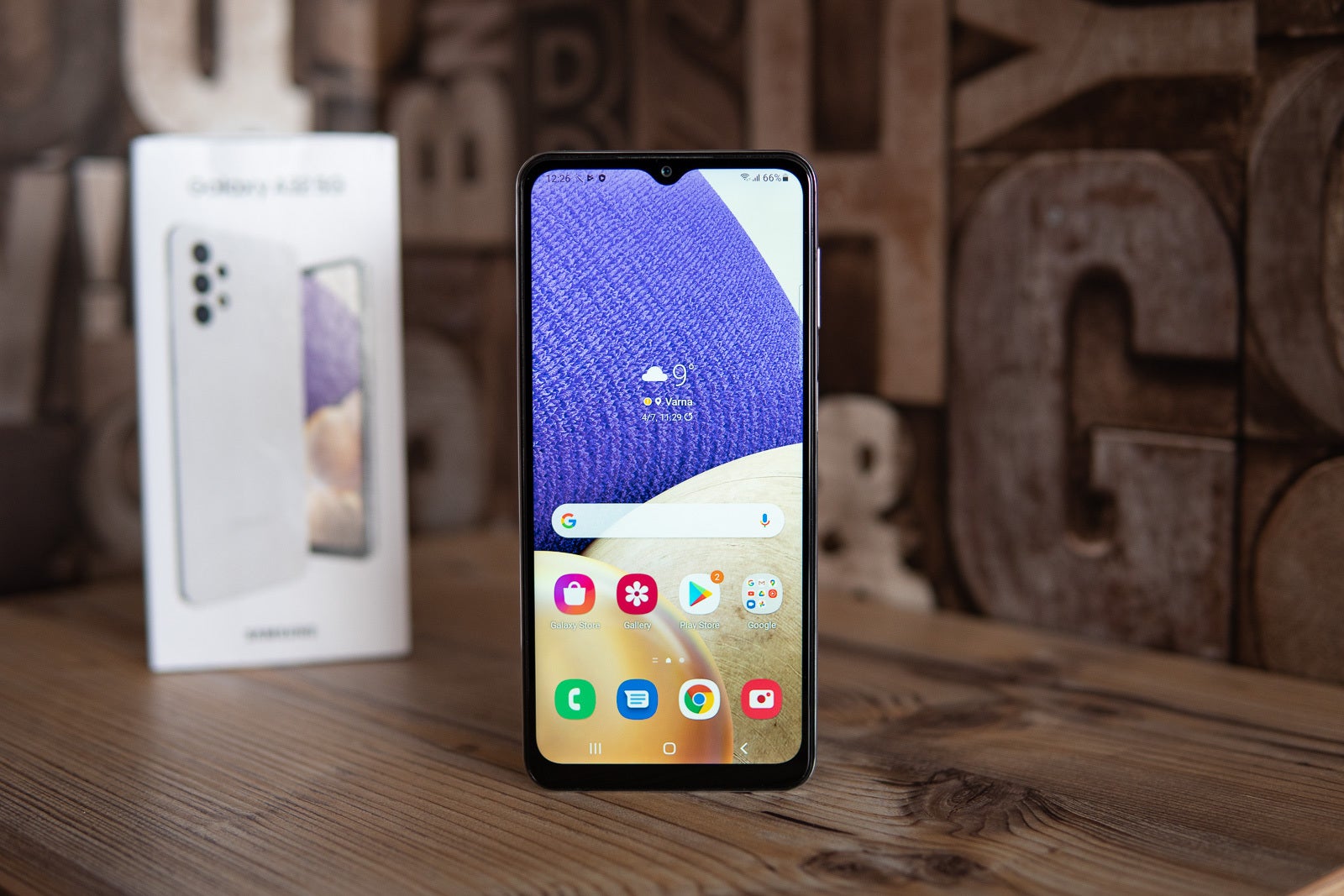 Display-wise, Samsung decided to disappoint us here. The A32 5G variant comes equipped with a 720x1600 pixel display which is capped at 60Hz. That's really not that amazing given the screen size of 6.4 inches.
Not only that, but it's also not AMOLED. Instead, you're getting a rather dull IPS LCD display with slight ghosting going on for it, so it could've been better. Otherwise, colors are fine and brightness should do you good outside with a peak of 557 nits.
Display measurements and quality
Camera
Surprisingly good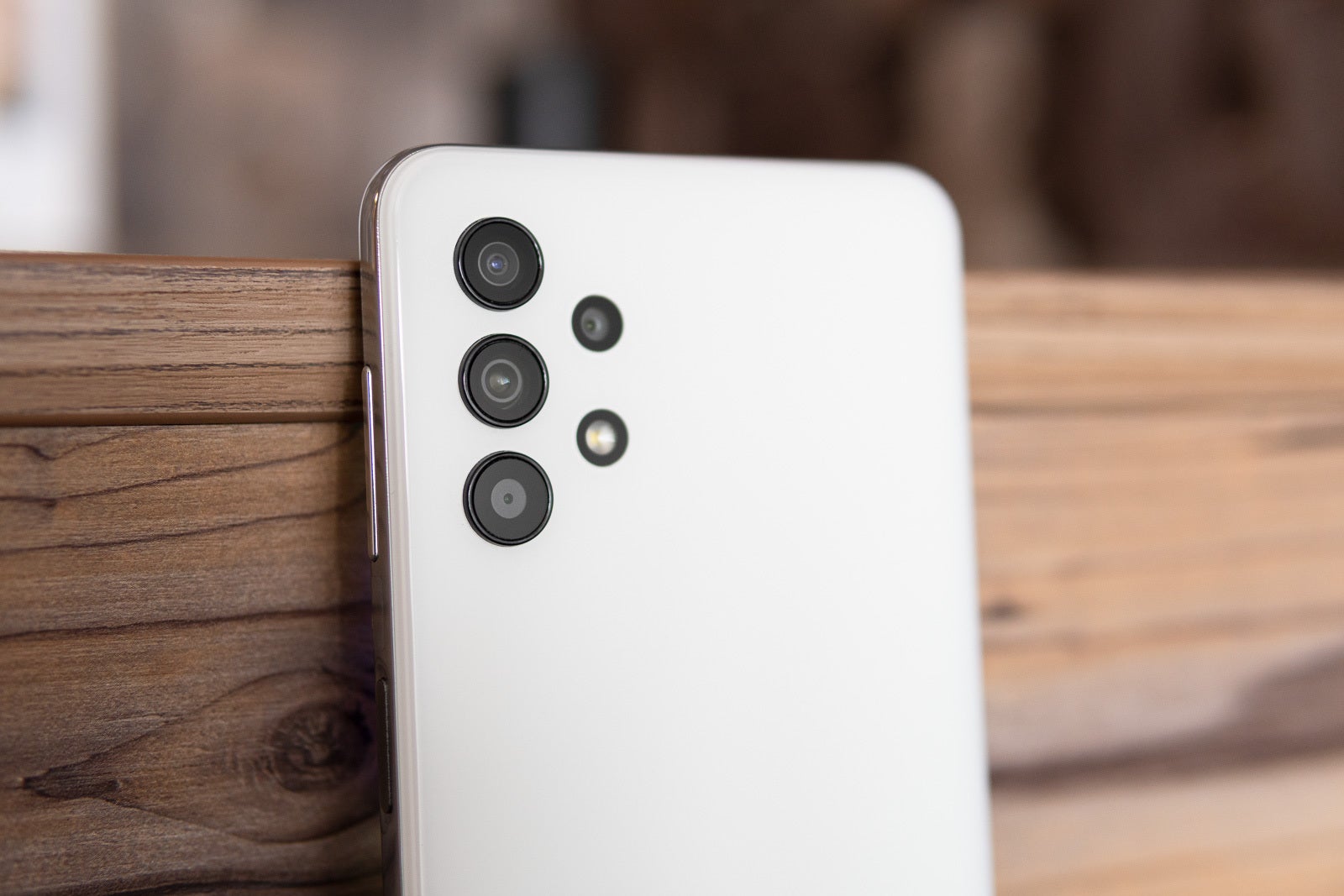 The camera situation here is actually, pretty good for the money. The cameras are four on the back and one of them is a depth sensor. The main shooter is 48MP, the ultrawide we have here is 8MP and we have a macro camera at 5MP.
Now, since this phone is not exactly top of the line, we weren't expecting much, but we were honestly surprised to see it do this good. It lacks a few key features such as optical stabilization but we'll get to that in a bit.

In almost every scenario, it looked OK in terms of color, but the main sensor was having a bit of difficulty with dynamic range from time to time.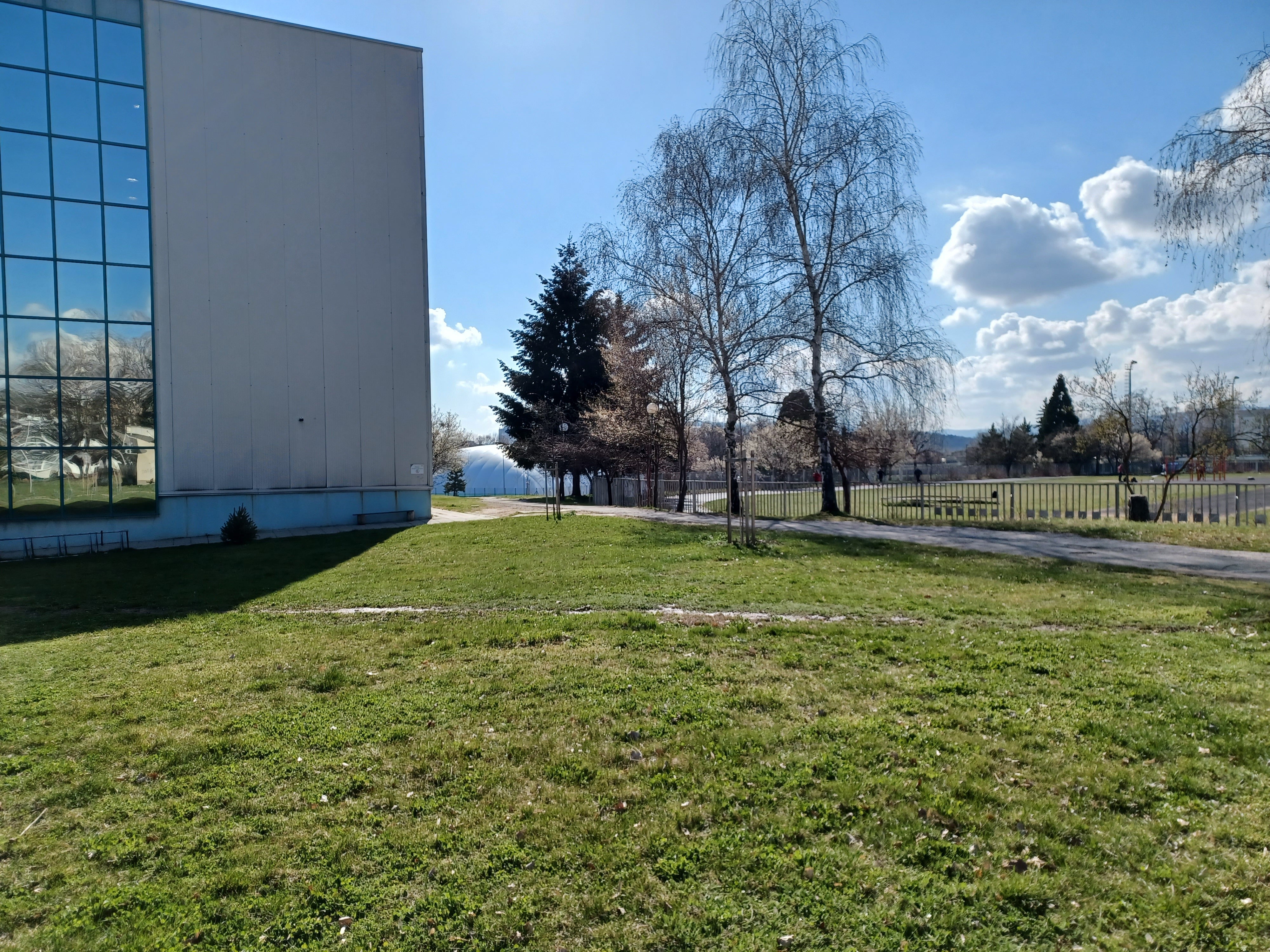 Otherwise, pretty decent photos if you don't try and zoom in too much because quality starts to drop rapidly.

Zooming in at 10x produced paintings instead of photos, but we should add that the iPhone 12 can't even zoom as much and isn't that impressive, to begin with, so at least you get the option here.

How about portrait mode then? Well, we'll give it this one, it might not have the best camera but Samsung's processing does manage to save the day in most cases.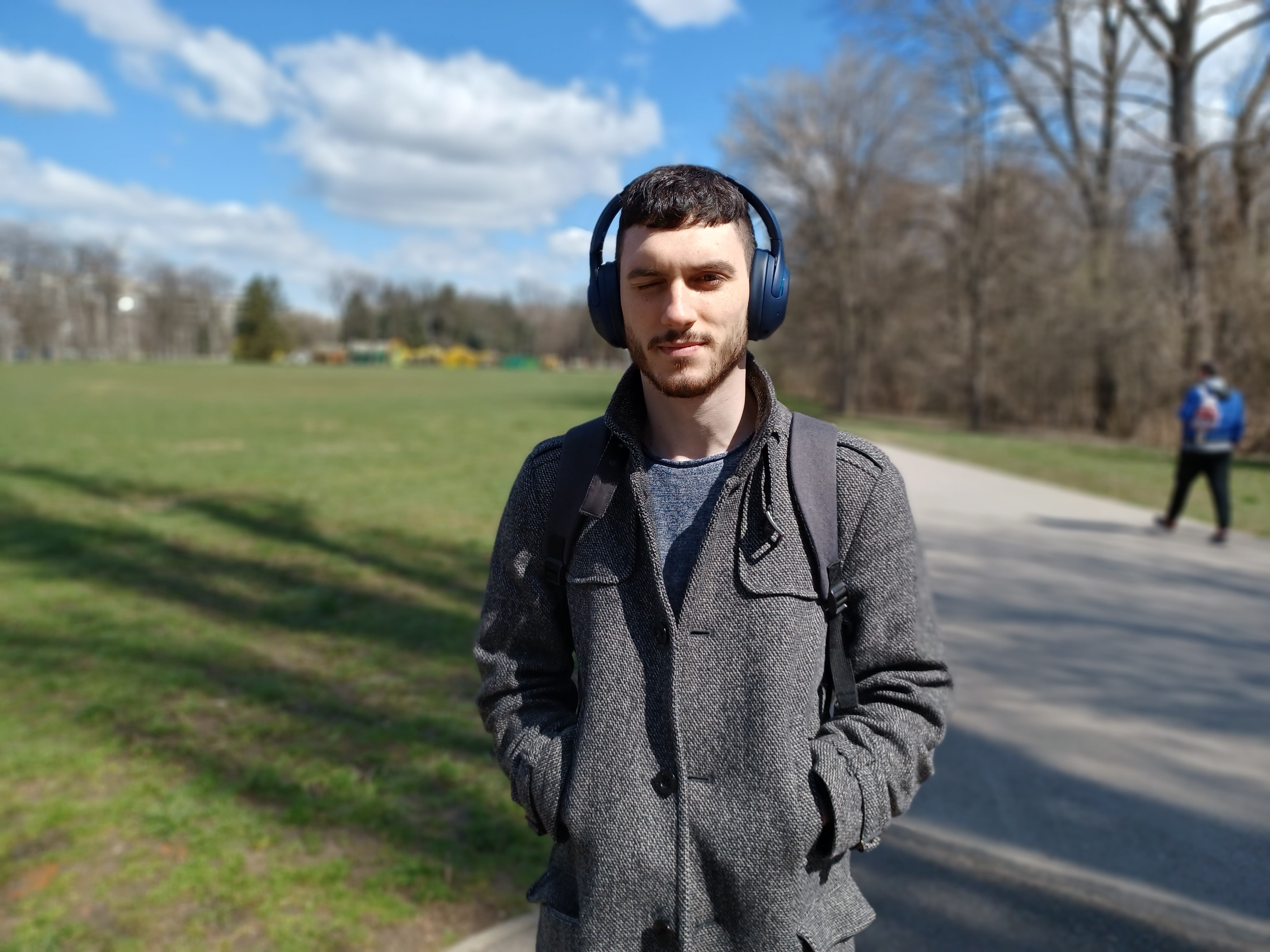 Photos came out with a good amount of background blur and the subject, in this case, Vik, was well cut out.

The ultrawide camera is also pretty good. It has very good colors and decent dynamic range but it lacks in detail quite a lot.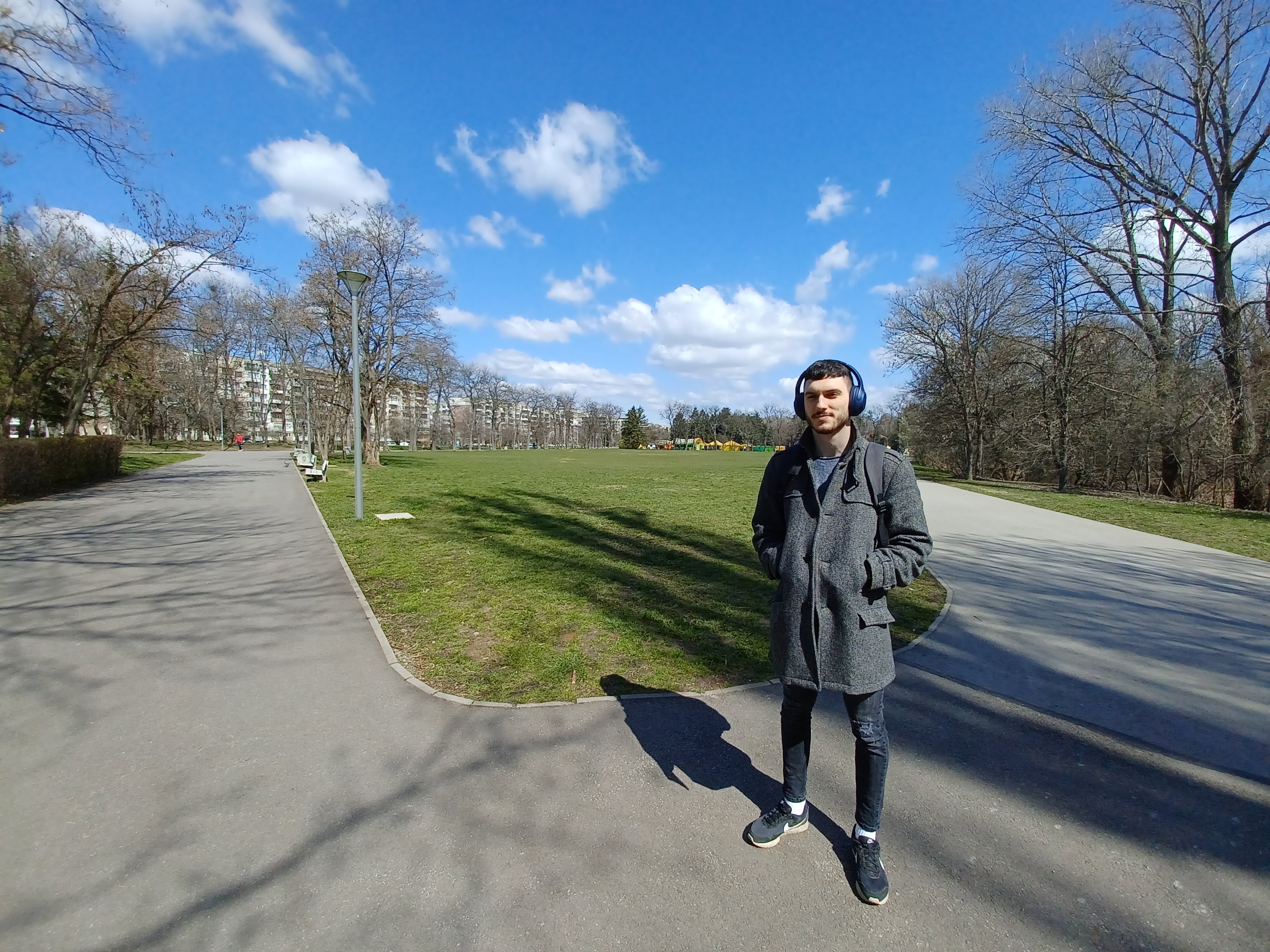 Then, we finally reach the macro camera. It's not the greatest but it's close to what the A52 offers and it is there if you do ever decide to use it and, with the right conditions, it can produce a good image.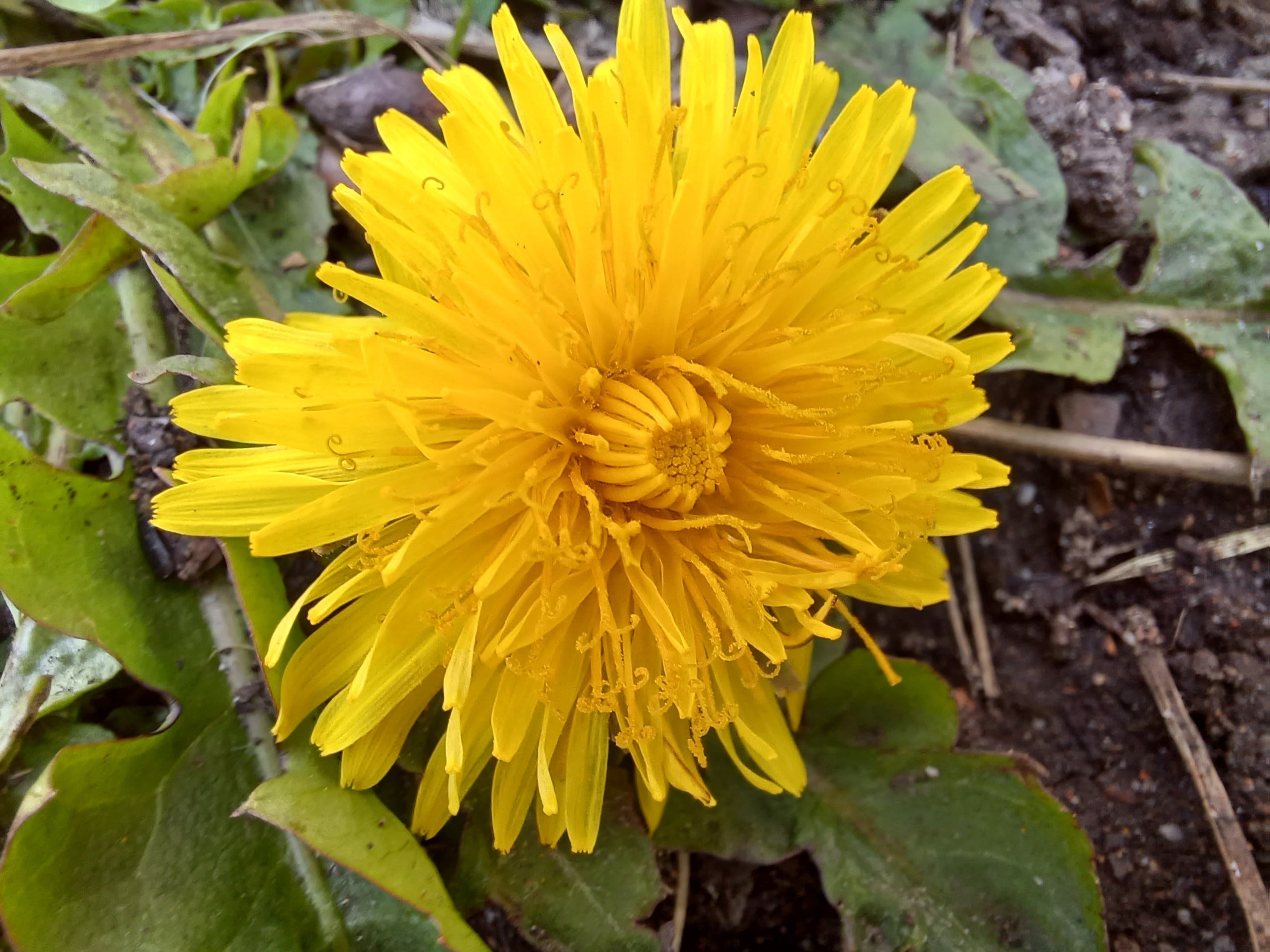 In terms of low light performance, we wouldn't exactly depend on this device. There is simply too much noise and colors are not really accurate. Night mode also doesn't seem to help much.

How about the front camera then? Honestly, pretty good for bright outdoor use.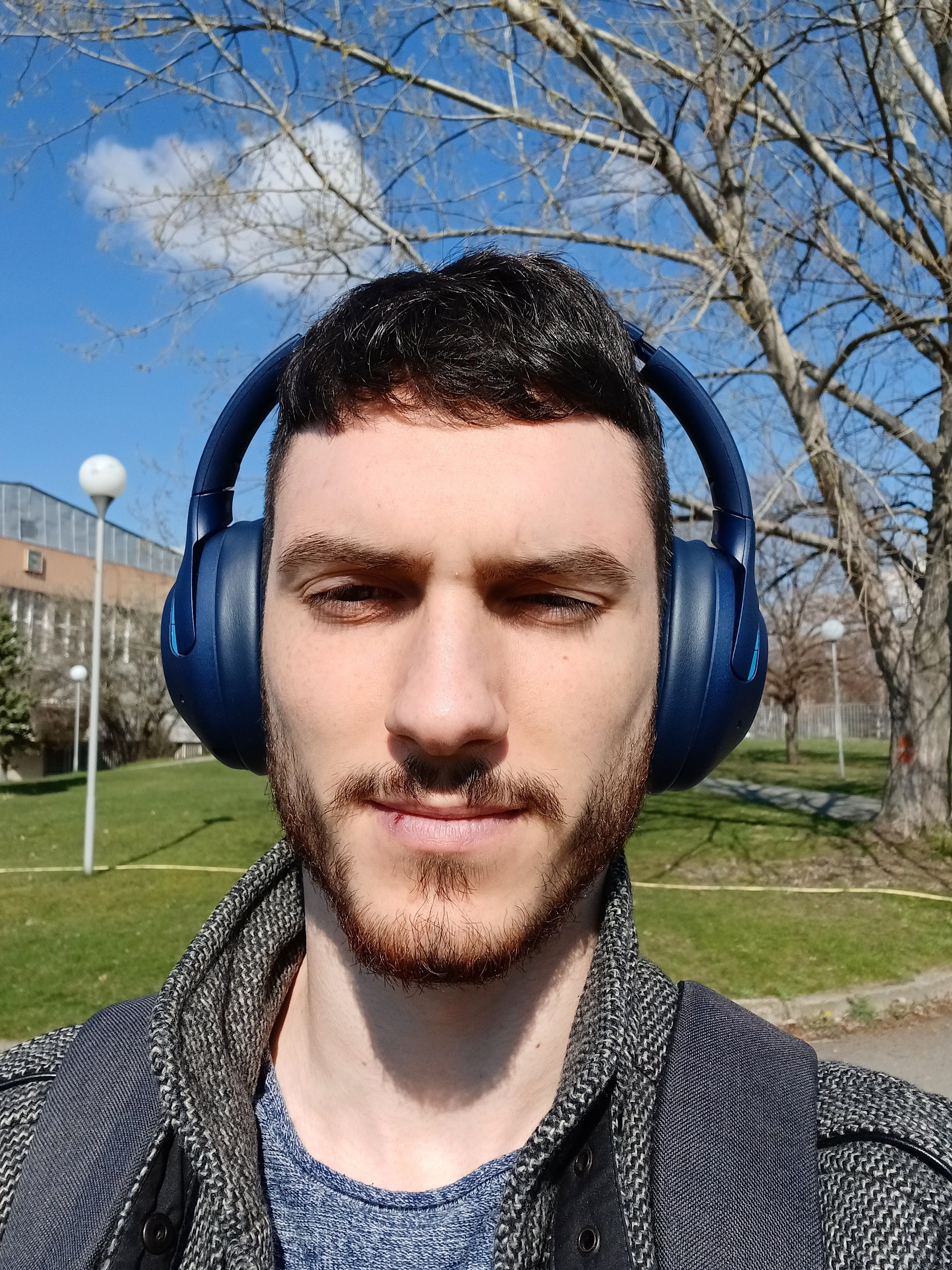 Its colors are spot on and its sharpness is pretty good. But if you turn off the lights, you'll notice how noise creeps in quite a lot.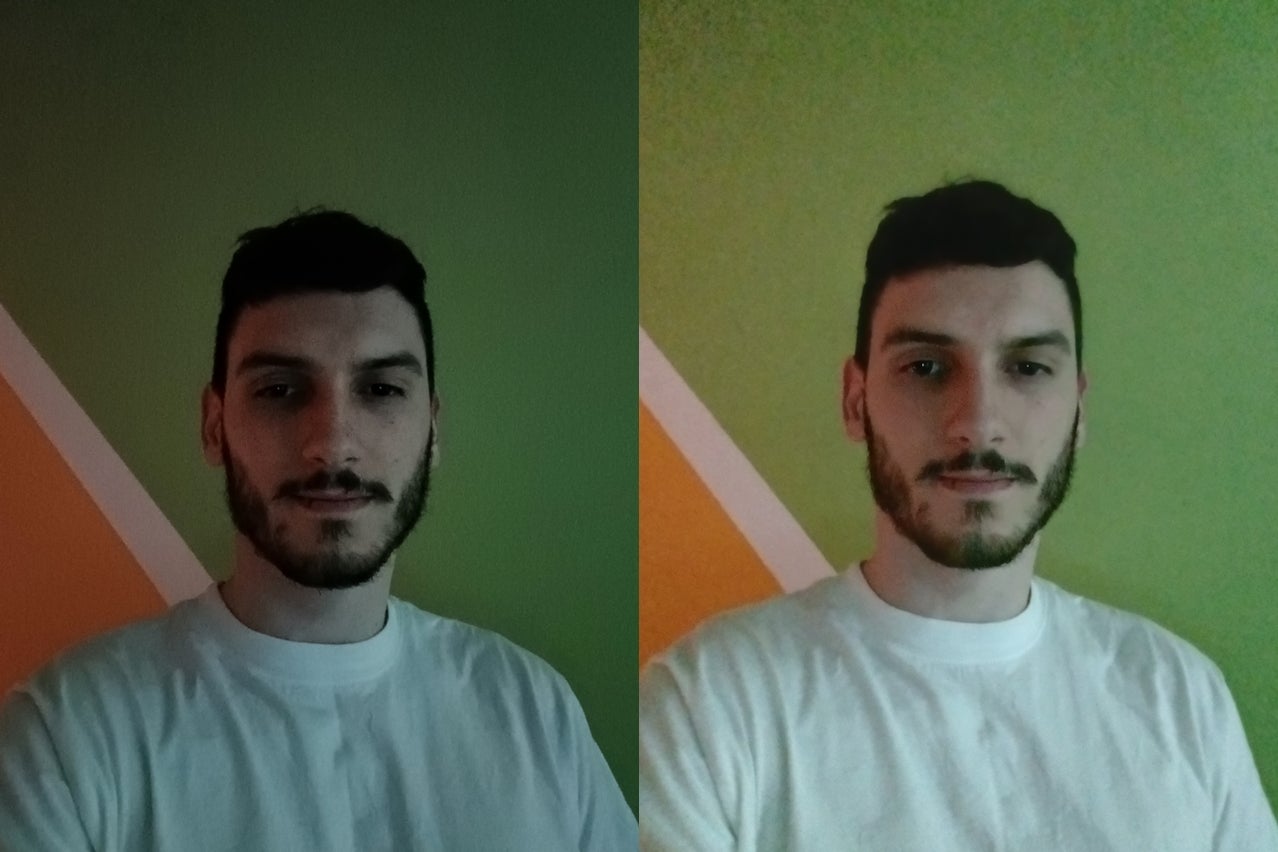 Night mode tries to redeem it, but it doesn't really help much.
Performance
As mid as mid-range can get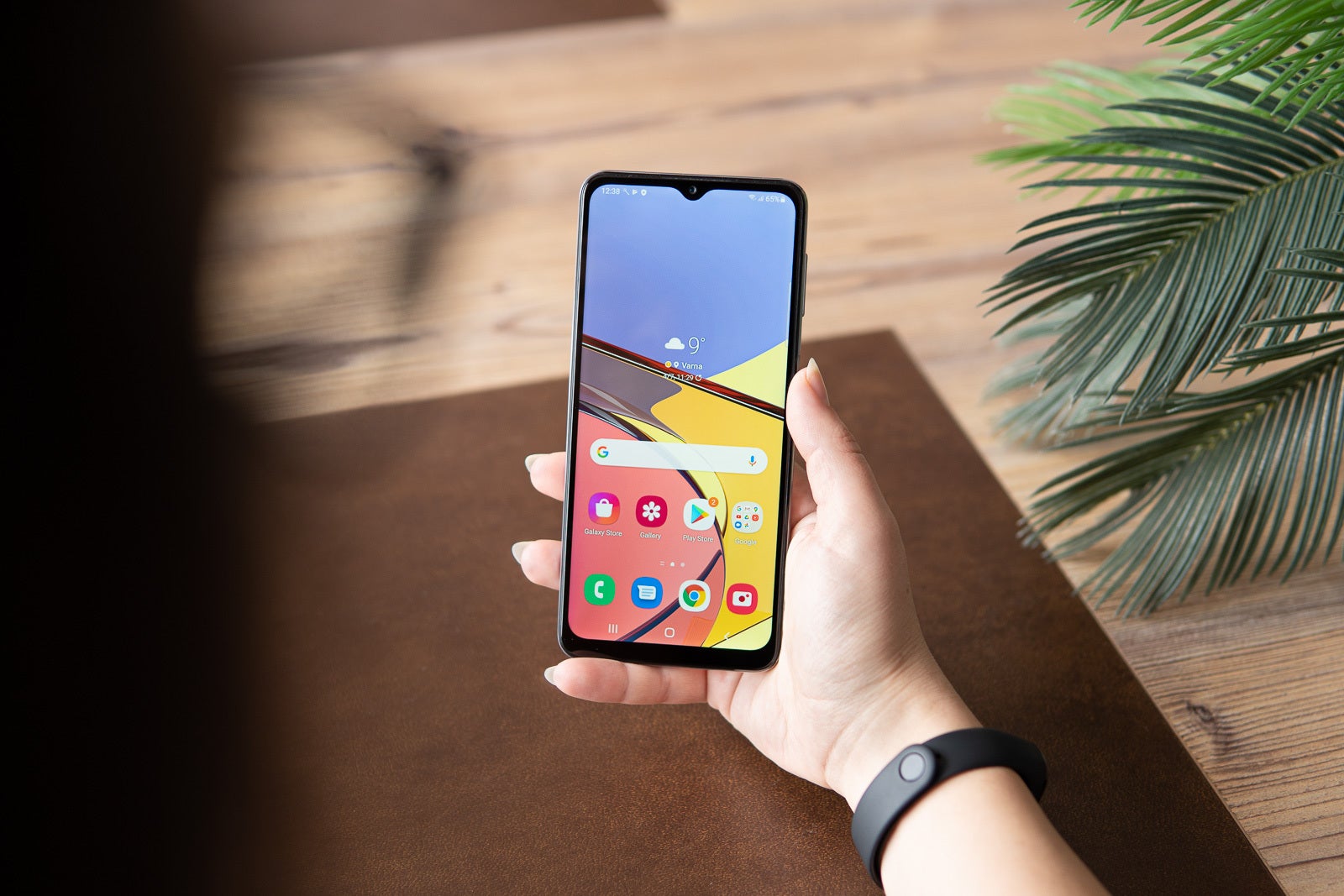 In terms of performance, this device is actually not bad. This is not a device you come to if you're looking for speed, but it's decent enough if you're aiming to watch some videos and play casual games.
The Galaxy A32 5G comes equipped with a lower mid-range Mediatek Dimensity 720 chip. It's not really that slow but you will get the occasional stutter. Our GeekBench score came up with 474 points on a single core and a multi-core score of 1551 points, which is slightly behind the A52 4G. So expect acceptable performance in casual games and more than good enough behavior while you're looking up an Excel table.
If you're interested in more results, you can check them out here:
Battery Life
The bigger bonus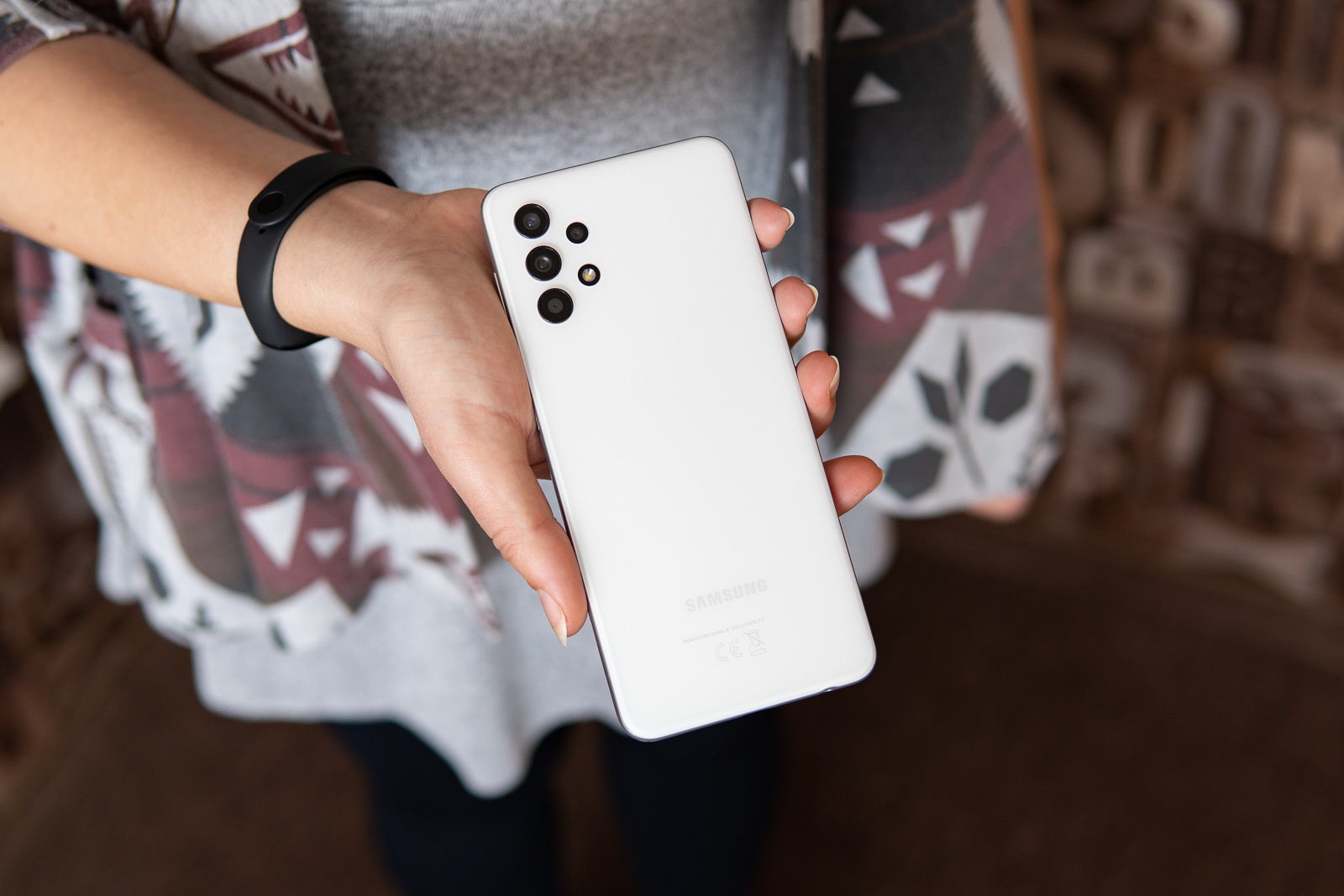 In terms of battery life, this device is actually amazing. It comes equipped with a 5,000mAh battery, which should last you 2 days with normal usage, as it did for us. By the way, we're saying it's amazing because this is the longest-lasting battery we've tried from Samsung. We did a battery test by browsing the web at 60Hz and it lasted around 18 hours and 40 minutes. To put that into perspective, the average phone lasts around 12 to 14 hours on this same test. Then we tried some YouTube at work and it managed to do 11 hours and 25 minutes which is amazing. We're assuming it lasts this much because the screen is 720p paired with this massive battery.
Charging speeds are kind of decent. Not the fastest we've seen, but with 15 watts, it's better than nothing. So if you need a long-lasting phone with the Samsung ecosystem, this might be it.
If you're interested in our battery life results, here they are:
Features
More to desire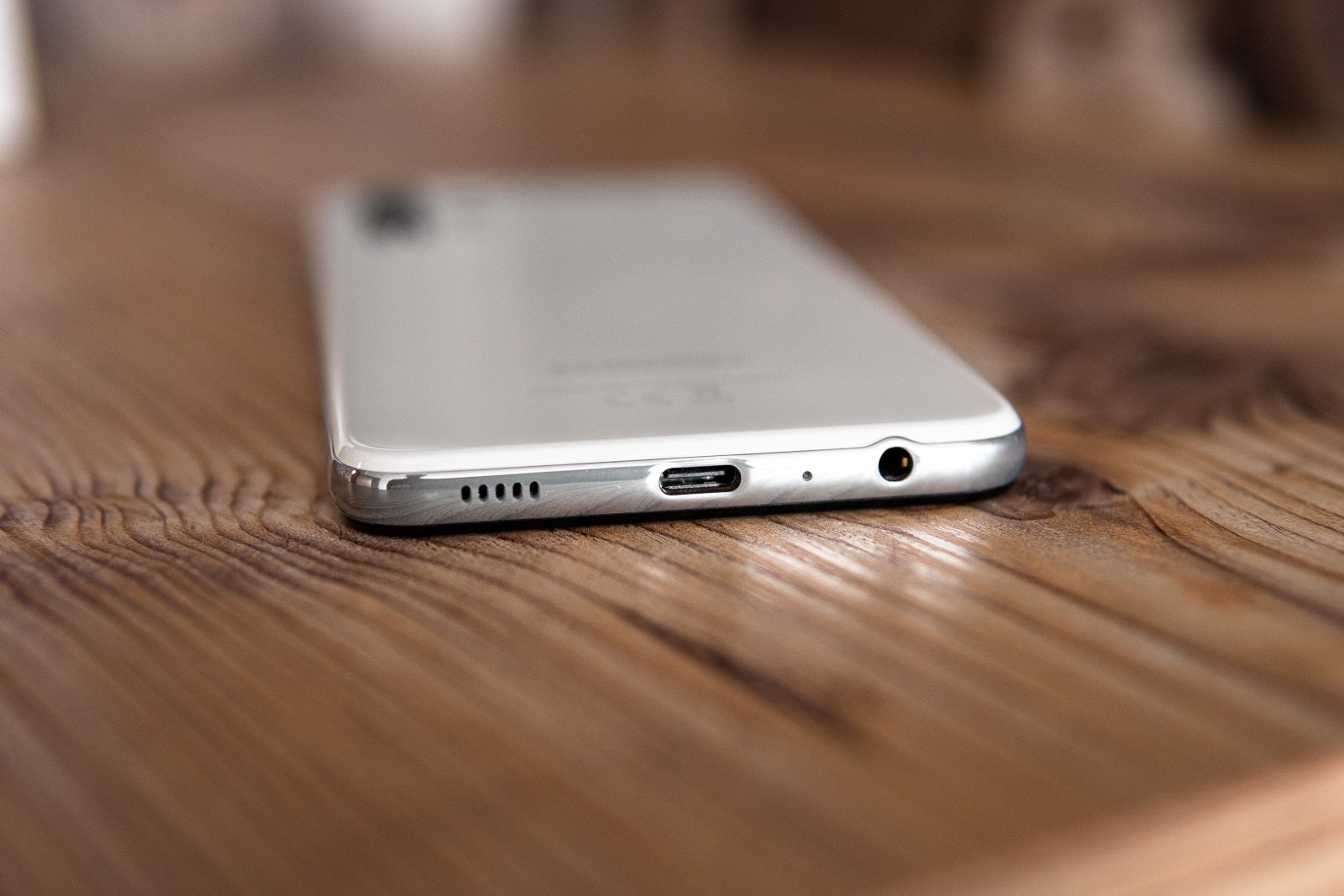 Feature-wise, the Galaxy A32 is not exactly the best. It does include a Micro SD card slot at the cost of your second SIM card and it does preserve its headphone jack. You also have 5G support but it's limited to sub6 speeds so don't expect blazing fast network speeds.
Honestly, the best thing about this phone is its monstrous battery and One UI 3.0 from Samsung. In any other scenario, saving up just a bit more for the Galaxy A52 would be a much better option, especially if you need a better camera, display and would want water resistance.
So the Samsung Galaxy A32 is a decent phone. It's not something we'd recommend because it would have been nice to have at least optical stabilization for making better videos and an OLED display, but we can certainly see how it can be useful if you need 5G and a big 2-day battery at a lower cost.