Oppo Find N2 Flip review: cover screen fit for a cover girl
3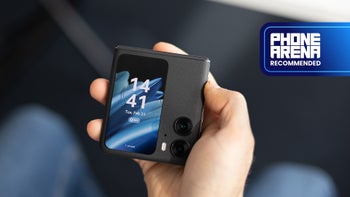 The
Find N2 Flip
is Oppo's debut effort to make phones with foldable display accessible to the average user who'd like to try a bendy handset, but is wary about their size and price. Launched at £849, the Oppo Find N2 Flip undercuts its main competitor the
Samsung Galaxy Z Flip 4
in price, but offers better specs and a more ergonomic, distinct design that Oppo has been polishing since 2018 when it started dabbling in foldable phone R&D. That's still on paper, though, so let's review how the Find N2 Flip feels and performs at this affordable for a bendy phone price level...
Oppo Find N2 Flip design and displays
Tight jeans pocket buddy and an actually usable cover screen
For being the first Oppo handset in the modern clamshell category of phones with bendy displays, the Find N2 Flip is crafted meticulously and has a very distinctive exterior design, making it immediately recognizable with the compact body, lack of a thigh gap at the hinge, and the huge external screen. It offers bigger, more usable displays - both internal and cover panels - than the narrower Z Flip 4 without being harder to use with one hand when unfurled.
A standout design is the recipe for a phone line's success, and Oppo has delivered by fitting a huge for clamshell standards 3.26-inch external screen that is on top of that with portrait orientation, taking as much of the rear half as engineeringly possible. This has allowed Oppo to show much more information there compared to the puny outer panels on the Z Flip 4 or the
Moto Razr
, its only two peers. Just one look at the external screen widget system below, and it immediately becomes clear that the display is not just there to take the time and preview notifications.
Oppo has anointed the Find N2 with other design features that make it the most ergonomic and usable as a daily driver clamshell out there. First off, it is as wide as a normal bar phone, meaning that when you flip open the 6.8-inch internal display its viewing area is much larger than what the tall and narrow display of the Z Flip 4 offers without going to the ultrawide extremes of the Razr.
To top it all off, Oppo managed to craft the Find N2 Flip as a thinner
foldable phone
when closed, which is a real achievement considering the much larger 4300 mAh battery inside. A lot of modern clamshell phone owners are choosing them because they fit in shallow jeans pockets and every little bit helps when it comes to thickness. Despite all these sweet additions, the Find N2 Flip is only slightly taller than the Z Flip 4, too, extending its ergonomics prowess further.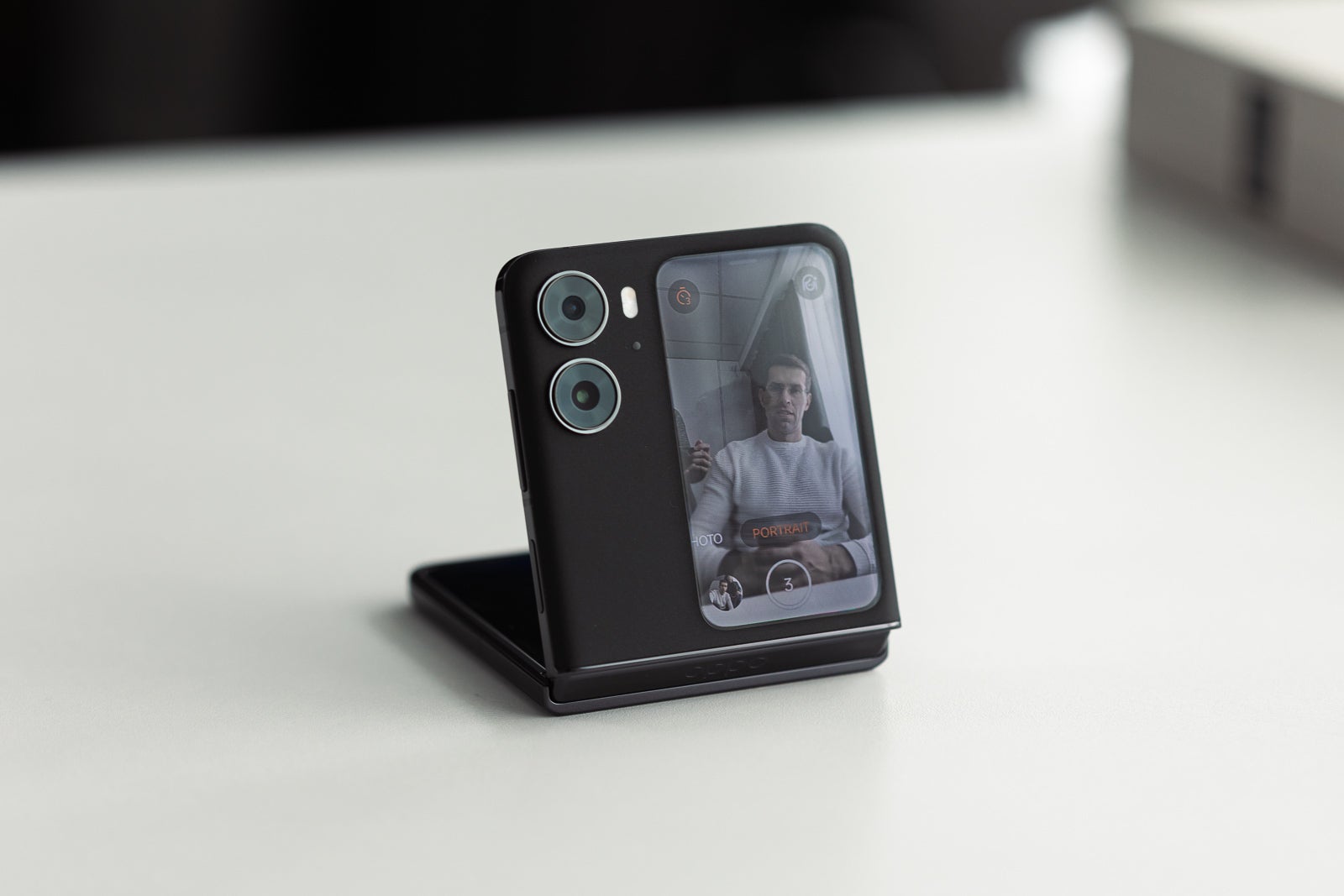 Big, actually usable cover screen
A new Flexion hinge
5 years in the making, the new Flexion can open for a decade!
Oppo gradually began beating Samsung at its own foldable phone display game by offering devices with barely visible crease in the middle where they bend, all thanks to the ingenious Flexion hinge design that uses a combination of aeronautical high-strength steel at the key bearing position together with aircraft carbon-fiber reinforced polymer to ensure a strong but compact and light hinge. The new spindle assembly provides a smooth range of motion and the ability to hold position at any of its stages "
between 45º and 110º."
The new generation of the Flexion Hinge that is on the Find N2 Flip has allowed not only for nearly invisible crease and no gap when the phone is closed, but is has also been made more compact allowing to fit a bigger battery. It's precisely the greatly reduced footprint that has allowed Oppo to capitalize on its multi-year R&D in hinge design with the Find N2 Flip's largest cover screen and battery on a clamshell foldable, not to mention the light and compact design of the phone.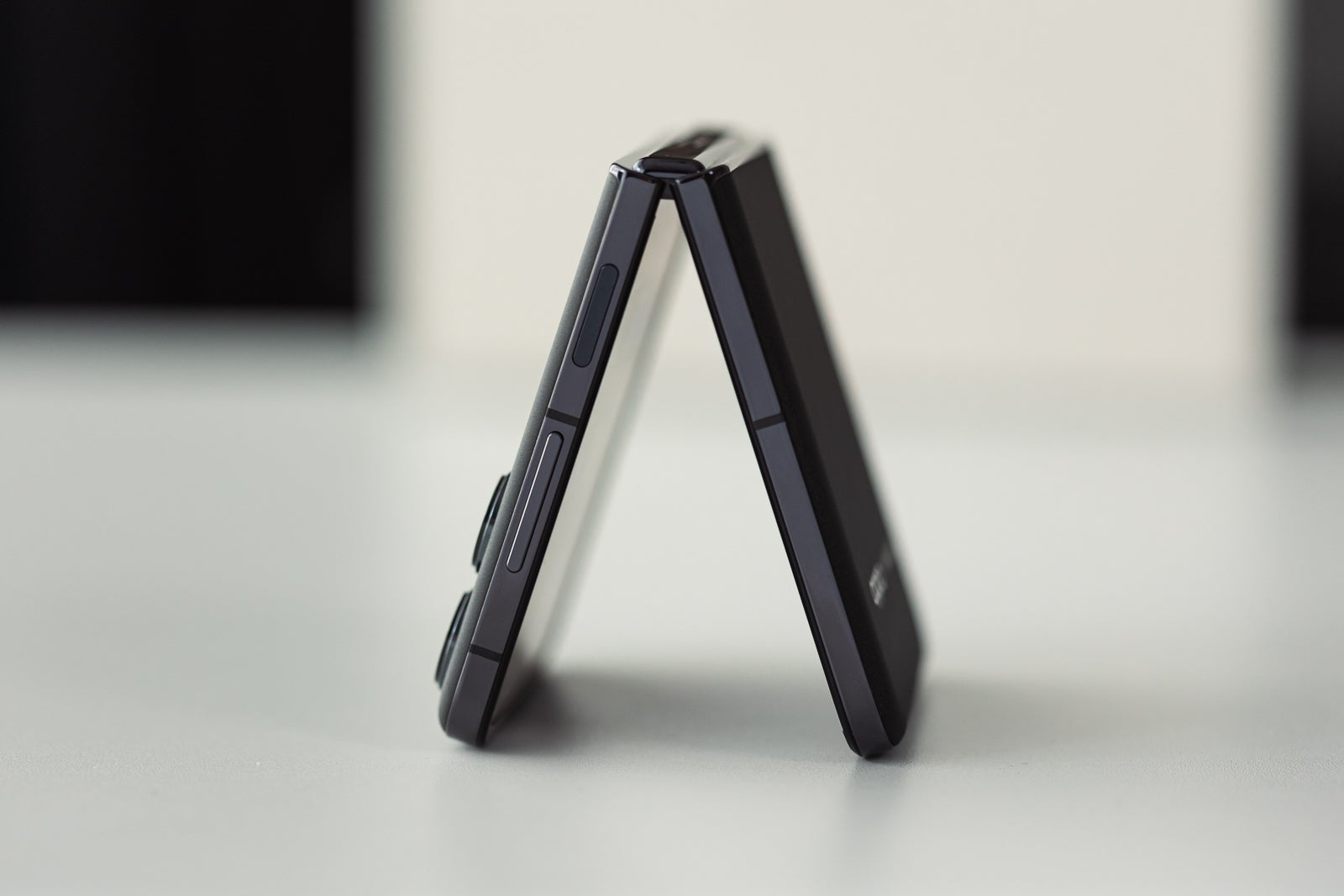 The new Flexion Hinge is more compact and durable
The hinge has been tested by Germany's TUV certification body to endure 100 opening and closing actions per day for the duration of 10 years and has performed admirably in terms of endurance even in extreme cold or hot temperatures. We found it very easy to open and close indeed, even with one hand, while the downsized footprint of the Find N2 Flip when closed is a godsend for tight and shallow jeans pockets that no bar phone can achieve.
Find N2 Flip display quality
The 6.8-inch 2520 x 1080 pixels main display comes with granular 1Hz-120Hz dynamic refresh rate and with Oppo's storied per-unit factory wide color gamut calibration, but it is also the brightest display on a clamshell foldable with up to 1600 nits of peak brightness. We found it enough to use comfortably under direct sunlight, and the 3.3-inch external screen is no less bright at 900 nits, while both panels employ 500 nits of typical brightness for everyday scenarios.
Display measurements and quality
Tailor-made performance
Ordering processors a la carte has become an industry trend and Oppo tailored a flagship Dimensity 9000+ chip system to suit the N2 Flip needs better. The power draw optimizations, for example, allowed for an hour longer video calling session or for two more hours of social media browsing and the whopping 5 more hours of music playback than with the off-the-shelf processor.
The chipset is very powerful in and of itself, crafted on the 4nm process like the Snapdragon 8 Gen 2, but offering more cores with higher clock frequencies. The phone comes with 8GB RAM and 256GB of storage. As can be seen from the benchmarks below, the graphics subsystem of the Dimensity chipset delivers oodles of performance up with the best out there, at least in the Android phone universe.
Camera
The best selfies in town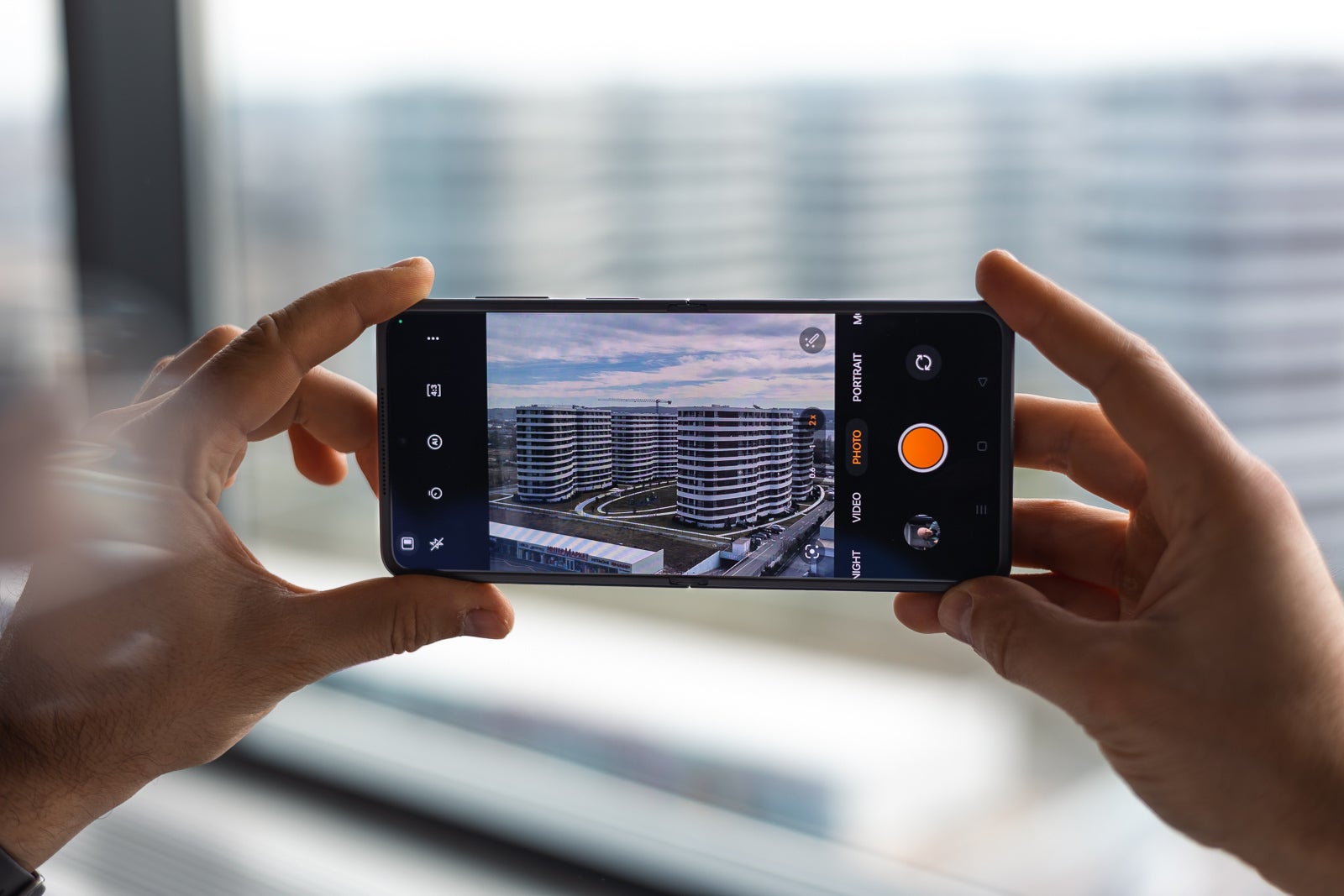 Oppo Find N2 Flip camera app interface
The next area where the Find N2 Flip shines brighter than Samsung's clamshell is the camera hardware. Equipped with a 50MP Sony IMX890 sensor, the N2 Flip is ready to deliver the best selfies out there while using the big external screen as a viewfinder. There is also am 8MP ultrawide angle camera on the back and a 32MP selfie camera embedded in the main display for quality video chats.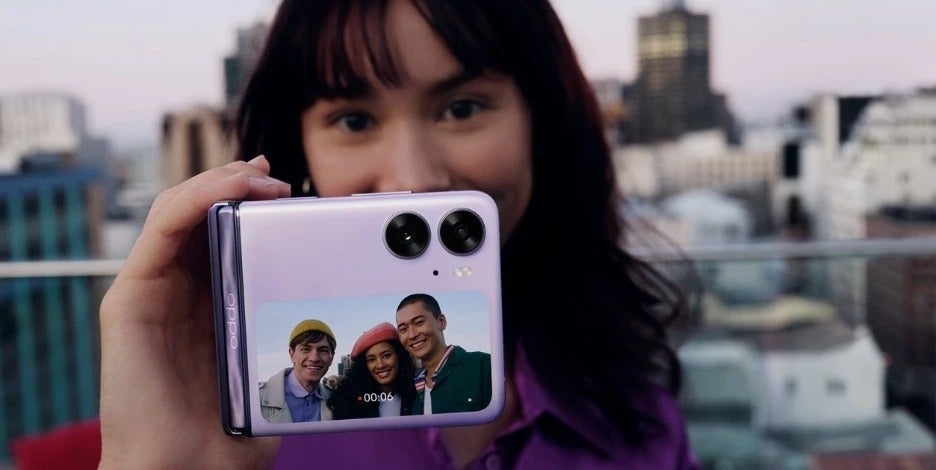 Find N2 Flip in camcorder mode
Being a clamshell design with the new 45-to-110 degrees of Flexion Hinge stops, the Find N2 Flip allows you to take photos and record videos in any position. The phone can be used as a camcorder bent at 90 degrees, or the new waist-high position allowing to partially bend and lower the phone while the preview immediately switches to the bottom half of the screen so that you can still see the whole picture. The Dual Screen preview mode lets your subject see and comment on the framing, while popping the phone open at 90 degrees allows for steady video chat or timelapse sessions.
Oppo has also worked with Hasselblad on enhancing the photography algorithms of the camera system, or certifying the RAW files with HNCS for mobile to deliver more natural colors. As can be seen from the image comparison with the Z Flip 4 below, the Find N2 Flip manages to deliver better dynamic range, punchier colors, and sharper details than Samsung's clamshell.
In the 4K video footage battler, however, the Find N2 Flip refocuses a bit more abruptly than the Z Flip 4 when panning around, though it does its continuous autofocus duties with aplomb when the videographer picks what to put front and center in the frame.


Battery life and charging speed
Biggest battery on a clamshell with fastest charging
Oppo freed up place for extra 186 mAh of battery capacity by moving the SIM tray and the outlet position, plus it expanded the battery pack into the space that the shrunken hinge liberated. These small savings added up, and Oppo managed to fit a whopping 4300 mAh battery inside the thin and light clamshell which could get you through the day with normal usage.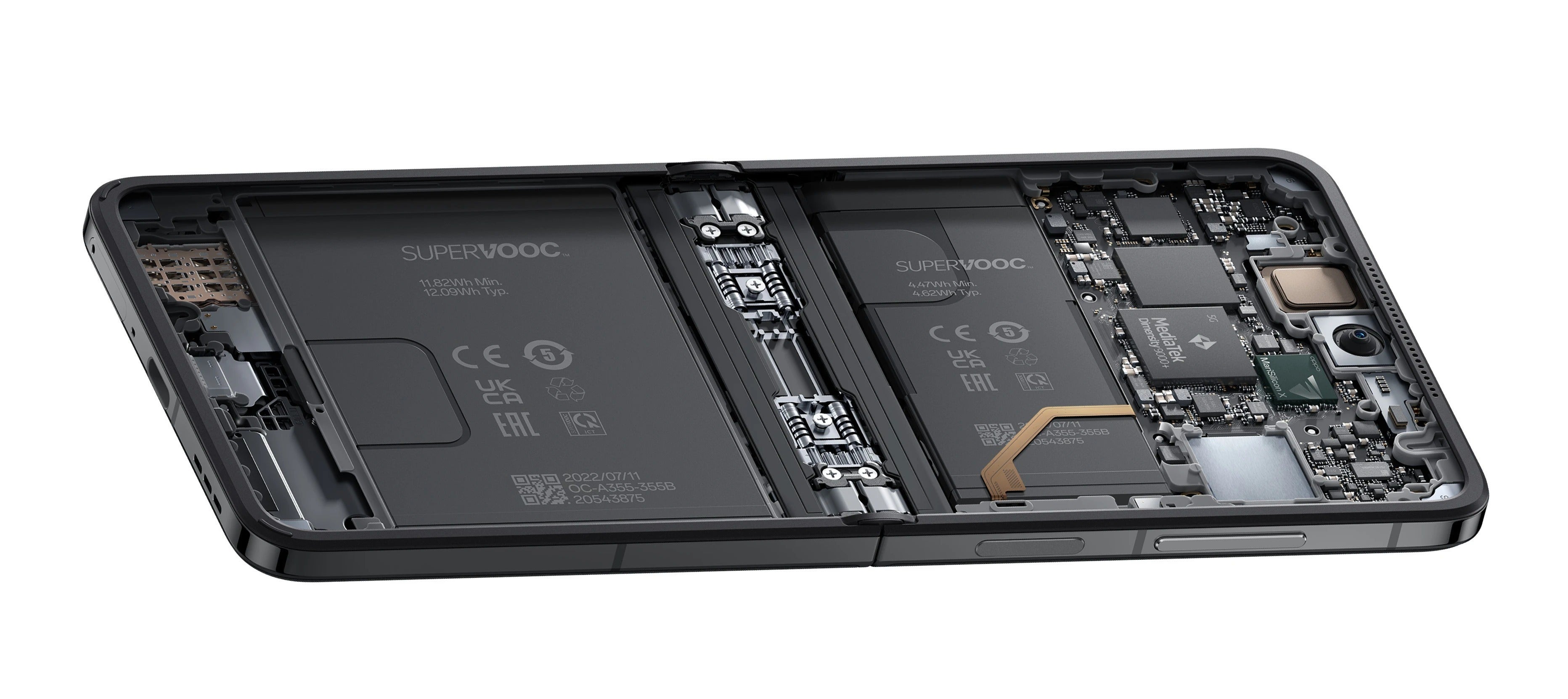 Oppo moved things around to fit the biggest battery in a clamshell foldable
Despite all these improvements, the powerful chipset and high refresh rate display affect the power draw in our demanding browser battery benchmark, and the N2 Flip managed a slightly shorter screen-on time than the Z Flip 4. Still, nearly 11 hours is a very commendable result for a clamshell foldable.
Not only that, but the high-density battery pack offers Oppo's unique chemistry and controllers allowing it to charge to 50% in 23 minutes with the 44W charger. That really showed in our battery charging test where it took Samsung's clamshell a whole hour and a half to full charge, while the Oppo Find N2 Flip charged in just an hour or so.
Oppo Find N2 Flip review summary
Pretty, pretty, pretty good
Oppo's modern clamshell phone line cameo breaks several category records - for the largest screens, battery, or the most ergonomic design - and we are glad to report that these achievements don't just sound great on paper. We appreciated the huge, bright displays that Oppo managed to fit in a footprint no larger than the direct competitors while beating them in the closed and compact game.
To wit, the Find N2 Flip is being launched globally at a very aggressive price tag, even though it delivers better photos than the Z Flip 4, has faster charging, way bigger main display with ironed-out crease, and a cover screen fit for a cover girl.