Moto G Power Review (2021)
1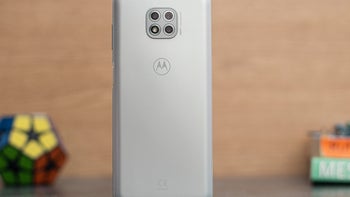 Last year's Moto G Power was lauded for its supreme battery life and excellent value. This year, the model received a refresh, including a slightly lower price point and better cameras, but some disappointing specs, including a weaker processor compared to last year's model, are a bit of a head scratcher. The phone still performs well for the price and offers great battery life, but the feeling that it's a step back makes it difficult to wholeheartedly recommend.
Design & Display
The Moto G Power looks quite plain, and I think that's a good thing. The lightly textured plastic back and ergonomic curved sides make it easy to hold and handle, and the sturdy, well-built feel of the polycarbonate shell makes it feel more expensive than it is.
At once blocky and rounded, the device continues its minimalist design around its edges, which house a Type-C port, bottom-firing loudspeaker, 3.5mm headphone jack, and volume and power keys. The power key is also the fingerprint reader, and it's okay. It's reasonably fast and accurate, but while we have seen worse implementations of this style (hello, Sony), the side-mounted reader just doesn't feel as natural ergonomically compared to a rear-mounted one. But alas, it's a minor complaint, and likely a matter of preference too.
On the front, the flat LCD panel stretches across 6.6 inches, a fairly respectable size, and it offers a 720p resolution. In an age where Full HD is becoming close to universal, seeing this resolution is a bit disappointing, but the display still performs fine otherwise, boasting vibrant colors (for an LCD) and just enough brightness to be visible in most lighting.
The display has a sizable bottom chin and average bezels all around, and the front-facing camera sits on the upper left. While I wish the display had better specs (1080p, OLED, thinner bezels), it's usable without issue and adequate enough to be what most people are looking for.
Camera
The G Power has a 48MP main sensor just like its brethren, but its image quality is not quite as impressive as other models in the family. In most cases, the results are fairly detailed and color-accurate, but dynamic range can suffer as lighting becomes more demanding. If you look at the photo of vegetables, the leeks on the upper left are blown out, something that doesn't happen on the G Stylus. Still, the camera performance is markedly superior to the Moto G Play, and it's overall respectable for a $200 device.
There's no wide-angle lens, but the G Power does have 2MP macro and depth sensors, which aren't much to write home about. On the other hand, this second-cheapest G-series phone does offer a competent night mode, which leverages longer shutter speeds for extra details and exposure in the shadows, and it's barely a drop in quality from more expensive phones. The 8MP front-facing camera is also there to take reasonably good selfies, and it's much of the same: pretty decent in most cases, not all that great with managing highlights.
Software & Performance
Motorola's software is generally clean and approachable, and that's the case here, too. The endlessly customizable aesthetics will be appreciated by those who want to personalize their experience, and Moto has found a good balance between functionality and usability with a handful of convenient features seamlessly baked in.
Unfortunately, there is one sour note with software: as with the other new devices the company announced earlier this month, the G Power ships with Android 10 and is only guaranteed one OS update, so no one knows if it will continue to receive upgrades from 2022 onwards.
As far as performance goes, the G Power barely exceeds the realm of entry-level smartphones with a Snapdragon 662 SoC and 4GB of RAM, which is not unexpected based on its price point. The 662 isn't bad by any means, but it's a confusing choice because last year's model rocked a Snapdragon 665. Yes, you read that right—this year's model actually has an inferior chipset.
The new G Power still has enough oomph to drive everyday tasks without issue, and lower-end chipsets have improved tremendously in the past few years. It's just that the choice of chipset is likely to give many consumers a pause. After all, an upgrade is supposed to be more advanced.
Battery
Battery life is the G Power's specialty, and it doesn't disappoint. The 5,000mAh power cell is just as powerful as last year's and it's fully equipped to last three days of use. Lots of companies promise multi-day use from one charge, and Motorola's devices actually deliver. Even for heavier users, two days with some juice to spare is a conservative estimate, while lighter users may only have to charge twice a week.
For those infrequent top-ups, the phone supports 15W TurboPower charging to refill the tank in under two hours. While there's no wireless charging, that's not really a valid complaint at this price range.
Recommended Stories