Eten V900 Review

Introduction:
Watching TV on a phone is nothing new, but lately, we've been witnessing a development in this aspect and the market now offers devices, capable of receiving free digital TV (DVB-T) and radio (DAB). Eten V900 is one of those, but the interesting thing here is that it is the first such phone from the Taiwanese company and the second in the World running on Windows Mobile Professional after
GSmart t600
.
The package includes:
Eten V900
Leather pouch
USB cable
TV-out cable
Charger
Stereo headphones/handsfree
2 additional sets of earplugs
Spare stylus
User's Manual
Software CD
The
leather pouch
that traditionally comes with all Eten phones is slightly different this time. Now, you don't need to pull the phone out of it in order to make/reject a call and it is actually used as a holder when watching TV. To save time in putting it together however, we recommend reading the guide of the pouch.
Design:
Similarly to the latest phones of the manufacturer, V900 has a new modern appearance, which makes it attractive to a wider audience. Its shiny front and finger-friendly glass kind of reminds us of
HTC Touch
. Holding the V900 in your hand will make you feel good but its 147 grams will remind you of its presence at all times.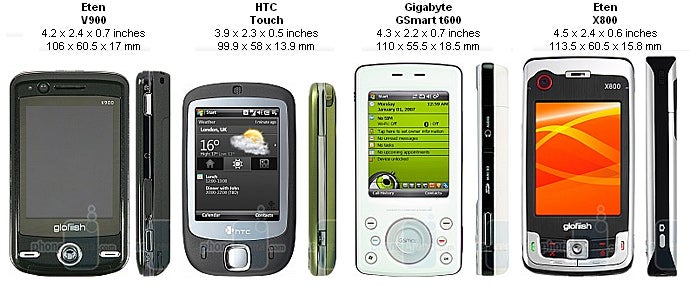 You can compare the Eten V900 with many other phones using our
Size Visualization Tool
.
One of the key elements for watching digital TV is the good display. Here you have a
2.8" TFT touch screen
with VGA resolution and 65k colors. It has a good image and saturation but everything fades away in direct sunlight and is very annoying if you have to look at the screen for a longer period of time.
Besides the touch screen, you have
SEND, END keys and a joystick
, which let you take control of the phone. The last one is very soft to press and sometimes you won't even be sure if you've activated it successfully. It will take some time, but you'll get used to it.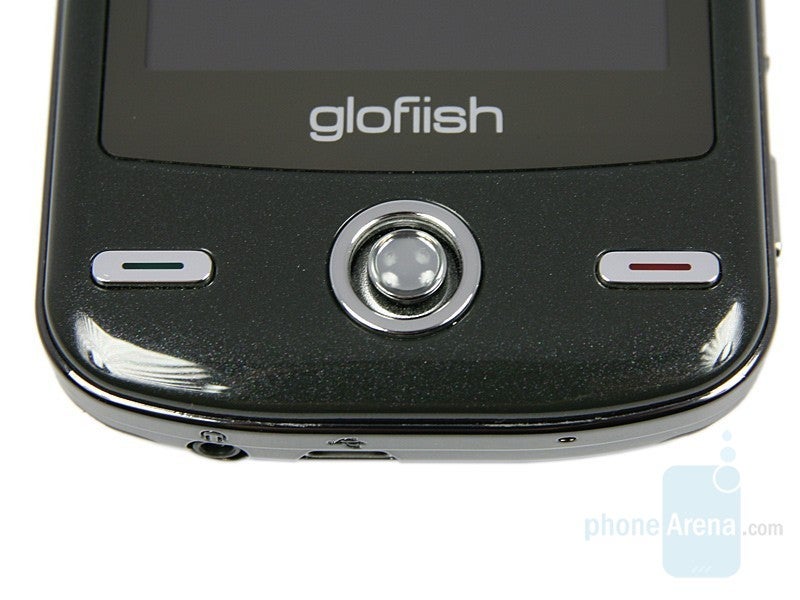 On the left
, you'll find the volume controls and the voice command keys and
the opposite side
houses the power one, the reset button and the camera shutter. The microSD slot is also here, but it's hidden under a lid. We had no trouble with the side keys although some of them are not protruding enough.
The
bottom
accommodates the 2.5 mm jack and miniUSB slot, accompanied by the stylus and the antenna at both ends. In contrast to GSmart t600 where you had to remove the stylus in order to install the antenna, the solution in V900 is much better and you only have to be careful not to pull it out when stretching it.