The Shape of Power: promotional image of the OnePlus 11 leaks
2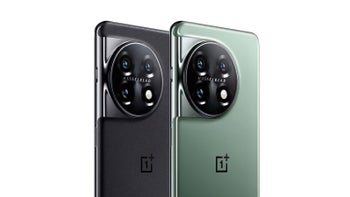 There is one thing in which Android is infinitely inferior to
Apple
: namely, keeping a secret. For some reason, even the most exciting of Android flagships are accompanied by little to no suspense. By the time they officially launch, we already know everything there is to know about them.
The pattern repeats once more with the
OnePlus 11
. The latter will be, arguably, the first major flagship smartphone release for 2023. The global launch is expected in early 2023, while the OnePlus 11 could debut even earlier (i.e. sometime in December 2022) in China.
If you are a OnePlus enthusiast, odds are you have already seen the camera module design of the OnePlus 11. It seems like that will be one of the major selling points of the device. So much so that it will be featured in the device's official marketing tagline.
An official poster of the OnePlus 11 was shared on Twitter earlier today, by
Max Jambor
, a tech tipster with a rather reliable track record. The slogan splattered on the promotional image is simple, yet catchy and reads
The Shape of Power
.
The poster also emphasizes that the smartphone is co-developed with Hasselblad, a prominent medium format camera manufacturer, further drawing attention to the camera module of the OnePlus 11.
It will be really interesting to see whether the camera performance lives up to expectations, given the hype that OnePlus is purposefully trying to create. Currently we expect a 50MP main shooter, Sony IMX890 sensor, with a f/1.8 aperture. There will also likely be a 48MP ultra-wide shooter and a 32MP 2X zoom lens.
On paper, the OnePlus 11 should produce some impressive images. Nevertheless, given just how important image processing is, we cannot know for sure until we get a glimpse of some sample photos. However, this should happen sooner, rather than later.