iPhone 5 headed to Virgin Mobile next Friday
9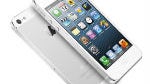 The Apple iPhone 5 has made the rounds and been released on all of the major carriers in the U.S. and a number of the smaller regional carriers as well. But, it still hasn't made its way to Virgin Mobile. Luckily, that's about to change as the carrier has announced it will be releasing the iPhone 5 next Friday.
According to the press release, the iPhone 5 16GB model will cost $549.99, and it will be compatible with Virgin's Beyond Talk plans, which offer 2.5GB of data at 3G and 4G LTE speeds and unlimited messaging for $35 per month. And, you can get a small discount, if you enroll in automatic monthly payments, which will make you eligibile for $5 per month off your bill.
Virgin Mobile stores and RadioShack locations nationwide will begin selling the iPhone 5 starting June 28th.
Virgin Mobile USA will launch the iPhone 5 on Friday, 6/28/12 on its Beyond Talk plans, with unlimited 3G/4G LTE data and messaging* starting at $35 per month but customers can also receive a $5 per-month plan discount when they register and sign up for automatic monthly payments ["Auto Pay"] with a credit card, debit card or PayPal account, making the iPhone 5 available on Virgin Mobile for as low as $30 per month. (Requires registration for automatic monthly payments and Virgin Mobile Service is subject to Terms of Service found at virginmobileUSA.com.)

The 16GB iPhone 5, available in Black and White, will be available at http://www.virginmobileusa.com, at participating Virgin Mobile dealers, and at RadioShack, our exclusive national retail distributor, for $549.99 [excluding taxes]. The 32GB and 64GB, also in Black and White, will be available online only for $649.99 and $749.99, respectively.

*All plans include 2.5GB/month of 3G/4G full speed data.