iPhone 5, 5S and 5C sit for a family portrait, alleged pricing also leaks out
79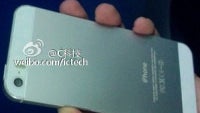 The Chinese Twitter-equivalent,Weibo, has been a gold mine of intel on a plethora of smart devicesso far, and this trend shows no signs of slowing down. That's notsurprising in the slightest, considering that many smartphone OEMshave been taking advantage of China's lower overall labor andproduction costs, allowing for a number of plant workers to get theirhands on the new goodies prior to an official launch.
Of course, whether the above is thestory of today's leak is unknown. That being said, a family photo hasbeen outed on Weibo, giving us yet another peek at what's to comefairlysoon, if reports are to be trusted. Showcasing the iPhone 5 and5S, the author of the snaps hasn't forgotten to include the lastsibling – the iPhone 5C.
The upcoming iPhone 5S is seencompared directly with the iPhone 5, and you'll probably notice thealleged dual-LED flash and the slight redesign it has commanded uptop.
Almost simultaneously, regularleakster CTech has outed the expected initial pricing of both theiPhone 5S and 5C referring to a report by the Chinese Ministry ofAudit. The price of the flagship iPhone 5S has been pegged at 5599yuan, or about $915. Similarly steep is the tag that price-consciousChinese consumers will find attached to the iPhone 5C – 3399 yuan,or about $555. Alongside pricing, a bunch of specs for the iPhone 5Shave also been seemingly confirmed:
A 12-megapixel camera; f/2.0 aperture

Improved, but unspecified front shooter

Fingerprint sensor doubles up as a Home button

NFC

Rumored golden color variant confirmed once again
As always, be advised that while aresourceful corner of the web, information posted on Weibo is by nomeans on the money, much less official.