Leaked Pixel 8 renders put the spotlight on Google's unexpectedly compact 2023 high-end phone
13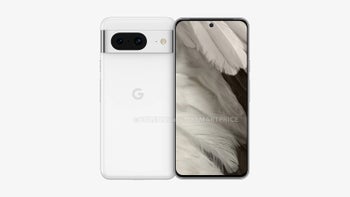 UPDATE
: Believe it or not, the Pixel 8 is
likely to sport a 6.2-inch
and not a 5.8-inch screen after all, which might not sound as compact as initially anticipated. But the overall product dimensions leaked by Steve Hemmerstoffer still stand, so Google is now expected to somehow squeeze almost as much screen real estate as on the Pixel 7 into a considerably shorter and narrower body.
At the end of the day, the non-Pro Pixel 8 continues to look like an unusually compact high-end smartphone by modern standards, which should definitely pique the interest of hardcore Google fans who are into such a thing. Our original post follows below.
##
When it rains, it pours. The old saying seems to apply to
Google
's upcoming Pixel products, which are
leaking like crazy
all
of a sudden
after a surprisingly lengthy period of radio silence on the rumor front, especially as far as the search giant's next "mainstream" high-end handsets are concerned.
While that should obviously make you skeptical of everything coming through the grapevine at this point in time, Steve Hemmerstoffer's
@OnLeaks
track record makes the following renders
leaked in collaboration with MySmartPrice
pretty much impossible to contest.
Familiar but new
After last year's 6.3-inch
Pixel 7
took the winning design of 2021's 6.3-inch
Pixel 6
and made it even more winning with a few subtle but important visual revisions, 2023's "vanilla" Pixel 8 is essentially guaranteed to do more or less the same thing to its predecessor.
What we're looking at today is a refined... 5.8-incher with rounded corners, razor-thin screen bezels, and the same old premium construction combining a metal frame with a shiny glass back to keep up with the latest trends in Android flagship designs.
While the
Pixel 8
's family resemblance with the Pixel 7 is undeniably strong, its changes are also undoubtedly far more notable than what 2022's 6.3-inch pure Google powerhouse brought to the table compared to the Pixel 6 before it.
That 5.8-inch display (if real) is likely to make for an unusually compact high-end phone by 2023 standards, with the overall product dimensions tipped at 150.5 x 70.8 x 8.9mm. That would be a solid 5 millimeter shorter, 2.4mm narrower, and 0.2mm
thicker
than the Pixel 7, and of course, if you also consider the protruding rear-facing camera module, the product thickness is expected to go further up to 12mm.
The unmistakable camera visor slapped on the Pixel 8's back, mind you, seems to include just two imaging sensors and an LED flash, exactly as on the Pixel 7's rear. Naturally, that doesn't necessarily mean the photography skills and capabilities will remain the same as last year, although we don't have any inside information either way at the moment. What's safe to assume is that extreme zoom photography enthusiasts will need to shell out some extra dough for the telephoto shooter-packing Pixel 8 Pro.
What do we know about the Pixel 8 specs?
In short, (almost) nothing. For certain,
exactly
nothing. Of course, a third-gen Google Tensor processor is all but etched in stone to run the raw power show inside both the Pixel 8 and Pixel 8 Pro, as well as quite possibly a state-of-the-art Pixel 8 Ultra model and maybe even the
Pixel Fold
(unless that first-gen device will
settle for a Tensor G2
to keep production costs in check).
A big upgrade... of some sort for the
Pixel 7's primary camera
was a few months ago tipped as a key Pixel 8 selling point, and if history is any indication, Google will continue to separate its high-end devices in terms of memory, putting "only" 8 gigs of RAM on the base model this year too.
It remains to be seen if the non-Pro Pixel 8 will jump from its forerunner's 90Hz display refresh rate technology to match the Pixel 7 Pro's 120Hz support (as it well should), while the screen resolution is unlikely to go beyond the Full HD+ mark with this year's size shrinkage. Speaking of shrinkage, we definitely hope the battery capacity will not take a big hit, a theory supported (at least in part) by the aforementioned bump in overall product thickness.