Google Calendar update makes rescheduling meetings easier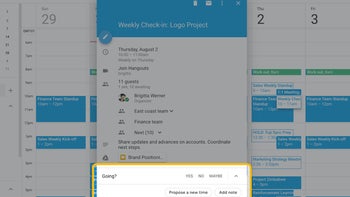 Meetings can be a chore — from organizing to attending them — and though the latter of these issues can't be alleviated through software alone, the former can. And the latest update for Google Calendar aims to do just that.
Starting now on web, and available on the mobile version of the platform August 13, Google Calendar lets users more easily reschedule meetings and communicate effortlessly between attendees. This way, guests can propose a new time for a meeting and include messages to the participants to update them on the matter. The organizer of the meeting can then review and accept or deny such requests. What's more, if the attendees have made their calendars public, the organizer can see their availability in a new window so they can pick the right time.
"This allows for richer communication between attendees, reduces time spent on meeting practicalities, and makes meetings more productive with key stakeholders in attendance,"
reads the Google's blog post on the update.
The new scheduling feature is now live on the web version of Google Calendar and will be rolling out to mobile on August 13th. It should work across domains and with Microsoft Exchange, Google notes in the blog post.