Best Tablets for College Students: Which One is Right for You?
3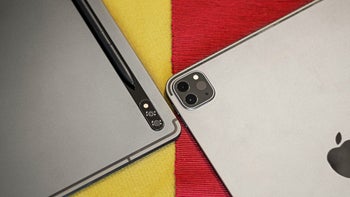 While tablets might not be as necessary as laptops, they can still be a student's best friend for a number of reasons. They are ideal for note taking, annotating materials, doing your readings and blowing some steam off.
However, given how many devices there are on the market, it might be difficult to find the device that suits your scholarly needs best. Hence, we are here to help those on their way to college in this quest.
Here is our pick of the best tablets for college students in 2023. In this list we have a little something for everyone, so regardless of what your criteria are exactly, at least one of these devices will be a good fit.
Best Tablets for College Students - Summarized List
We are starting things off with arguably the most well-rounded tablet on the list. If you need a device that ticks all the boxes at a reasonable price tag, we believe that the fifth generation
iPad Air (2022)
is probably the best tablet a student can wish for. It has the same modern design as its much more expensive iPad Pro relatives, an amazingly quick Apple M1 processor, and 8GB of RAM that are more than enough for seamless multitasking on iPadOS. It is important to say that this iPad in particular works with the Apple Pencil (2nd gen.) and the Apple Magic Keyboard - two accessories that can take the tablet experience to the next level.
The iPad Air is also very easy to carry around, weighing only 461g and has a battery that will last you a full day of lectures. It also has an excellent and sturdy build, with its aluminum frame and back. You won't be disappointed by its rear camera either, as it is also excellent... for a tablet, that is. iPadOS packs plenty of educational apps and tools that make studying easier. In terms of screen size, the iPad Air has a fairly standard 10.9-inch display gets plenty bright and has a high resolution, which further improves the reading experience. It is not an OLED panel and the refresh rate is capped at 60Hz, but these are probably the only two downsides we can pinpoint.
The Premium iPad, with a premium price tag
We know that the
iPad Pro
is more expensive than most of the tablets on this list, but if you have the money you should definitely consider it, as it is not only an excellent device for college, but also possibly the most powerful tablet on the market, period. The
iPad Pro (2022)
comes in 11-inch and
12.9-inch
versions, with the latter one having an incredible display. The mini-LED technology makes the darks on the screen pinch black and the brights even brighter, allowing for better contrast and a similar experience to the one on OLED panels.
The 2022 iPad Pro tablets are powered by the Apple M2 chip, which the company also uses for some of its desktop computers. There are storage variants with 8GB or 16GB of RAM, and if you wonder which one to choose you should
check out our article on the topic
. As you can probably see, the current iPad Pro lineup also has a premium design, made out of aluminum. These tablets are also pretty lightweight, making them easy to carry around the campus. They also have an excellent battery life, courtesy of the large batteries and efficient hardware. Just like the 5th gen. iPad Air, these also support the 2nd Gen Apple Pencil and can be combined with Apple's Magic Keyboard (and many other keyboard covers for that matter). As far as tablet cameras go these have the best ones in the business.
Overall, we recommend these if you have the extra money and want a tablet that will last you a long time. They are not only one of the best student tablets, but some of the most impressive devices on the market as a whole. Lastly, if you are looking to save some money but still prefer a more premium iPad, you can try to find the previous model which is very similar and still excellent.
And from the most expensive Apple tablets, we go to the least expensive one. The 10th generation of the vanilla
iPad (2022)
really brought the device in line with Apple's newer iPads. Just like its bigger brothers, it also supports the Apple Pencil (1st Gen). Have we mentioned it gets the most functional Apple keyboard out of the whole bunch in the form of the Magic Keyboard Folio. How cool is that?
While not necessarily a budget tablet, you get a good 10.9-inch display with a pretty high resolution at a reasonable price point. You also get the Apple A14 chip, which still holds its ground against the competition even two years after its release. The entry-level iPad has 4GB of RAM, which is more than enough for a good multitasking experience on iPadOS. Its battery will get you through the day easily, so no worries there. You can't make a mistake with this one if you are short on budget but still need a device to get you through your classes.
Samsung Galaxy Tab S8 Ultra
Samsung's answer to the Apple iPad Pro is its
Galaxy Tab S8 Ultra
. This tablet is powerful, sleek, and has a big 14.6-inch high-resolution AMOLED display with a 120Hz refresh rate. Yes, it is expensive, but it is also probably the best Android tablet experience there is.
This tablet feels good in the hand, with its aluminum-made body and 726g weight. A big advantage it has over the competition is its expandable storage. The Galaxy Tab S8 Ultra also supports the S Pen. For easier typing, you can purchase the tablet with Samsung's keyboard cover. Its 8, 12, or 16GB of RAM, depending on the storage version, make it a very good multitasking device. As for its battery life, this tablet has a giant 11,200mAh one, which will easily last you through these class-packed days. Just like the iPad, the Galaxy Tab S8 Ultra has plenty of educational apps available, so no worries there. If you want something smaller you can always go for the less-expensive Galaxy Tab S8 or Tab S8 Plus.

This is perhaps the only true budget tablet on this list, but that's not to say it is bad. The 2021 10.5-inch Galaxy Tab A8 is a good choice for anyone on a tight budget. It has a good design, with an average display and processor. This device is not a performance champ, but it gets the job done.

The Tab A8's screen is a TFT panel, meaning you can't expect much from it, but at least its resolution is high, so you shouldn't have problems reading on it. Its cameras are also average, but acceptable considering its price, which is only $229. The battery will be able to last all of your classes, but when you get home you'll probably need to top it off. Overall, if you want the best cheap college tablet and don't care if it won't last you more than two years, then this one is a good choice too.
Microsoft Surface Pro 8
The Best Windows Tablet that is also a laptop
Last but not least is Microsoft's Surface Pro 8. This is the only tablet on this list that runs Windows 10, and this has its advantages and disadvantages. For one, this device acts as a really good laptop, with all the Windows apps and tools we've come to know. But its operating system makes the Surface Pro 8 pretty limited as a tablet. Don't get me wrong, there are Windows apps made just for tablets, but they aren't many, and you will probably go on and use the desktop ones anyway, as they often offer much greater functionality.
The software aside, the Microsoft Surface Pro 8 is pretty good hardware-wise. It has a big 13-inch high-resolution display, a premium metal body with a stand, and a choice of fast desktop-class Intel processors. Its price starts at $1099, but these days you can often find the Surface Pro 8 at a discounted price (especially after its successor, the Surface Pro 9, was released in October 2022). The deals on this tablet often include a type cover, which we think is an accessory without each laptop-like tablet doesn't make sense. If you're really keen on having a laptop but you also want it to be practical as a tablet, then the Surface Pro 8 should do the trick.
What to look for when buying a tablet for college?


Regardless of what tablet you decide to go for in the end, there are a couple of considerations you should keep in mind. Namely:
Screen Size
There is always a trade-off between screen real estate and portability, but students often need both. This unfortunately eliminates devices like the
iPad mini
. In fact, most of the best tablets for college typically have a screen size of about 11" that allows users to get the best of both worlds.
We have included some bigger options, if you need to use things like video editing software or if you intend to use a tablet as your primary productivity device. Bear in mind that the more premium Samsung tablets and most Windows tablets tend to have larger screens as a rule.
Software & Features
The most important decision you will have to make when choosing the best student tablet is what type of software you want the latter to run. You can choose between three main types of devices: A Windows tablet, an Android tablet and an iPad.
Each one has unique selling points. A Windows tablet can often replace your laptop in college, while the other two are more of a secondary (or even tertiary) device. The iPad has historically occupied a special place in education for a reason - it has access to the widest range of educational apps and study tools. The Google apps that Android tablets (like the Galaxy Tab series) run have come a long way, but they are still somewhat inferior.
Connectivity is also a very important factor that should be taken into account. Most affordable tablets lack LTE connectivity. The majority of the devices on this list come in two versions: Wi-Fi and Wi-Fi + LTE, the second one being more expensive.
There are a number of specific features that are worth looking for. For example S Pen stylus / Apple Pencil support (or any pen stylus support, for that matter), a USB-C port, or a headphone jack are some common ones you could consider.
Storage and performance
In all frankness, most tablets nowadays (including more affordable ones) offer rather good performance, especially when it comes to the mundane tasks that most students do on a daily basis (i.e. video calls, note taking etc.). Naturally, the high-end options will be superior, but all but the most budget tablet can deliver a decent experience.
What is most important for college students, however, is exceptional battery life, something the iPad is particularly well-known for. The best tablet is the one you won't have to charge in the middle of your online classes. Another spec students need to think about is storage. With all that note taking and study materials, the more internal storage you have, the better.
Plenty of choice of tablet study buddies
It turns out that there are a variety of good choices for tablets for college. Some are cheap, but will still do the job, and some offer a premium build and great performance, at a more expensive price. These high-end tablets also come with more features, which should definitely make you consider them, especially if you are looking for a tablet to use in the long run. The 5th Gen iPad Air seems like it has the perfect balance between premium and affordable.
If you are looking for the best tablet for writing papers and making presentations, the desktop-class Surface Pro 8 will easily make you forget about buying a laptop. But of course, it will also make you miss the tablet feel that comes with iPadOS and Android running devices. In the end, you're the only one that can choose which is the best college tablet for you.