Apple iPad Pro 11-inch (2022) review: Hello, M2'lady
6
We may earn a commission if you make a purchase from the links on this page.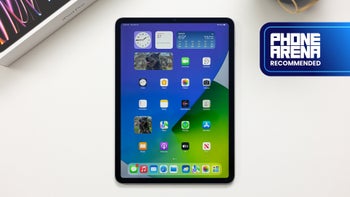 Another year, another iPad Pro upgrade. It was kind of unceremoniously unveiled by
Apple
— no event, no fanfare. Just a press release and poof — it was up on Apple.com. But we get it, we get it. Not much is new.
The iPad Pro (2022) is here to succeed the 2021 edition by making one change — the chip inside is now an Apple M2, instead of an M1. While it does replace the old iPad Pro on the official Apple Store, we wouldn't say it replaces it in practicality — the M1 is still plenty good. Even the iPad Pro (2020) models are, actually, still relevant, since it turned out they are also getting the new Stage Manager (more on that later).
So, who is the new iPad Pro for? Well, obviously, if you own a recent version of Apple's top-tier tablet — we wouldn't recommend hurrying to upgrade. However, if you want to go up from a less-powerful iPad or looking to get your very first Apple tablet — and want the best there is — the iPad Pro is here for you packing heat in the form of the lastest-and-greatest M2 chip.
iPad Pro 2022 - what's new?
New M2 chip inside
New hover cursor for Apple Pencil accuracy
iPad Pro (2022) unboxing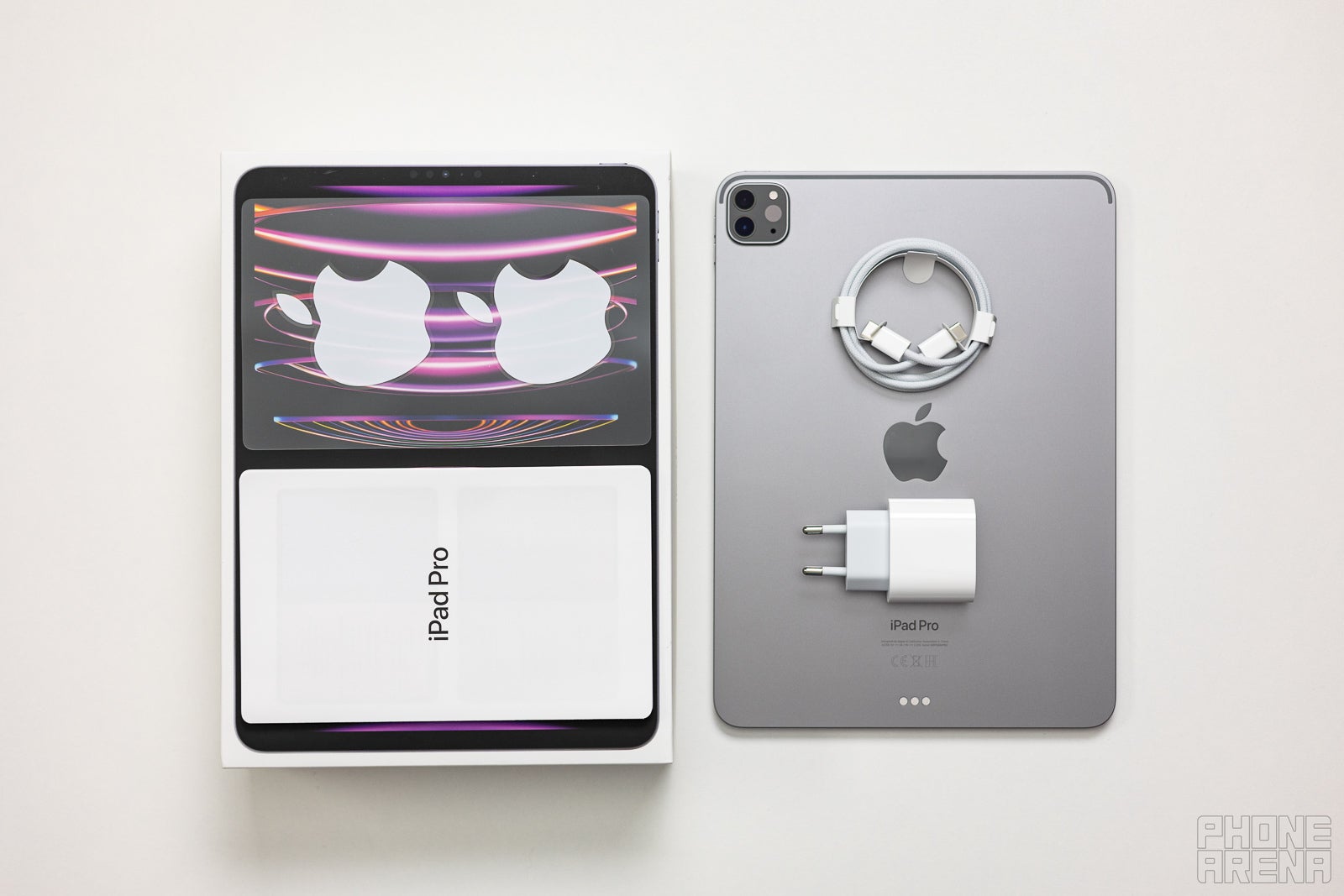 The iPad Pro's box size still hasn't been reduced, meaning we get an actual charger alongside the USB-C to Lightning cable. A couple of Apple stickers are in there as well, so you fan flaunt your fandom. And the necessary booklets. Oh, also — the iPad.
iPad Pro (2022) specs
Power over M1
Specs
iPad Pro 11" (2022)
Size and Weight
9.75 x 7.03 x 0.23 inches (247.6 x 178.5 x 5.9 mm); 16.44 oz (466.0 g)
Display
11" LCD, 120 Hz ProMotion, 600 nits max brightness
Processor
Apple M2
RAM
8 GB / 16 GB (on 1 TB and 2 TB models)
Storage
128 GB / 256 GB / 512 GB / 1 TB / 2 TB
Software
iPadOS 16 (with new features like Stage Manager)
Cameras
12 MP wide camera, f/1.8 aperture
10 MP ultra-wide camera, f/2.4 aperture

Battery Size
7,538 mAh
Charging Speeds
18 W wired
Price
starting from $799

Yes, you can spec this beast with up to 2 TB of storage (which is 2000 GB), but the price does jump significantly, over $1000, from the base 128 GB model. Obviously, this is an option for those that use their iPad for anything and everything — from gaming to editing photos and videos.
Now, thanks to the USB Type-C Thunderbolt port, you can attach an external hard drive to your iPad Pro. However, due to the way iPadOS treats files, we wouldn't say this is an "expandable storage" option. You can definitely archive and access files on an external drive. However, the ones that you are actively working with (in apps) will need to live on your iPad.

That said, we find the 128 GB version to be OK for a mixed use of entertainment, text work, and occasional media editing. However, if we were to pick up an iPad Pro and use it as a main work machine, we'd feel more comfortable with at least a 256 GB model.
iPad Pro (2022) models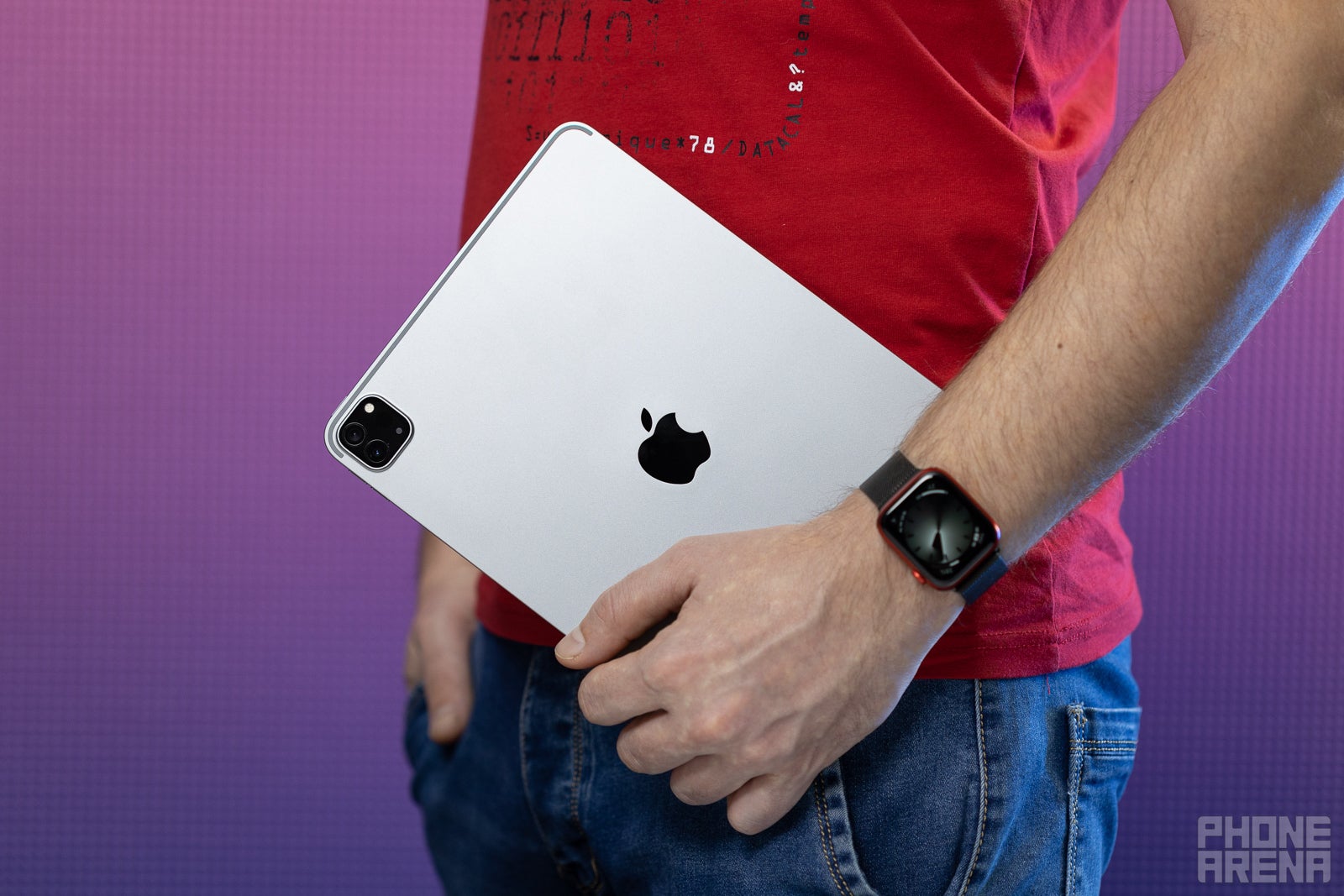 Easy to carry - iPad Pro 11-inch (Image credit - PhoneArena)
It is customary now that iPad Pros get released in two sizes — the 11-inch and 12.9-inch. The iPad Pro 11" still feels very much like a tablet. It is compact, light, easy to carry around and use in pretty much every scenario. The iPad Pro 12.9" is truly huge, as big as a MacBook Pro 13", and heavy. Especially if you slap a much-needed magnetic folio case or a Magic Keyboard on it.
Obviously, if you are after a tablet for its mobility, the iPad Pro 11-inch (2022) is the one you should be looking at. If you truly love what Apple is doing with iPadOS and want to delve in that workflow completely, the huge screen of the iPad Pro 12.9-inch (2022) will lend itself well for that. Plus, the bigger MagicKeyboard is that much more comfortable to work on when you have a huge canvas to lay the keys over.
iPad Pro (2022) design
Unlike the new
base iPad
, Apple did not change the iPad Pro's design at all. If it ain't broke, don't fix it, right?
So this isn't a bad thing. We get a familiar slab of premium-feeling recycled aluminum, and glass on the front. There's a pronounced bezel all around the screen, allowing us to twirl and handle the iPad with ease, without worrying about ghost touches. Plus, there's enough room for the Face ID sensors in said bezel, so the tablet doesn't have a notch (shocking, seeing as Apple even added a notch to the latest MacBook laptops).
The power and volume keys are in the same upper right location (when held vertically) and the camera module is unchanged. Again, we have a quad-speaker setup with two drivers on each side, pushing pretty impressive sound out from the thin slab. The back is mostly clear, save for the Apple logo and the three little dots of the Smart Connector.
Of course, there's also an array of magnets on the inside, opening up the iPad ecosystem for a wide array of magnetic cases. The Magic Keyboard works on this principle — you just slap the iPad Pro on top of it and it's ready to go. There are also folio cases with protective flaps that can simply stick to the iPad — both official Apple ones and 3rd party offers.
We do strongly suggest to have at least one folio case for your iPad, just to be able to prop it up whenever using it — either for multimedia viewing or for work. Using the flat slab naked, by itself, is awkward and unpractical. Even though it is a pleasure to carry that light, yet powerful, tablet all around!

It is not only a thin slate, at just 0.23 inches, but a light one too — it weighs 1.03 pounds (466 grams) for the Wi-Fi model, or 1.04 pounds (470 grams) for the Cellular one.
Unfortunately, Apple continues the trend of giving its Pro-branded devices boring colors. No lively hues that the
iPad Air
and the
iPad 10th gen
get — the iPad Pro (2022) is, again, only available in Space Gray and Silver.
iPad Pro (2022) display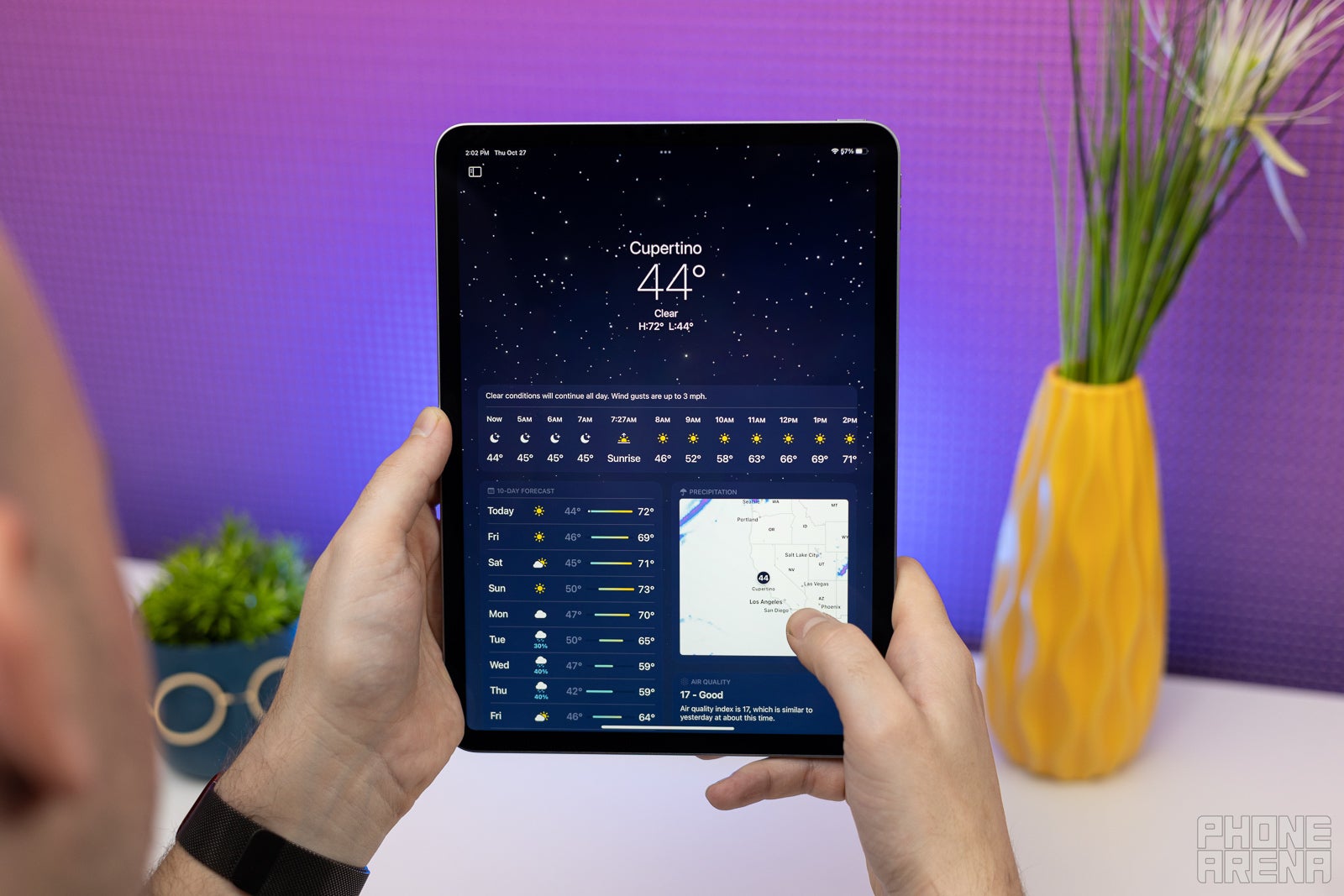 iPad Pro 11-inch (2022) (Image credit - PhoneArena)
The 2022 iPad Pro's 11-inch display is LED, at a resolution of 2388-by-1668 pixels, 264 pixels per inch (PPI). It has ProMotion, which is Apple's way of saying "120Hz refresh rate", and that provides us with smooth animations whenever scrolling around the software. Unfortunately, ProMotion is still exclusive to the iPad Pro line, so models like the Air, base iPad, or the mini don't have it.
Back to the iPad Pro 11-inch — it still doesn't get mini-LED; Apple decided to once again reserve the Liquid Retina XDR only for the bigger 12.9-inch iPad Pro. Mini-LED is basically a middle-of-the-road solution between OLED and LCD — the screen's backlight comprises of 10,000 small LEDs separated in a total of 2,500 zones. It allows the 12.9-inch iPad Pro to achieve superb contrast and heightened maximum brightness (1,000 nits). The LCD panel of the iPad Pro 11-inch tops out at 600 nits.
But it's still a pretty good screen —it does get P3 wide color gamut, so image and video editors should be happy with its performance. We also get True Tone, which is a feature for the more casual users, who don't need accurate colors – it aims to make the display in tune with the color temperature of the user's surroundings. Usually that means it gets a bit warmer and easier on the eyes, at the cost of color accuracy.
Display Measurements:
The anti-reflective coating on the screen is superb at reducing annoying glare, too. However, we still hate the oleophobic coating on these. Apparently, the Apple Pencil wasn't great at working with the traditional coating, so the newer iPads have a new type — one that doesn't really combat fingerprints so well. If you have access to an older iPad (that doesn't support any type of Apple Pencil), you can try it for yourself — wiping a fingerprint off the screen is quick and easy. Not so on the new iPads, as smudges tend to stand their ground and reappear quickly after a thorough wipedown.
Speaking of the Apple Pencil, there's a new "hover" feature this new iPad's display has the technology for, or as Apple calls it – Hover Mode. You basically get a little indication on the display of exactly where the Apple Pencil is about to make contact, for easier drawing and sketching with precision. Certain apps and widgets will now also respond to "hovers" on the home screen, by expanding. We've seen this with Samsung's S Pens and it really reduces frustrations and enhances the quality of use.
iPad Pro (2022) hardware and performance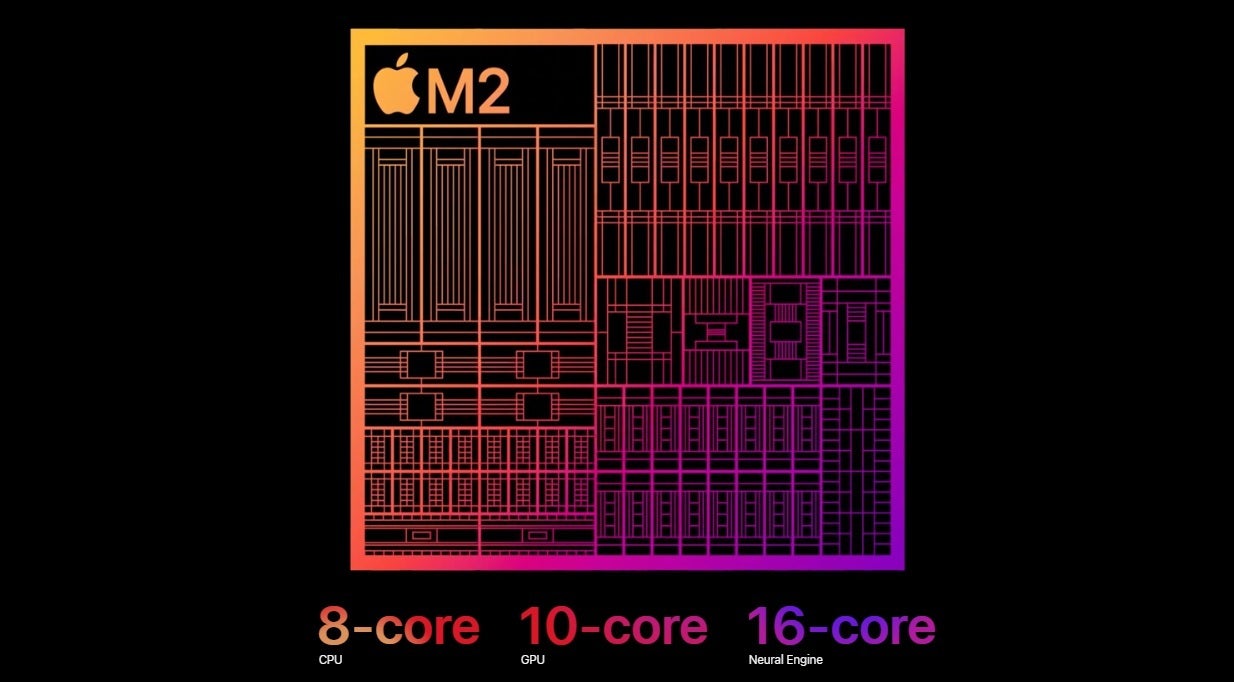 Apple M2 (Image credit - Apple)
The 2022 iPad Pro is powered by the M2 chip, which is also found in the base MacBook Pro and the new MacBook Air models. We also get 8 GB of RAM for the lower-storage variants (128 GB - 512 GB) and twice that – 16 GB for the bigger storage variants (1 TB - 2 TB).
More RAM means more apps can open and remain loaded in the background, without needing to restart when you get back to them later, but historically – even 8 GB iPads have performed perfectly well in that regard. iPadOS just works with a lot of freezing mechanics, stopping app processes when they are not on screen (but remembering their last state). So, we imagine 16 GB is mostly there for future-proofing the more expensive iPad models as one who drops that much cash on a tablet would probably prefer to keep it for a long, long while.
And yes, obviously this iPad Pro is a beast of a performer. It walks over any benchmark we throw at it and renders editing 4K HDR videos while asking for more. Here's the thing, though — the M1 is just as good, even if the numbers show a slight improvement this year.
The fact is that the 2021 iPad Pros are still amazingly powerful (arguably, they are overkill for what iPadOS demands of them). So, whether you have an older iPad Pro or you are thinking about digging for an older unit at a discount — we think that'll do you perfectly fine!


Other notable hardware features include Wi-Fi 6E (dual-band), and Bluetooth 5.3. The cellular variants also have 5G support, and can use either a physical nano-SIM card or eSIM. We mention this, because the new
iPhone 14
series no longer have slots for physical SIM cards in the US. This is not the case with the iPad Pro, for now.
iPadOS 16 brought about a new set of features to improve the workflow of the iPad fan. Front and center is the new Stage Manager — an entirely new multi-window interface that has been introduced in macOS Ventura alongside its appearance in iPadOS 16.
Stage Manager
So, how is Stage Manager? Well... the Internet is divided. Some call it horrible, others like where it's headed, but both groups will admit that it's not perfect yet. We do enjoy how it allows us to view multiple windows (for real this time) on a canvas that's much less restrictive than the typical Split View and Slide Over. Furthermore, even if you expand one window fully, the apps that remain "behind" it stay active. For example — if you are watching a YouTube video in one window and expand Safari to its maximum — the YouTube clip that's left behind it will still continue playing.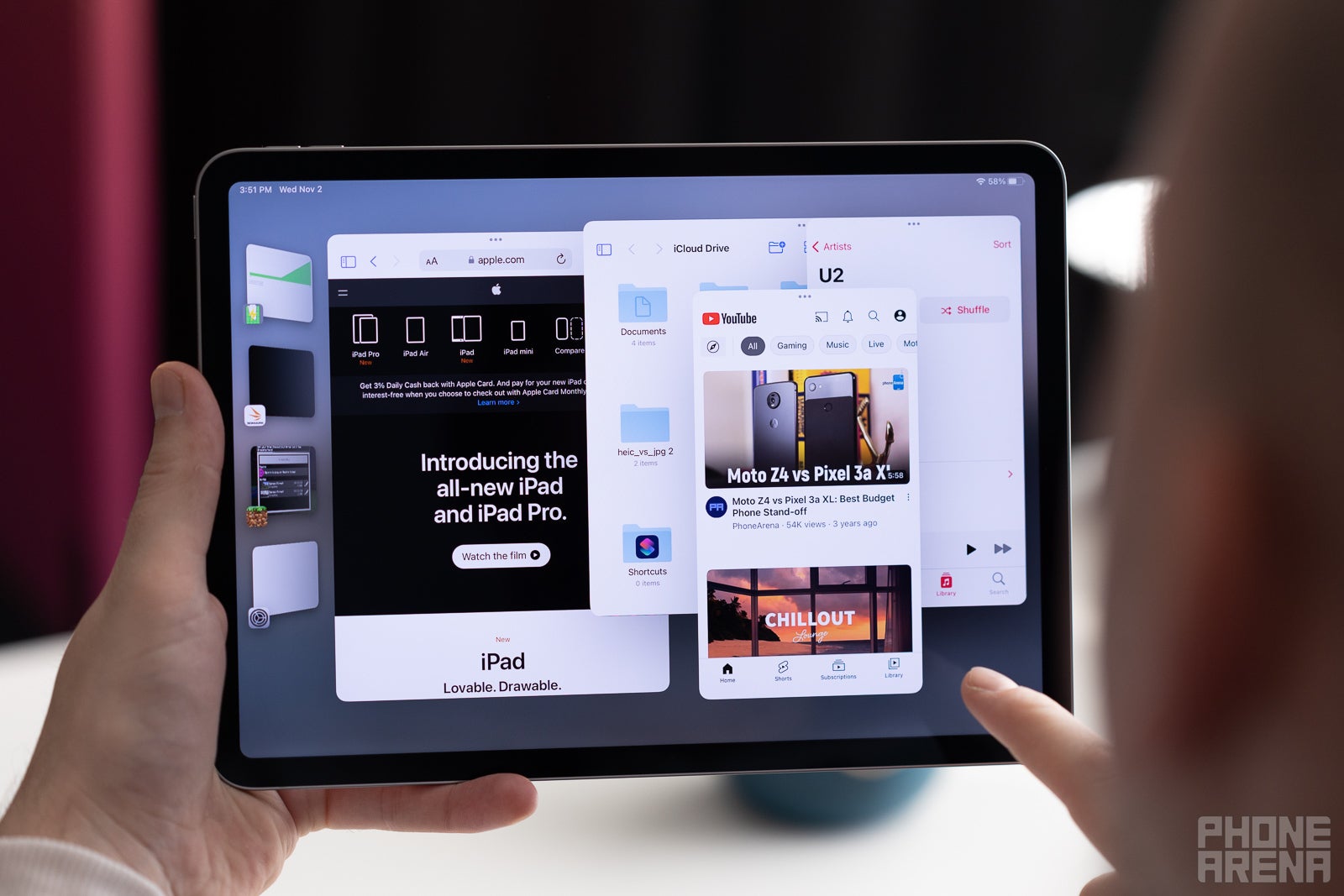 Shock and awe - multi-tasking on an iPad (Image credit - PhoneArena)
Still, though, Stage Manager on the iPad Pro does not bring "complete freedom" — the windows still need to be resized in steps and they can only snap to specific places on the screen. Which is kind of agitating when you are trying to make the best use of your 11-inch screen. Then again, we assume it's also a nightmare to optimize the apps for all possible window sizes and ratios as it is.
However, connecting the iPad Pro to an external monitor and activating Stage Manager finally gives you a full desktop experience on that secondary screen. The app windows are still a bit sticky and you can only go for up to 4 at a time. However, a large 16:9 screen definitely gives you more breathing room and a desktop feel. And you even get a very macOS-looking dock at the bottom.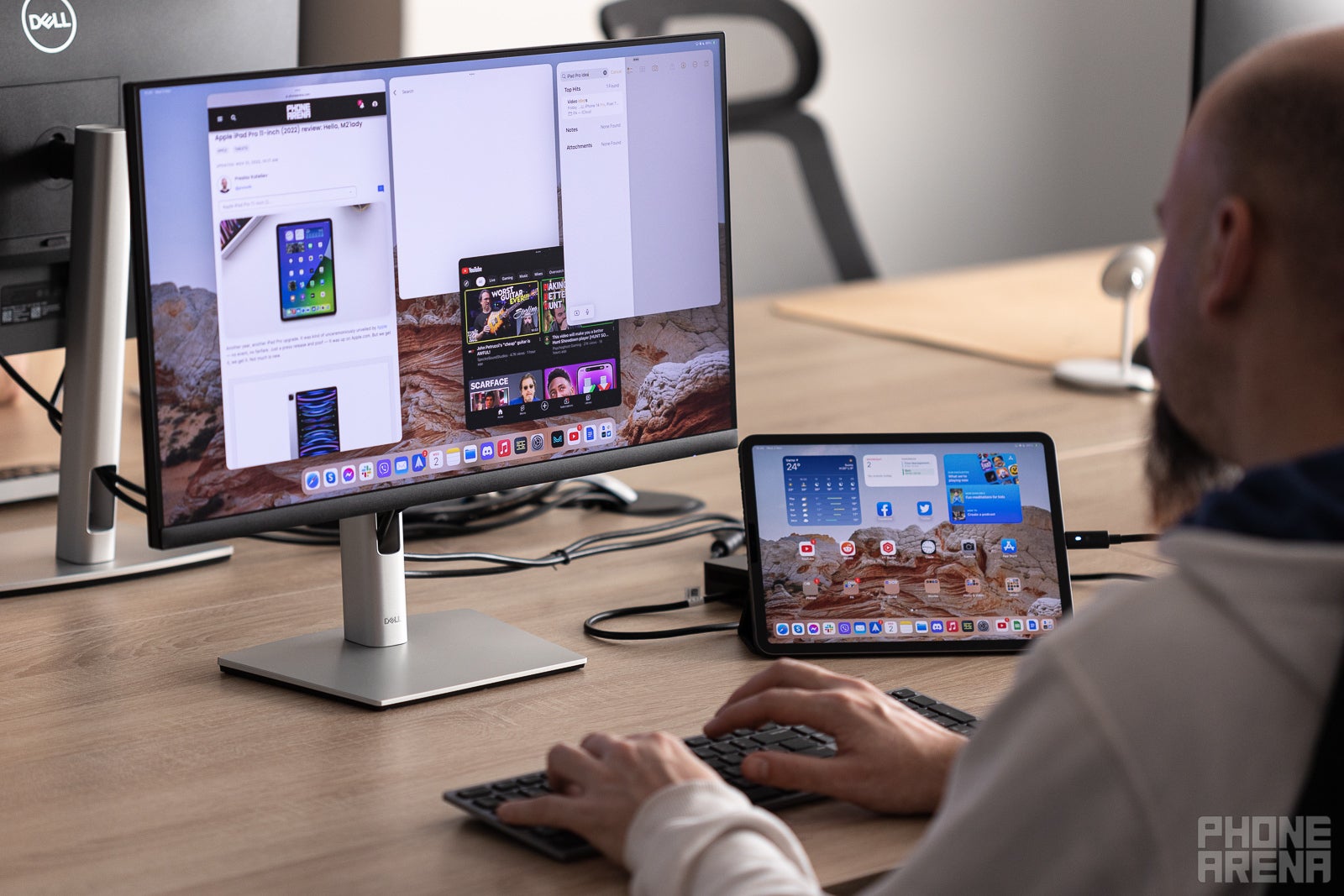 Hey, it's an actual desktop system (Image credit - PhoneArena)
It does unlock a lot of possibilities for the digital nomad — pair it with a Magic Keyboard and you truly can take your work on the road. With powerful apps like LumaFusion, Cubasis, Lightroom, et cetera, this is true for many professionals. However, whether the iPad Pro will be a right fit for your workflow — that's still a very individual case. Even with Stage Manager on an external screen, it carries over that slightly sluggish "mobile" feel and the limitations of a not-so-perfect file system and app workflow.
It doesn't do broad strokes and try to cover multiple use cases, the iPad kind of demands that you find your way to work on it. And, for the most part, it still feels like a supplementary assistant device, not a main computer. It is possible to adapt to it if you really want to — we've done it before while testing older iPad Pros and our resident tablet fans tried to drop their laptops to work entirely off of an iPad. Now, it's even more convenient, but not perfect.
Also, it's worth noting, a docked iPad Pro will work better with a touchpad than a mouse. This is because the mouse wheel feels super awkward. For one, it's reversed — you need to go up on the mouse wheel to scroll down. Secondly, scrolling speed is extremely slow. For example — having to check through this review by using the iPad Pro with an external monitor was an awkward process due to that super-slow, imprecise scrolling. We assume that a Magic Mouse will work much better here, while any 3rd party solution with a scroll wheel will be an annoyance.
At the time of writing this, Apple has disabled external screen Stage Manager for iPadOS 16 as it is still getting ready to make it available on A12Z-equipped iPads (
iPad Pro 2020
). However, if you download the iPadOS beta, you can try it out freely, which is why we can speak on the feature right now.
UPDATE:
The iPadOS 17 is now official
, Apple announced its next-gen operating system during the WWDC 2023 event, and it will roll out to the iPad Pro sometime in autumn 2023. You can check the detailed article but in short, there's a new Health app for iPads, better home screen customization, interactive widgets, and some
iOS 17
features such as AirDrop over the internet when not in range, offline maps, and more.
iPad Pro (2022) speakers
Unlike the iPad Air and base iPad, the iPad Pro comes with four speakers, two on each side of the device, delivering a wide, true stereo effect.
As usual, the sound is meaty and detailed and gets relatively loud without distortion. Whether you're editing videos, watching movies, or gaming, the experience will be top tier in terms of sound.
As we all know, there's no headphone jack, but at least we have USB Type-C — some hubs offer a headphone out, and we can even attach audio interfaces or external sound cards to the iPad Pro.
iPad Pro (2022) camera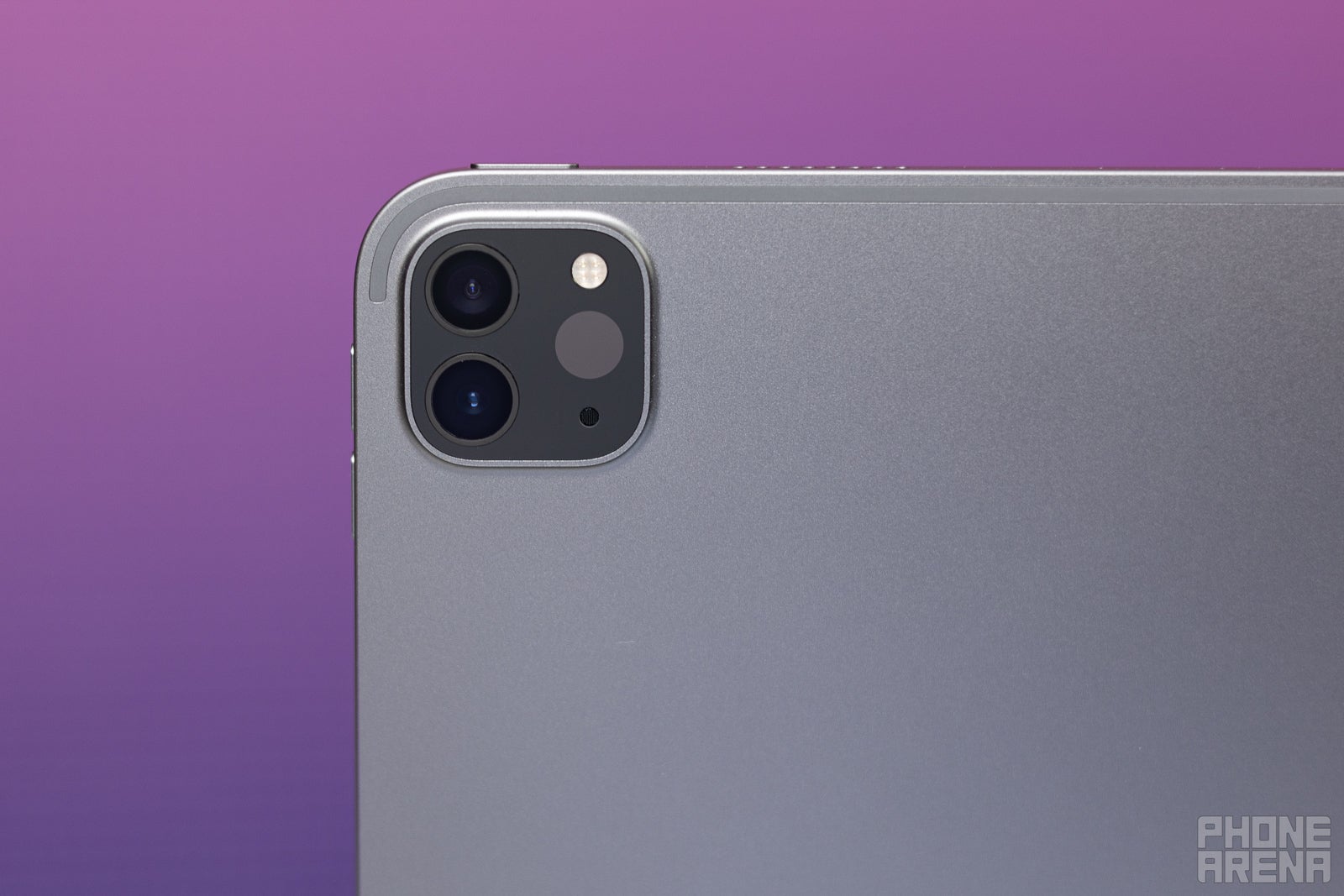 iPad Pro camera setup (Image credit - PhoneArena)
On the back of the iPad Pro we have two cameras – a wide and ultra wide, 12MP and 10MP respectively, delivering up to 125° field of view and 2x optical zoom. Next to the cameras is a "brighter" True Tone flash, plus a LiDAR sensor.
The 2022 iPad Pro can film videos at up to 4K, 60 FPS (frames per second), but only from the wide camera. The ultra wide is capped at up to 1080p, 60 FPS.
YouTubers and pro video editors will be happy to know there's ProRes video recording on board – up to 4K at 30 FPS, unless you have the base-storage iPad Pro with 128GB. That one only gets 1080p ProRes at 30 FPS, likely due to the fact that 4K footage will fill it up quite fast. So if ProRes matters to you, be sure to get a higher-storage variant.
Notable features also include cinematic video stabilization (which works for filming in all resolutions, including 4K), and slo-mo video recording at 1080p, up to 240 FPS.
On the front of the iPad is a 12MP TrueDepth ultra wide camera (122° field of view) for your video calls and selfies. Of course, it has that wide lens because it uses Center Stage — like all iPads nowadays do. Unfortunately, it's still situated on a side frame (when the tablet is in landscape) meaning you appear in your video calls as if you are looking off to the side.
The front camera can record at up to 1080p, 60 FPS, so no 4K on this side, unfortunately. As always, it also works in tandem with the FaceID sensor array around it, to securely unlock your iPad with face recognition.
iPad Pro (2022) accessories
It's worth mentioning that the 2022 iPad Pro has the kind of first-party accessories (sold separately) that can truly make it anyone's "Pro" laptop replacement.
Arguably the most popular iPad Pro accessory that works with this particular one is the $129 Apple Pencil 2 stylus, which a lot of artists swear by, and in our experience, is indeed invaluable if you're doing a lot of image editing and drawing.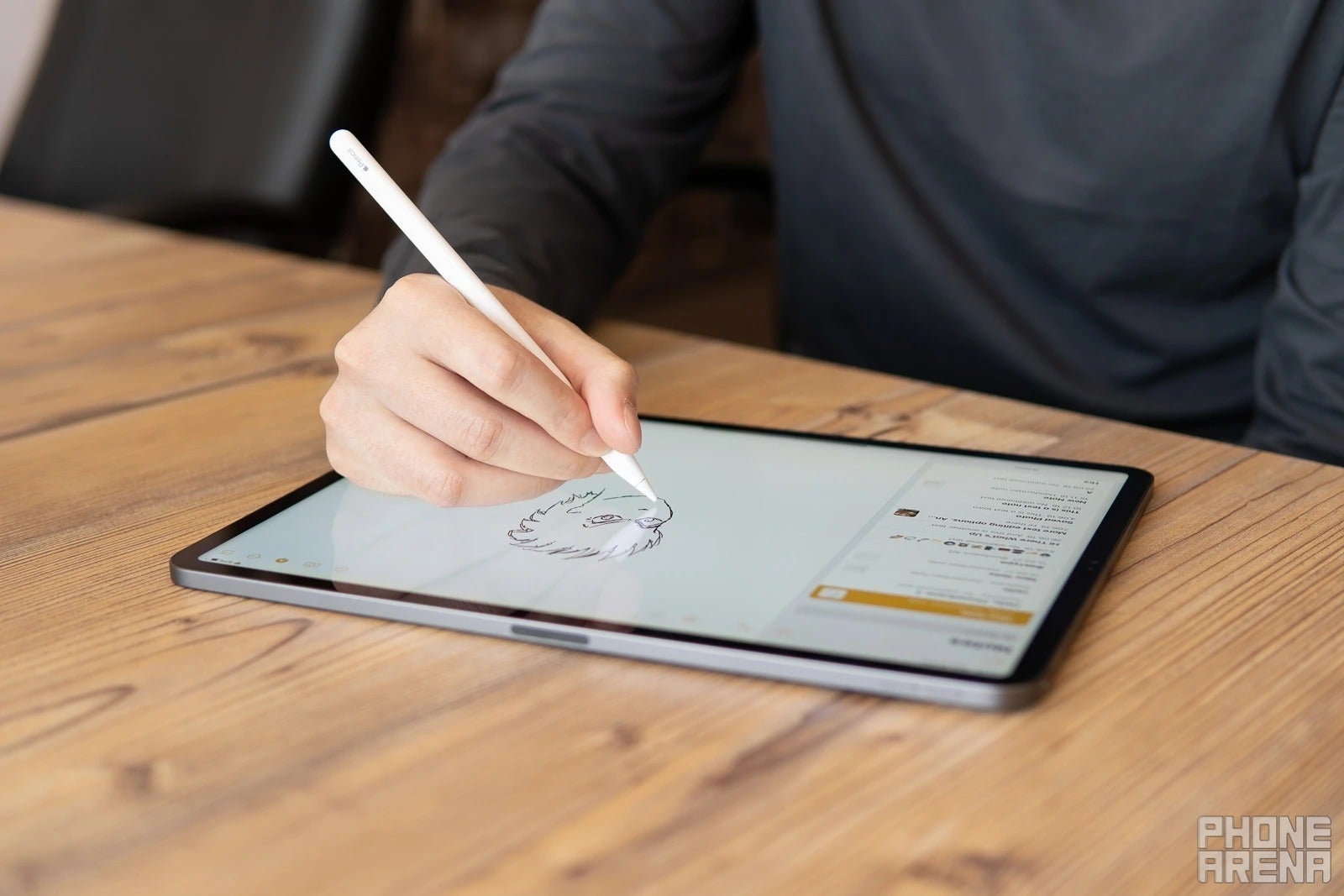 Amazing stylus, if you can get used to the slippery plastic (Image credit - PhoneArena)
Another popular iPad Pro accessory you may want to consider, if you can cough up the not-cheap $299 Apple asks for it, is the Magic Keyboard for iPad Pro 11-inch. Although it adds quite a bit of weight to your iPad by design, it is very thin, offers adjustable angles, an additional USB Type-C port, and most importantly – a nice, big, premium-feeling keyboard, plus a trackpad. The keys are backlit too!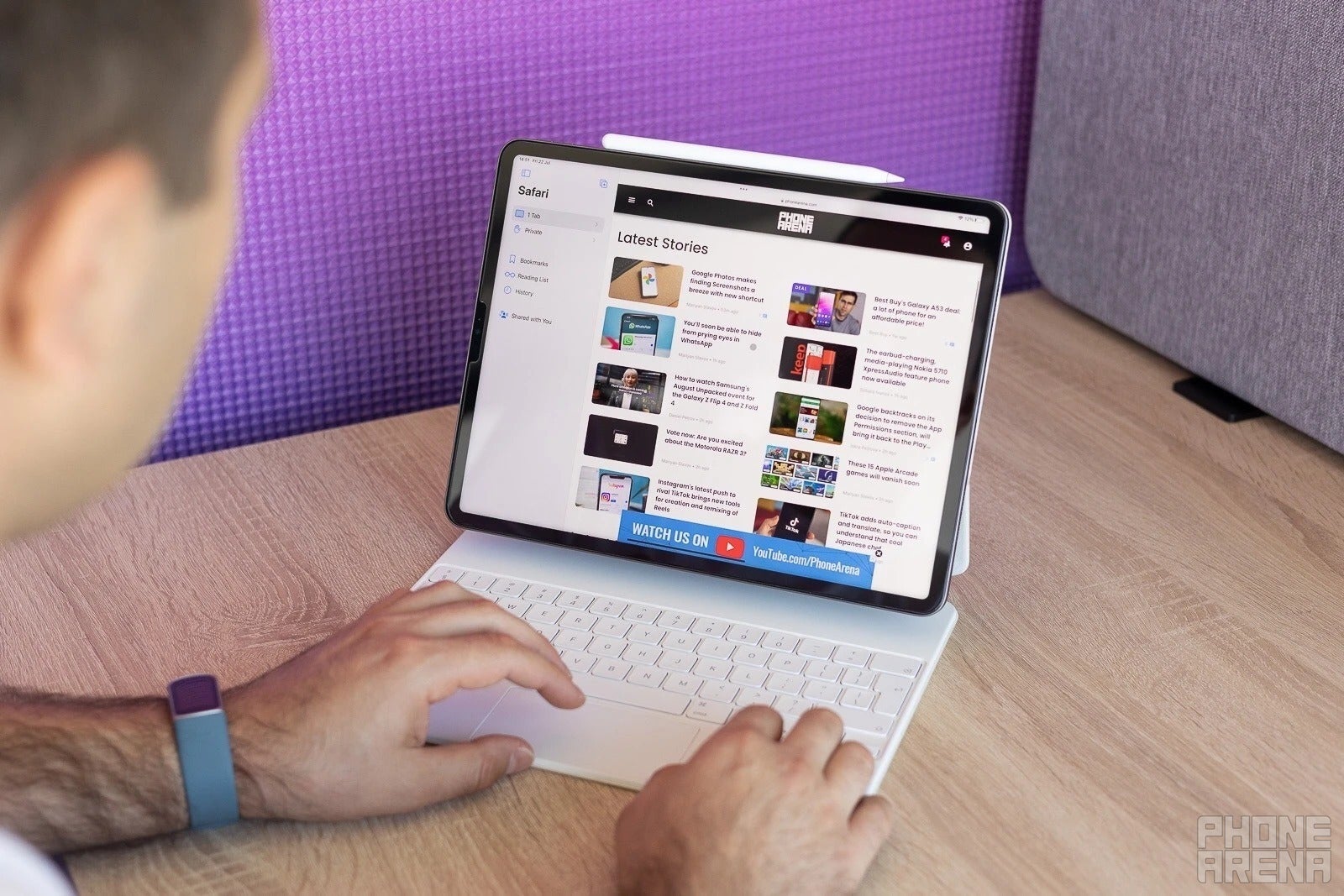 Ready to become a laptop... almost (Image credit - PhoneArena)
And since the iPad Pro magnetically snaps to this keyboard, it's super easy to attach and detach when needed, and it requires no charging, as it dips into the iPad Pro's battery. Speaking of which…
iPad Pro (2022) battery
As always, Apple promises this iPad's 28.65-watt-hour battery to last a full day before it needs charging. More specifically, "up to 10 hours" of browsing the web or watching videos.
And from experience, we know this to be a fact, or even a bit of an undersell. Whether you're planning to use this iPad Pro for school or work, it'll carry you through the day easily, and even a following night of watching movies and chilling.
PhoneArena Battery Test Results:

When it's time to charge, the 2022 iPad Pro has a Thunderbolt / USB Type-C 4 port on the bottom for that. And unlike what the situation is with modern iPhones, Apple does give you a charging cable and a 20W USB-C Power Adapter with your new 2022 iPad Pro.
iPad Pro (2022) competitors
The biggest competitor to the new iPad Pros will definitely be… the older iPad Pro. In reality, it's hard to recommend you drop full price on the M2 iPad Pros when we know that the 2021 M1-equipped iPad Pros will now start getting discounts (Black Friday coming up!).
Then, we have the iPad Air, which sheds the 120 Hz screen and quad speakers, but still has a nice build, supports the Magic Keyboard and Apple Pencil 2, and still has an M1.
These two will be your serious consideration when making a purchase decision. But, on the Android side, we have Samsung's latest tablets. The
Galaxy Tab S8 Ultra
is ginormous and not for everybody. But the Galaxy S8+ may be just up your alley. With these latest slates, Samsung also put emphasis on making them work tools and even managed to convince the LumaFusion developers to finally bring their excellent video-editing app to the Android side.
Plus, Samsung's tablets come with the excellent S Pen included in the package, whereas the Apple Pencil is always a separate $130 purchase.
iPad Pro (2022) summary and final verdict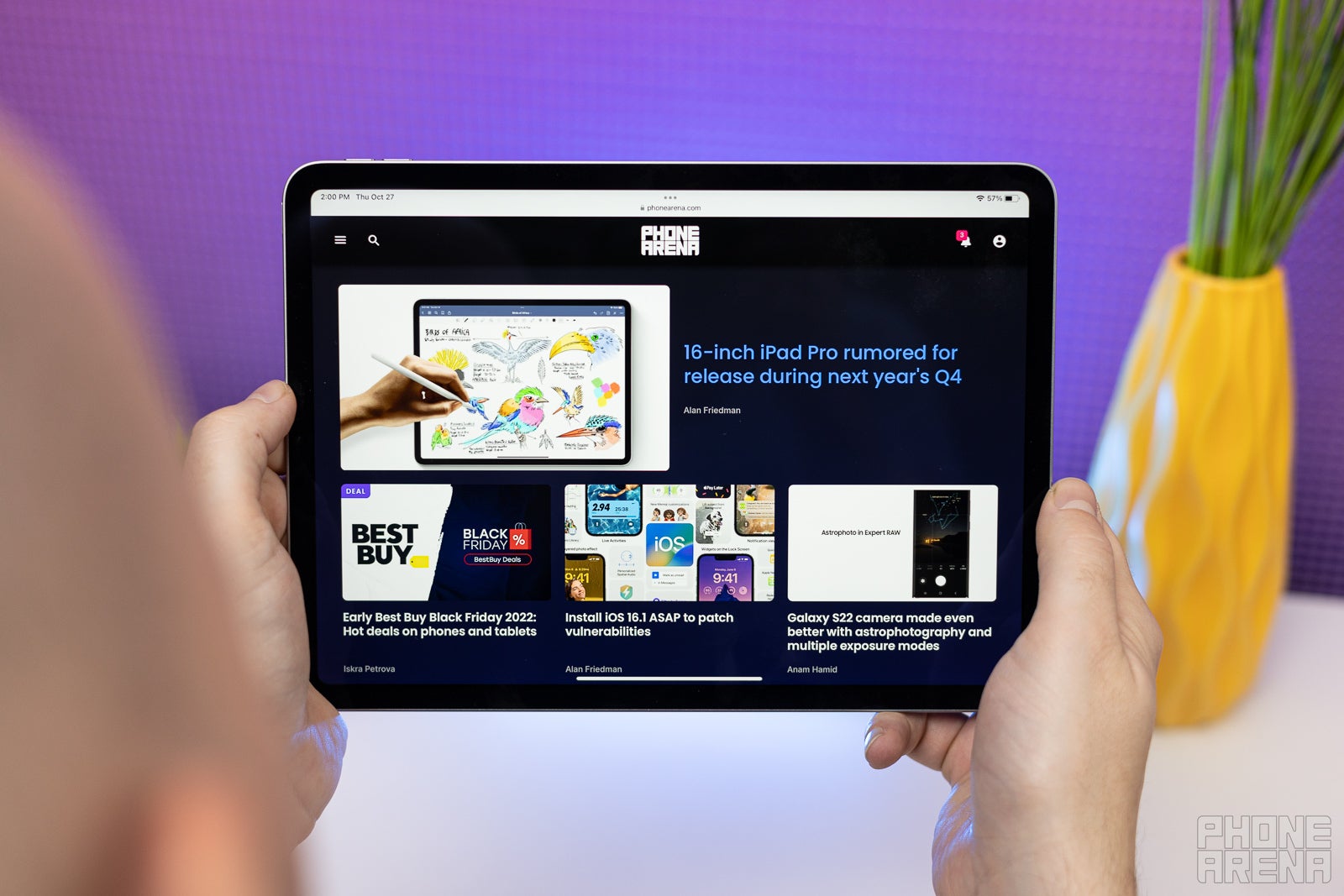 Portable friend, anywhere we go (Image credit - PhoneArena)
In summary… it's good. It's a top-tier iPad Pro — these have been consistently good over the past 7 years. The newest model doesn't really add something new on the hardware side (aside from Hover cursor with the Pencil), it just makes sure that the hardware is up to date and still ahead of the curve.
iPadOS 16 does bring some much-appreciated quality of life improvements, but most of those will also come to other iPads.
So yes, if you are in the market for a new top-tier tablet, you can buy the iPad Pro (2022) with confidence — it will work great and it will last you a while. A long, long while. If you are thinking about upgrading from a 2-year-old machine — we think you should be good for another generation at least.
Recommended Stories