Best iPad Pro alternatives available in the US today
21
We may earn a commission if you make a purchase from the links on this page.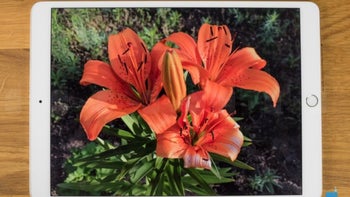 It's almost the middle of October and Apple remains mum on prospective sequels to
the 10.5
and
12.9-inch iPad Pros
commercially released way back in June 2017. Granted,
next-gen devices
have
started leaking again
, but as we approach the holiday season, an official announcement by the end of the year feels more and more unlikely.
If you're unwilling to wait any longer, you can obviously still pick up last year's iOS giants. Extremely well-reviewed after their commercial debut, they
continue to dominate the market
, helped by a lightly refreshed non-Pro
9.7-inch iPad
.
Alternatively, you could always buy a decent Android, Windows 10, or even Chrome OS slate. Because
sales aren't exactly thriving
, it's not easy to put together a robust list of iPad Pro alternatives. But here are your best options available today if you're bothered by the advanced age of Apple's latest Pro tablets or don't consider iOS the most optimized platform for a gargantuan screen.
Google Pixel Slate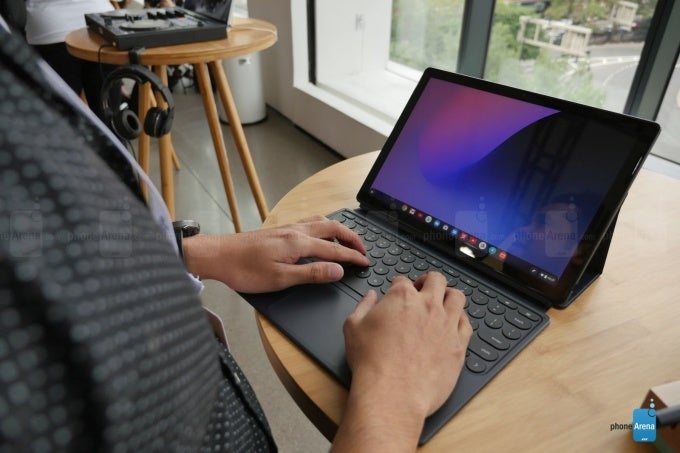 Any conversation about a solid iPad Pro rival must start with a detachable keyboard and productivity-enhancing stylus. The
Pixel Slate
, which is
technically not up for grabs yet
, ticks both boxes, supporting Pixelbook Pen interaction, as well as pairing with a separately sold Google-made keyboard.
The latter is actually pricier than Apple's Smart Keyboard, at a whopping $199, featuring love-or-hate circular keys, an etched glass trackpad, as well as doubling as a protective cover, just like the competition. Intriguingly enough,
a slightly cheaper third-party option
promises to make the Pixel Slate look more like a traditional laptop.

The Pixelbook Pen is not new, matching the $99 price tag of the Apple Pencil, while also offering pressure sensitivity and tilt support. Basically, your decision to buy the Pixel Slate over an iPad Pro will come down to whether or not you can live with Chrome OS (and Android apps).

You may also want to consider the entry-level configuration is 50 bucks cheaper than a 10.5-inch iPad Pro... with a beautiful 12.3-inch "Molecular" display in tow. But because the Intel Celeron processor is not ideal, we highly recommend you go for a $799 Core m3 or a $999 Core i5 variant. Both of those pack 8GB RAM, with 64 and 128GB solid-state storage respectively.
Whichever model you end up choosing, a pair of USB-C ports will provide a much higher degree of flexibility and versatility compared to Apple's proprietary Lightning connector.
Microsoft Surface Pro 6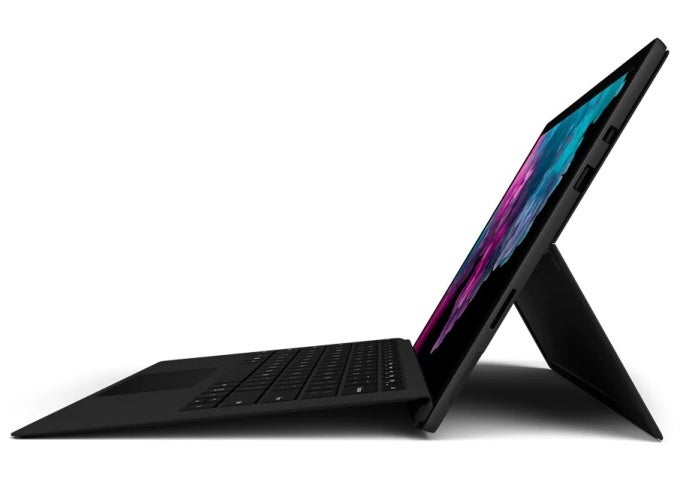 Let's be honest, the
latest Surface Pro redesign
has hardly been substantial. But that's because the 2-in-1 Windows 10 PC was already pretty great. Now it's slightly greater, powered by 8th generation Intel Core i5 or i7 chips, starting at $899, or 100 bucks more than a 64GB 12.9-inch iPad Pro.

Naturally, Surface Pro Signature Type Covers and Surface Pens are available separately at $160 and $100 respectively. The former is arguably more "professional"-looking and productive than Apple's Smart Keyboard, not to mention "infinitely adjustable" and extra-stylish, with a luxurious Alcantara cover.

The Surface Pen is no pushover either, boasting 4,096 pressure points, compared to Apple's unspecified sensitivity levels.
As far as the actual tablet is concerned, the aforementioned extra $100 will buy you twice the internal storage of the entry-level iPad Pro 12.9, a generous 8GB RAM, and a blazing fast i5 processor of the latest generation.
Microsoft Surface Pro (2017)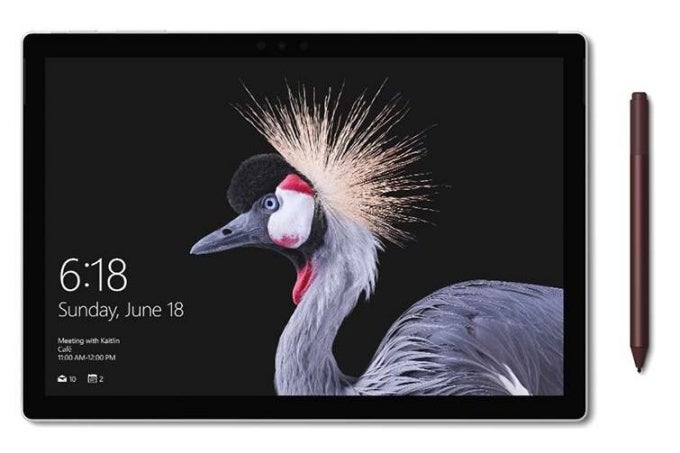 Yup, this version is still around. And it looks basically the same as the new one, minus the paint job. Obviously, the main reason to choose the fifth-gen Surface Pro over the sixth-gen model is the lower price. $649 in a Core m3/128GB SSD/4GB RAM configuration, or $999 with Intel Core i5 inside, a 256GB SSD, and 8GB RAM.
Granted, these are slightly older, significantly slower chips, but compared to the Apple A10X inside last year's iPad Pros, they should still perform adequately for day-to-day computing tasks.
Samsung Galaxy Tab S4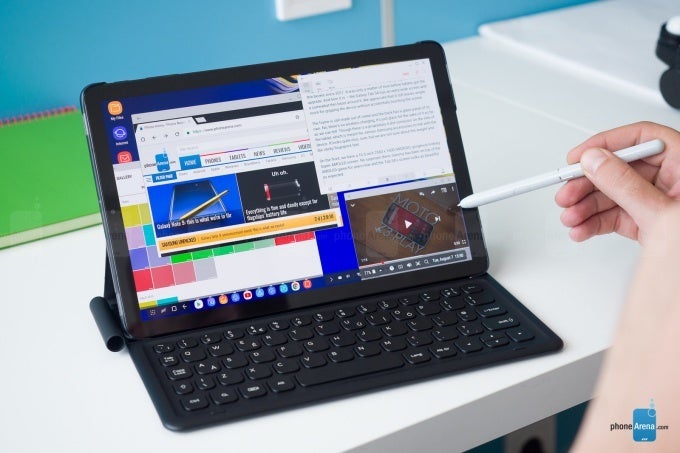 Smaller than the Surface Pro and Pixel Slate, this doesn't feel quite as natural and "professional" when paired with an optional Book Cover keyboard that's typically available for $150 but often
discounted to around $100
.

On the bright side, the S Pen is included right out the box, and who doesn't like the S Pen? Just like the Surface Pen, it offers top-notch precision with 4,096 levels of pressure sensitivity, hiding many other proprietary tricks up its sleeve, including translation capabilities, Live Message support for animated handwritten notes, and Screen off memos.

Another thing the iPad Pro can't do is turn into a full-fledged PC like the Galaxy Tab S4, which doesn't require any sort of docking station to access DeX mode on an HDMI-supporting monitor.

By far the biggest flaw of Samsung's newest flagship tablet is the not-so-new flagship Snapdragon chipset under the hood. The cameras were also found to be underwhelming in our in-depth review, but at the end of the day, who takes photos with gargantuan 10.5-inchers?
Last but not least, we should probably mention the Galaxy Tab S4 comes with a shiny glass back, which might be an exciting design choice for some, but it can also be very easy to crack.
Lenovo Miix 630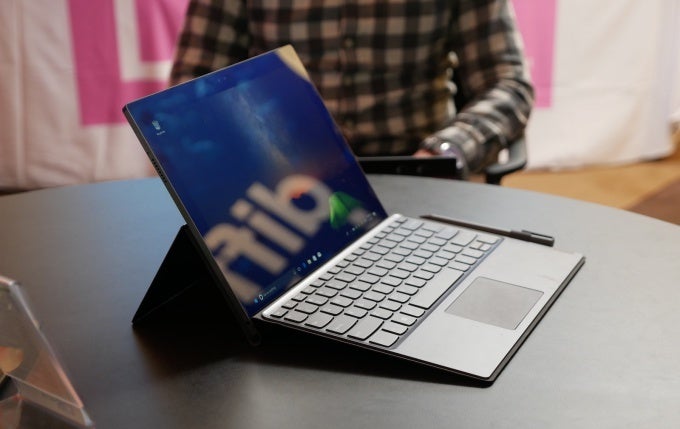 "Always Connected" PCs like this one may have not caught on quite how Microsoft and Qualcomm anticipated, but even though the Miix 630 packs the same outdated Snapdragon 835 processor as the Galaxy Tab S4, it's definitely worth considering as a replacement for both your traditional laptop and basic tablet.

That's because the $900 starting price (marked down to $840) not only includes a full-sized detachable keyboard with backlighting and minimal travel and a Lenovo Active Pen, but 4G LTE connectivity as well. In contrast, the cheapest LTE-enabled iPad Pro variant is $779 with no included Smart Keyboard or Apple Pencil, as well as a 10.5-inch screen.
The Miix 630 sports a large 12.3-inch display (albeit with a not-so-impressive 1920 x 1280 resolution), but perhaps its number one selling point is exceptional battery life. We're talking up to 20 hours on a single charge, compared to 9 or 10 hours for the iPad Pro family.
Huawei MediaPad M5 Pro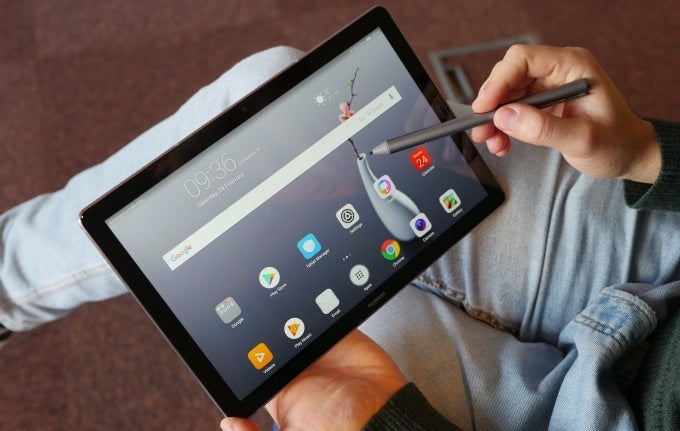 The world's second-largest smartphone vendor is also the third biggest player of the global tablet market, applying a very similar strategy to the one that's worked so beautifully for its Android handsets.

The MediaPad M5 Pro is essentially a cheaper Galaxy Tab S4, with an S Pen-style "M-Pen" included at no extra charge, and a pogo pin-connecting keyboard sold separately. Focused primarily on entertainment and gaming rather than productivity, the MediaPad M5 Pro certainly rivals the iPad Pro's bass-rich, immersive sound with a premium Harman Kardon-powered quad-speaker system... at a fraction of the price.
The Kirin 960 chipset is a little old, but probably fast enough to keep up with your Netflix binging. The 10.8-incher is respectably compact and thin (although not thinner than the 10.5-inch iPad Pro), promising blazing fast charging and up to 11 hours of endurance between charges.
Microsoft Surface Go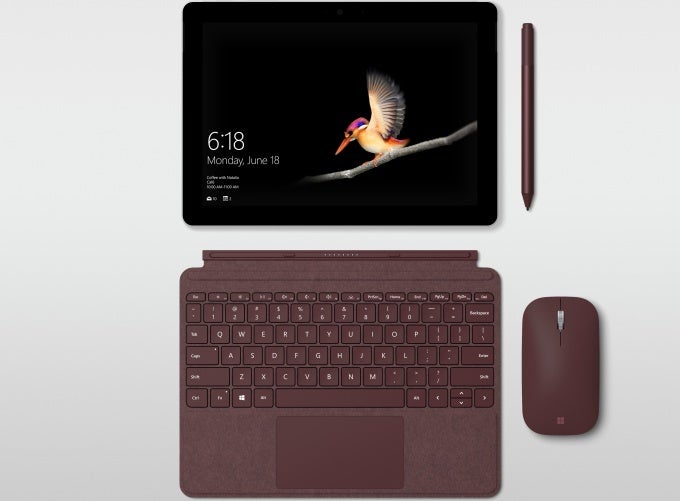 Let's be honest, this little guy has nothing on the iPad Pro. But it might just be affordable enough to justify all the compromises. The sluggish Intel Pentium Gold processing power. The inferior eMMC storage of the entry-level 64GB/4GB RAM configuration. The unimpressive 9-hour battery life. The equally unremarkable 1800 x 1200 screen.
It may all be worth it if you really want a tablet compatible with Microsoft's winning Surface Pen and a $130 version of the company's Signature Type Cover with the same luxurious design as the larger model and a full-mechanical keyset.
Samsung Galaxy Note 9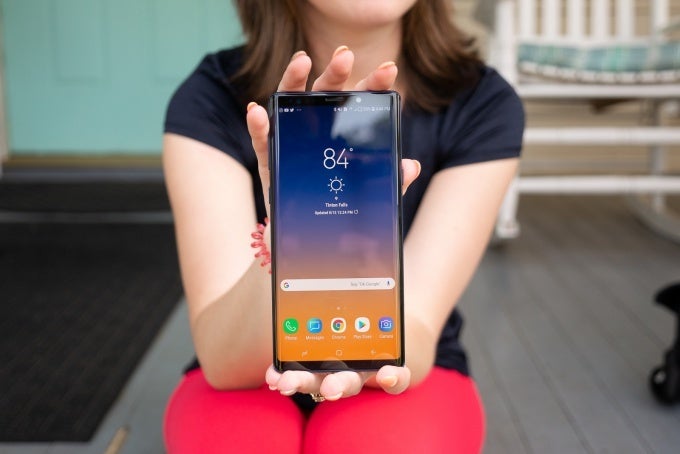 This may sound crazy, but why bother buying a tablet anymore when massive handsets like the Note 9 can do so many of the things the iPad Pro is capable of? Sure, this thing is still expensive, but it's (slowly)
getting cheaper
, and it comes with an
awesome S Pen
as standard.

Of course, the 6.4-inch AMOLED "Infinity Display" is not ideal for comfortable content consumption, but the 201-gram weight definitely makes this preferable to the 469-gram and up iPad Pro for the occasional on-the-fly vlogging session.
Besides, if you need a keyboard and large screen,
a single cable
can sync the Galaxy Note 9 to an external monitor of your choosing for a surprisingly functional desktop experience.