Zenus outs a "Herb Garden" scented screen protector for the Samsung Galaxy S
1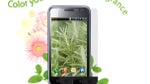 Once a phone starts to get crazy accessories made for it, its popularity is beyond the reasonable doubt. Well, this area is not reserved for the iPhone anymore. The Korean company Zenus announced the availability of its herbal-scented film protector for the 4" Super AMOLED screen of the Samsung Galaxy S. The optical PET film has been obviously approved by Samsung as decreasing screen reflection in broad daylight, so we have no doubts towards its functioning as a humble screen protector.
What's the interesting part here, though, is that Zenus has applied micro capsules on it, which burst each time you are touching the screen with your finger, emitting scents of rosemary, lemon, jasmine, lavender, or peppermint. The film comes in packages of two, and is slated to last up to six month of scent-emitting goodness.
Perfect for all the chicken finger parties we've been to, which failed to provide napkins - grease and lavender is a must-smell combination. The scented film protectors cost $15 for a pack of two, which is a small price to pay for your smartphone Zen.
source:
Zenus
via
AvingUSA
Recommended Stories