ZTE ZMax Pro is now available on T-Mobile for just $7.50/month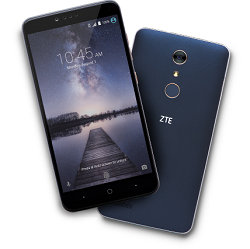 If you need a new smartphone and don't want to spend a lot of money, there's never been a better time to buy. This past year has proven to be one of the best ever for budget handsets that aren't complete trash, and while we've seen plenty of options that sell between the $300 and $500 price range, ZTE went even lower than that. The company released a phone called the ZMax Pro earlier this year on MetroPCS and sold it for just $179.99 outright. The ZMax Pro certainly wasn't the first smartphone we've ever seen come in at that price point, but it was one of the first ones to be that cheap and still worth purchasing.
Today, the phone is officially being added to T-Mobile's own lineup of devices, and it's even more affordable than ever. While you still have the option to purchase it for the full retail price of $179.99, it's also now available on a monthly plan for $7.50/month with no upfront cost at all.
So, just what do you get for $7.50/month? For starters, the ZTE ZMax Pro features an impressive 6-inch display with a resolution of 1920 x 1080 full HD. A Qualcomm Snapdragon 617 processor helps to make sure that the phone is powerful enough for all of your daily tasks, and the 3,400 mAh battery should prove to be enough to get you through a full day of solid use. Combine all of that with a 13MP rear-facing camera, 32GB of expandable storage (up to 128GB), USB Type-C, a fingerprint scanner, and Android 6.0 Marshmallow, and you're looking at a pretty impressiv package for such a low price.
Although the ZTE ZMax Pro is far from the most powerful budget smartphone we've seen this year, it's still a great choice if your'e looking to get a big, capable phone for as little money as possible. The ZTE ZMax Pro was already a great deal on MetroPCS, but with the option for a monthly installment plan and access to all of T-Mobile's exclusive features, it's now a better deal than ever.