ZIP file support & more new features found with the latest update for the PlayBook
0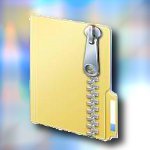 As
BlackBerry PlayBook
owners continue to wait for native email and Android application support, they're instead being treated to a new software update that brings forth new attachment support and multimedia options for the QNX based platform. Even though we're confident that some people are going to be appreciative about it, others might be growing even more impatient about certain promises.
Right now, the 358MB software update that brings the tablet's software
version to 1.0.7
carries along specific new features that pertain mostly to the BlackBerry Bridge app. Connected to BlackBerry Bridge, users are now able to
access ZIP files
attached to emails that stored on the SD card of its connected BlackBerry smartphone. And of course, it allows them to extract and view content directly on the PlayBook.
In terms of new multimedia features, we're finally presented with
portrait orientation support
when viewing images within the pictures app. Also, you can execute pinch-zoom operations while playing and watching videos on the PlayBook – much like what you can do with photos.
Finally, RIM manages to pack an additional
15 more languages
to its support seeing that the PlayBook's grasp is continuing to be extended to other markets around the globe. Indeed nice on the surface, it's definitely a small gesture that will appease some owners out there – but we're surely waiting for the big one!
via
Mobileburn