YouTube and Google Search helped power Alphabet's strong third quarter earnings report
1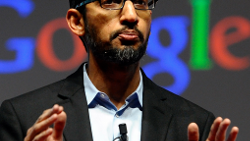 Making its stockholders rich is as easy as ABC for tech giant Alphabet. The company, which is the parent of Google, announced higher than expected revenue and earnings thanks to strong growth in YouTube and in search. Google Cloud is also beginning to show signs of achieving strong growth.
For the third quarter, Alphabet took in revenue of $22.45 billion and banked earnings of $9.06 a share for the three month period. That topped estimates of $22.05 billion in revenue and earnings of $8.63 a share. Crushing estimates like that usually results in a strong after hours rally, and today was no different. After hours, Alphabet shares rose $10.15 to $805.50.
Year-over-year, third quarter earnings rose 23% while revenue expanded by 20%. At the same time, the company announced that its board approved a buy back of more than 7 million Class "C" shares. This quarter last year, the company repurchased $5,099,019,513.59 in Class "C" shares. Why did Alphabet settle on that precise number of shares? Because 5.099019514 is the square root of 26, which is the number of letters in the alphabet.
"We are very focused on our core mission, and we see a huge opportunity to do that in a unique way. Refocusing the companies on the set of initiatives, recognizing that point of inflection, is what has really helped us focus on things … In terms of hardware, in our vision computing is becoming more and more integral, so to really think and evolve it, you need to think about software and hardware together."-Sundar Pichai, CEO, Google
source:
CNBC