You can now explore the oceans on the Google Earth app for iOS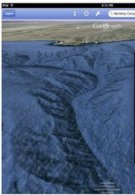 If you have a flavor for exploring the vast and sprawling oceans around the world, then you're probably watching your friend do the exploration on their Google Earth app for Android.
However, iOS device holders will now be enabled to accomplish the same thing on their device as Google announced that they added the ocean bathymetry and ocean layer on the latest version of Google Earth for iOS. Now set at version
3.1
, those who heavily rely on Google Earth for iOS can now explore the oceans and dive below the surface to uncover all of its beauty. From underwater canyons to seeing the deepest point in the ocean, you can get a first hand look directly on your device.
So if you haven't done so already, be sure to download the latest version in the App Store.
source:
Google Mobile Blog