Yevo Air earbuds offer true wireless experience for $130
6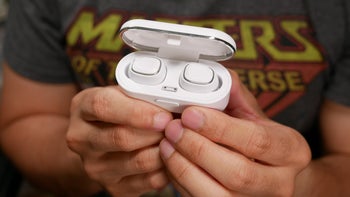 True wireless earbuds are increasingly becoming more affordable, but more importantly, they're also reaching a certain standard that make them far more usable than what they were in the past. Case in point, the Yevo Air, a pair of true wireless earbuds that are aiming to get the job done without having to fork over a huge investment!
Technically the company's second-generation pair of true wireless earbuds, the Yevo Air earbuds definitely have some promise in the face of the competition that's around. Aesthetically, they feature a design that's commonly found in a few other earbuds we've checked out – like the Soul X-Shock,
Jaybird Run
, and
Bragi Dash Pro
to name a few. Thankfully, though, they're designed to withstand the active user, due in part to their sweat and splash resistant properties.
With the physical buttons fashioned into each one of them, controls such as volume management, music playback, and initiating voice assistant services on your smartphone, are all accessible through the earbuds. The 6mm drivers powering each are rated to deliver deep bass tones, as well as amazing clarity and detailed highs. While wearing them, the snug fit allows for a certain degree of noise isolation – so that you're focused on the music and not distracted by ambient noise. And much like other true wireless solutions, they come with a battery charging case for storing them when they're not being used, in addition to actively recharging them. They're rated for up to 3.5 hours of playtime on a full charge, while the battery charging case will provide an additional 14 hours.
Even though the name may not be a familiar one, the Yevo Air at the very least come at a decent price of
$129 right now onlin
e. That undercuts many competitors out there, but still comes close to the $160 price tag of the market-leading Apple AirPods. Obviously, the Yevo Air will need to deliver exception audio quality and connectivity reliability in order for them to stand a chance.