Windows 8 Wedge mobile keyboard spotted: compact, works over Bluetooth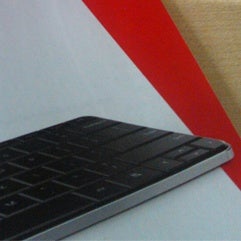 The more we hear about Windows 8 on mobile devices, especially tablets, the more we tend to think that Microsoft is putting a lot of emphasis on the keyboard and now we have one more piece of evidence for that - the
Wedge Mobile keyboard
with the new Windows 8 logo. The first image of the upcoming keyboard is coming from Czech news website WinMag and shows a tiny keyboard with what seems like a stand/case for it.
The keys are relatively large, with only the function keys on the top row being smaller than usual, but any space outside of the keys is trimmed to a minimum contributing to that compact feel.
Good news is that the keyboard will work over Bluetooth, so it's definitely aimed at tablets and smartphones. The folding case seems to double as a stand, but we couldn't tell for sure from the only picture available.
The website that obtained the image claims the keyboard will be launching very soon and sold together with some Windows 8 configurations. Stay tuned - it seems we'll be hearing a lot about Windows 8 accessories in the near future.
source:
WinMag.cz
via
TheVerge