Wallpapers & Backgrounds HD for Android app review
3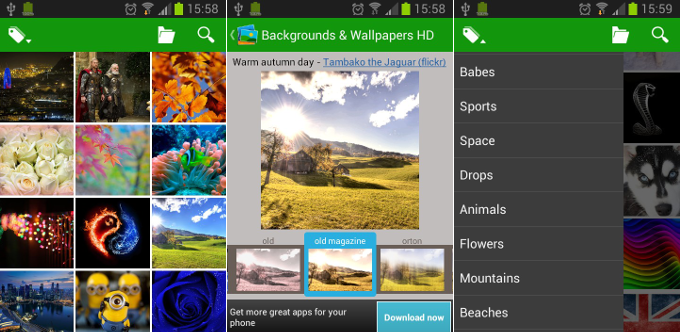 | | |
| --- | --- |
| Developer: AppTornado | Download: Android |
| Category: Communication | Price: Free |
Wallpapers & Backgrounds HD is a relative newcomer to the crowded world of the oh-so-popular Android wallpaper aggregators. It flaunts one of the biggest picture collections we've seen, with over 30 million to choose from, and has some extra tricks up its sleeve, like applying effects before you put them on your phone's screen as wallpapers.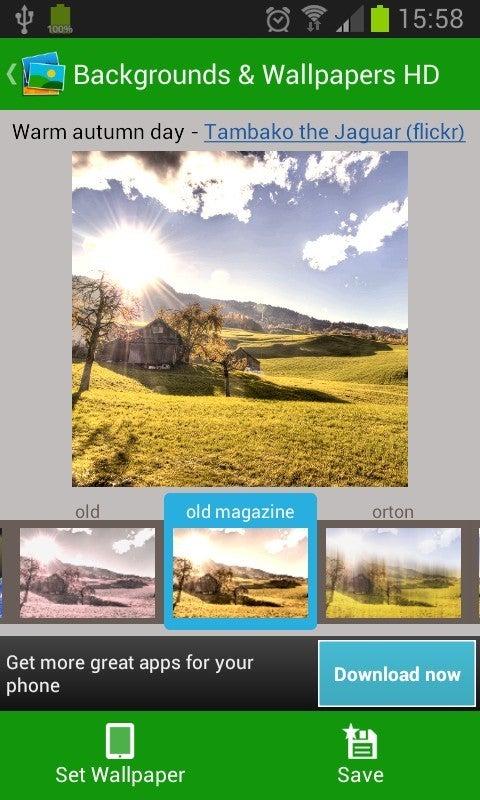 The interface of this hub is nothing fancy, compared to some other picture aggregators for Android, but it is easy to use, and functional. Above all, it doesn't freeze, or glitch, like a lot of the more visually attractive apps of this kind. The biggest annoyance, however, are the ads that constantly pop up, while browsing wallpapers with the app. These can get pretty distracting, as they occupy the whole screen after every few images passed, and you have to hit the back button to continue browsing.
The collection is so vast, that there is barely anything you search for, without hundreds of pics popping up about it. The pictures are high quality, and don't stretch ugly on tablet screens, like on some other apps in the category. You also get a bunch of Instagram-style filters you can apply to the photos before you set them as your wallpaper, so the variations are truly enormous. You can flag pics as inappropriate, but there are barely such images here - again, unlike some other. When you spot a pretty picture, you can either set it as a wallpaper directly, or save it for later use, and if you don't like some of the default categories in the app menu, you can always hit the search button.
Wallpapers & Backgrounds HD is a bit of an odd bird when it comes to pic aggregators for Android. It's database of wallpapers is definitely one of the richest out there, and you can find almost anything with the search function. However, there are prettier interfaces for wallpaper aggregators out there, and the ads can get very annoying. On the other hand, it lets you crop the images the way you like, and offers a bunch of filters you can put them through before applying, which makes it a keeper, too. Go check it out, if you are looking for a new wallpaper hub on your Android phone.
Pros
A vast collection of quality wallpapers
Excelent search function
Clean and simple interface
Integrated color filters
| | |
| --- | --- |
| Developer: AppTornado | Download: Android |
| Category: Communication | Price: Free |