Vodafone bids $10.1 billion for Germany's top cable operator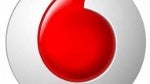 The second largest mobile carrier on the globe, Vodafone, has just offered
€7.7 billion
($10.1 billion USD) for German cable operator, Kabel Deutschland Holding AG. Last Monday, John Malone's Liberty Global indicated an interest in the cable provider, but with its balance sheet it will be hard-pressed to offer an all-cash bid. Vodafone's bid of €87 ($114 USD) a share is an all-cash offer.
If it closes the deal, Vodafone would be able to offer its mobile services to Kabel's 8.5 million subscribers in 13 out of Germany's 16 states. In addition, with its mobile revenue crimped by the European economy, the company needs to find other ways to garner top-line growth.
Once a formal bid is presented to Kabel, the latter's stock holders will have four to ten weeks to tender their shares to Vodafone. The cable firm's management will have two weeks to decide whether or not to recommend the deal to holders.
source:
WSJ