ViewSonic ViewPad 10e hands-on
1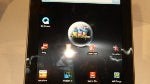 Even up until now, we've been terribly disappointed with the design of ViewSonic's line of tablets for the simple obvious reason that they've been absolutely bland – easily exuding the qualities of something that's perceived to be cheap. Frankly, we weren't expecting much out of recently announce
ViewPad 10e
, but gosh darnit, we're left with our mouth wide open after checking it out in the flesh at ViewSonic's booth at CES.
Amazingly, the
pre-production unit
on hand is quite something to behold since it's easily the best looking tablet we've seen from ViewSonic thus far. In fact, what attracts us to this 10.1" tablet is the fact it reminds us of the iPad 2 with its design – flaunting a metallic back cover and a pretty streamlined construction. Although we can overlook for now the fingerprints and smudges adorning its rear cover, which seems to be caked on there pretty good, its design is very uplifting after the stale offerings before it.
With its
10.1" IPS display
, there are some lovable qualities that make it such an instant attraction to our eyes – like its strong brightness output and decent viewing angles. However, we can't say the same for its detail because it employs a notoriously
low resolution of 1024 x 768
, which is typical of most 7-inch tablets on the market. So yes, pixilation appears to be an apparent issue with this one. Regardless of that, it's boasting quite a few common ports that should ultimately round out its overall features.
Running bone stock
Android 2.3 Gingerbread
, it's a bit scary to see the smartphone platform being stretched out to encompass its generously sized display – though, it seems to look a bit awkward with its stretched out appearance. Furthermore, it's lacking the Android Market to extend its functionality, but thankfully enough, the included
Amazon Appstore
should be able to help people get by in the meantime.
As much as we'd like to praise its solid construction and slim figure, yet another great thing that can be added to its list, is the fact that it'll be tagged with a
$279
price point – thus, making an easy investment on almost any budget.