Verizon to offer a new app store running on mobile Java
2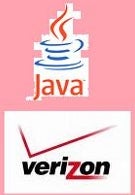 With Verizon Wireless CEO Lowell McAdam seen hanging around Sun's JavaOne conference today during the keynote speech, you would expect some announcement between Big Red and Sun, and sure enough, there was something to be reported. The CEO announced that his company will be offering a Verizon branded app store that will run on the Java ME mobile development platform. Using Java ME could make it easier and cheaper for third party developers to design applications. Later this year, the store will be up and running, initially on some of the carrier's smartphones.
Mc Adam admitted that his company had been zealously guarding its brand, but he said that Verizon will open up and provide developers with some proprietary information and will allow limited access to Big Red's subscriber database. This would allow a third party app to know if a person stored in a contact list is a Verizon subscriber, for example.
According to a Sun press release, the Verizon Wireless CEO was one of several executives speaking at the keynote speech opening up Sun's annual JavaOne conference and is expected to discuss why his company decided to go with JAVA ME and offer Java based services and application to Verizon customers.
source:
Silicon Alley Insider