Verizon dominates RootMetrics testing for the second half of 2016
3
Verizon completely dominated the latest RootsMetric report, sweeping all six network categories during the second half of 2016 including reliability, data, speed, call, text and overall performance."
Based on our testing, Verizon is the undisputed leader in terms of coverage and network reliability. Indeed, Verizon's network reliability results were the strongest among all carriers at the metro, state, and national levels in the second half of 2016.
" During the most recent testing, Verizon repeated the outstanding performance that blew away rivals during the first half of last year. Part of the reason could be related to the $122 billion Verizon has spent on its network since 2000, topping the amount spent by all of its rivals during the same time period.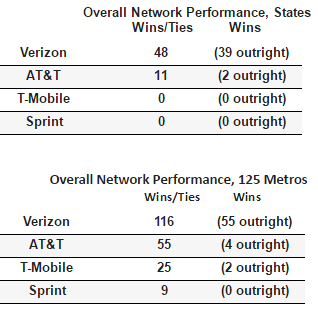 According to RootMetrics, during the second half of the year Verizon scored wins or first place ties in 48 out of the 50 U.S. states. T-Mobile and Sprint were both shut out. During the same time period, Verizon won or tied for the top on 93% of network performance tests. Big Red finished the second half testing with a leading 658 points.
"These test results are absolutely overwhelming. Only Verizon's network offers superior performance, unrivaled reliability and the best speeds for customers making it the best option for unlimited data plans. We are extending our lead in network performance in the top 125 Metro areas and in state and national network performance results."-Nicola Palmer, chief wireless network officer, Verizon
Verizon's network covers 314 million people in the U.S. That is tops among all of the wireless operators in the states.
source: Verizon