Verizon Wireless starts selling Samsung a790 global CDMA / GSM phone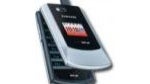 https://www.phonearena.com/
The Samsung SCH-a790 is the first quad band global phone which incorporates CDMA and GSM technologies in the same device. Verizon Wireless customers now can use the same wireless phone and phone number in the United States and overseas on the Vodafone network The handset will not work on any of the US GSM networks, but only on the Verizon's CDMA network. The main features of the phone are 262k color display and 65k external display, VGA camera and 1xRTT high speed CDMA data.
Customers will pay $1.29 per minute for placing calls in most countries outside of the U.S., except if calling from Maldives, Indonesia, Sri-Lanka or Latvia where calls will cost $2.49 per minute. International Text Messaging is available in most countries and costs $0.50 to send and $0.05 to receive messages. When calling other countries from within the U.S., the standard international calling charges for most countries of $0.69 to $1.50 apply*. Domestic calls placed from within the U.S. are from the customer's monthly America's ChoiceSM nationwide calling plan. TXT Messages sent and received within the U.S. are $0.10 for each message sent and $0.02 for each message received.
The Samsung a790 is available to consumers nationwide for $349.99 with a two-year customer agreement.
__
Samsung SCH-a790 full specification and features
?
The